Rolex 3525 'Barilotto' in Pink Gold & Steel with Champagne Dial
Impossibly conspicuous wristwatches and impossibly tasteful wristwatches are often mutually exclusive categories. An RM-030 with its declutchable rotor mechanism is very conspicuous and very innovative. But it most certainly is not tasteful. In fact, I've heard various RMs described as 'Invacta for the 1%'. I may or may not agree. Likewise, the recent Girard Perregaux 5368 I wrote up recently is unanimously tasteful. Conspicuous? Maybe in 1960. However, while browsing the offerings in Phillips upcoming Geneva Watch Auction XIII, I found a common ground. I give you the two-tone champagne 3525 chronograph.
This beautiful WWII-era chronograph was Rolex's first in an Oyster case. To some, that's important. I tend to prize the 3525 for its lack of superfluous detail. Everything on this chronograph is purposeful. The blue steel hands, brevet crown, and double tachy/tele scales scream practicality. Moreover, I'm not the only one who sees things this way. The watch was worn by many of the higher-ranked Officers of the British military in period. There aren't many references that can make a latter Daytona look bland. By comparison, a 16520 or even 6263 seems almost childish. I can't quite articulate why. It may be the history, it may be the subtlety (subtlety has been lost on our generation). If forced, I'd say it's because the two-tone creates a conspicuously tasteful bit of wrist candy.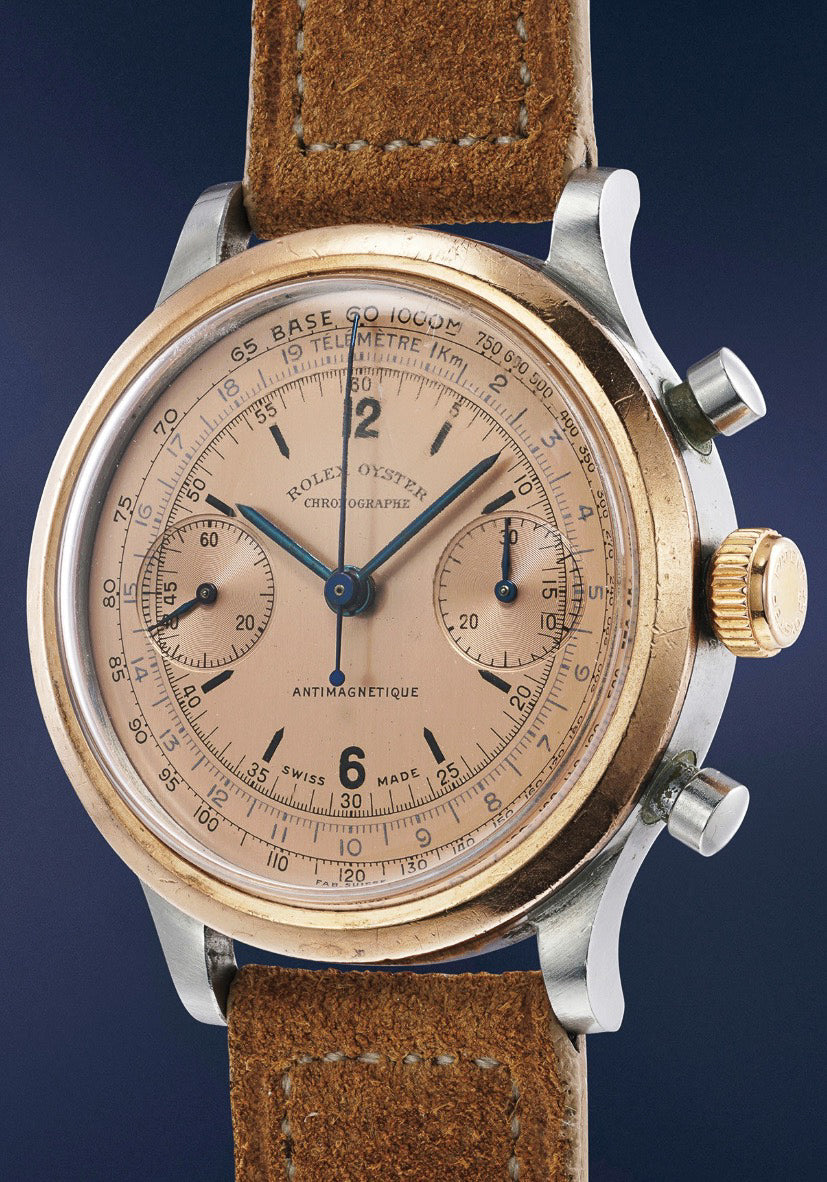 This example comes in strong condition. The case is sharp and the dial is unblemished. All visible components (hands, pushers, crown, back) are correct. The fonts and scales are clear and only marginally faded. The pink gold, probably quite a soft alloy, is only lightly nicked with surface-level scratching. If this piece appeals to you, it will be some time before you find another like it.
Find this 3525 here from Phillips for an estimated 60000-120000 CHF (I'd venture to say the higher side).