Value Prop: Tropical 5646-7005 Grand Seiko Hi-Beat
The careful, studied attention of GS history rewards effort. While a deep dive in Hublot will leave one scratching their head, the same effort devoted to the best of Seiko will force your cursor to hover over the 'add the cart'. The Hi-Beat shown here holds quite a few distinctions. However, perhaps most notably for this example, this silk-grained dial was originally white. That's right, these golden tones are patina.
The other pros aren't lightweights either. Solid 18K gold, it holds the notable distinction of being the most expensive Grand Seiko ever seen in period at 500,000 Yen in 1974 (or two VFAs). This when gold prices were stratospheric. It is also one of three case designs ever to feature the 5646 hi-beat, 28800 vph with a day and date in line. Despite being an absolute pillar of Japanese luxury, it sells today for well less than its original retail. It also came with a silk-grain waffle dial, one which has aged beautifully here.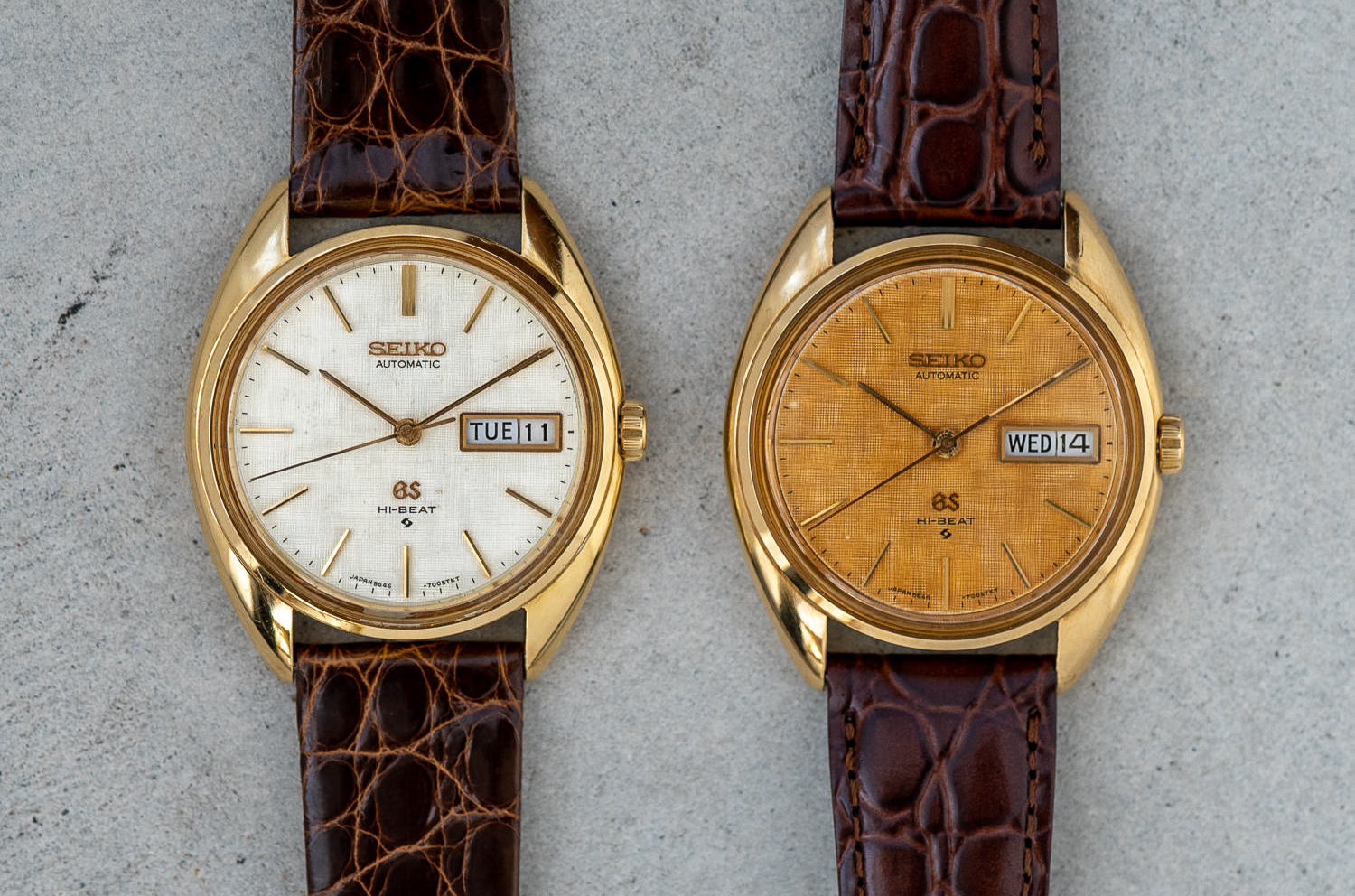 This example has spent long enough on wrist to develop and orange rust tone on its dial, almost perfectly matched to the case composition. Just to clarify, this dial was born white. Below is a comparison to a pristine example, as the seller of this example also currently has a less aged example of the same dial and reference in. The case back is engraved with a Hinomaru, whic indicates proof of purity from the Japanese mint.
This example is quite strong all around. The case is full on its Genta tonneau/C-shaped extremities, but has seen a light polish. The dial is, well, look at it. Its movement has been recently serviced and comes with warranty. The original signed buckle is included.
Find this tropical 5646-7005 here from Arbitro Japan for 4420 USD.