Value Proposition: 2914-3 'First' Omega Railmaster
There aren't many truly underrated references in Omega's back catalogue anymore. Every collector knows and loves the early Seamasters, Ultraman 145.012s, Mad Men Constellations, hell even Schumacher's Daytona is on the rise these days. However, amongst the dazzling base 1000 bezeled 2915 Speedmasters and tantalizingly-lollipopped 2913 Seamaster 300s, it's easy to overlook the more reserved third musketeer. That's a shame, because it's one of Omega's all time greatest, accomplishing 1000-Gauss resistance well before the Milgauss. Due to its unpopularity in period, this is the rarest (by volume) of the initial trilogy and perhaps the most understated 'sport' Omega ever.
The 2914 reference was a part of the initial trilogy of sport (or marketed in period as 'high performance') watches in 1957. The trio sought to offer watches specifically adapted to niche purpose. The Seamaster 300 was the waterproof diver's best friend. The Speedmaster's chronograph timing was aimed toward Italian playboys racing their Bentleys and Alfas across Europe. We all know where that story wound up.
The Railmaster was intended to resist magnetic fields, for use by railroad workers and scientists. Magnetic fields can create sizable inaccuracy in watches by magnetizing the hairspring and causing it to stick to itself. In period railroad operation, it was (as you can imagine) hugely important to have an accurate watch in order to avoid being on the wrong section or intersection of track at an inopportune moment. Likewise, scientists were ramping up the space race and keeping the cold war on ice, all of which meant magnetic resistance was a real need. The Railmaster solved this problem with a soft inner iron Faraday cage and dust shield which enveloped the manually-wound calibre 284. The Staybrite steel case was constructed by Huguenin Frères and despite its onion-like layering remained 38mm. The watch is capable of resisting a 1000 Gauss field and accomplished this well before Rolex's Milgauss entered the fray. Interestingly, the dial is also 1mm thick, as opposed to the usual .4mm, in an effort to shield the face from magnetism.
'First' or original trilogy Railmasters are distinguished by their broad-arrow handset, which were only produced on models between 1957 and 1058. 2914s ran from a -1 execution to a -6. Dauphine and baton hands comprise the majority of examples. It is worth noting that due to its surface-level simplicity, may dials are reproductions and the market is flooded with franken watches. It's worth studying the details thoroughly on any potential acquisition, but these in particular. I'll throw to the Spring Bar for more.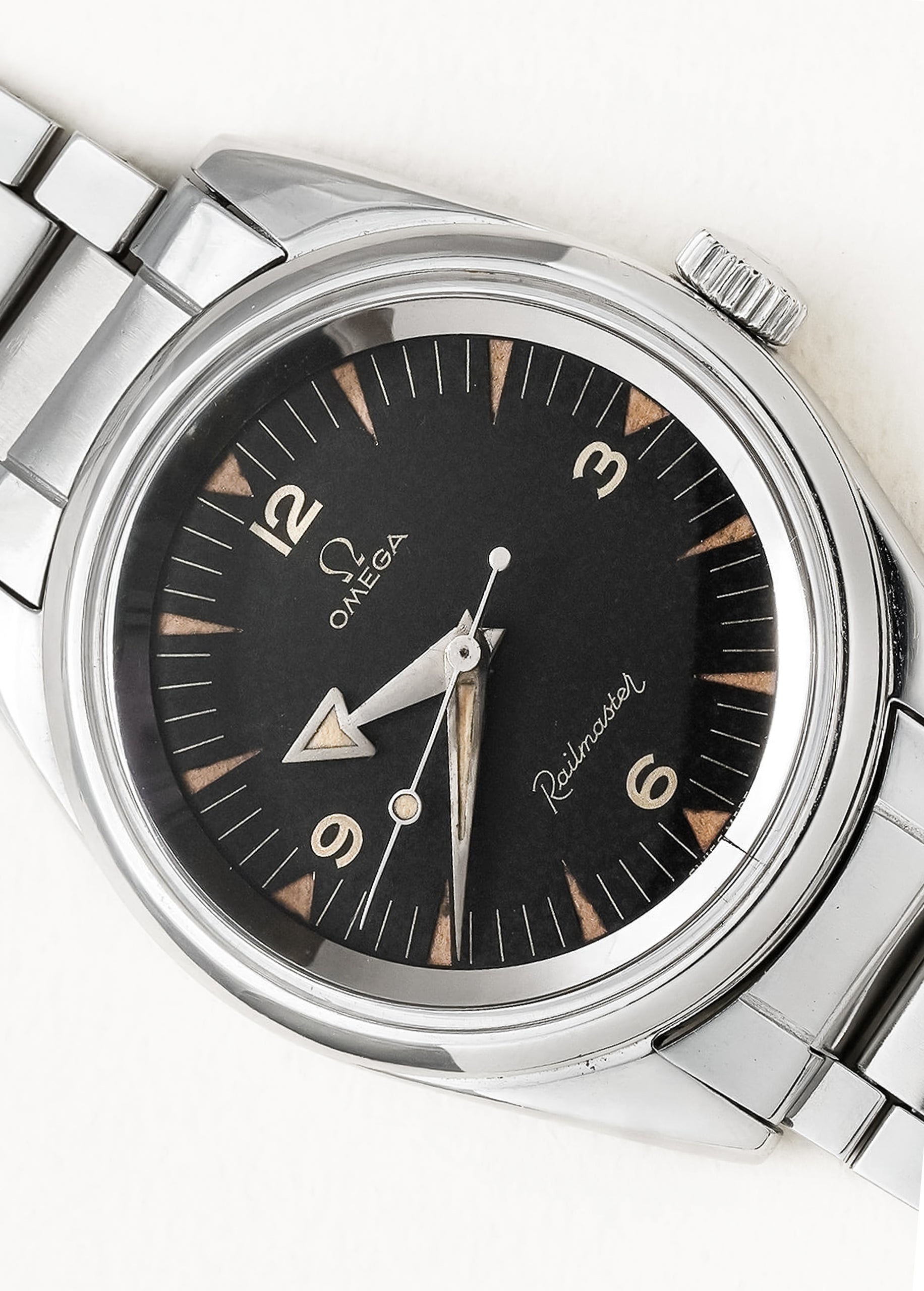 This example, as far as I can tell, has everything in the right place. Its Naiad style crown (basically an Omega crown with a Mercedes logo in the center) is a rare Omega production of this era, correct. It comes with an extract confirming delivery to Venezuela. The 284 is correct and marked appropriately. Dial has the sunken Swiss Made which I know there is a little controversy about. Its case is polished but still has proportions. Bracelet is aftermarket. I'm not the leading light on these but from my amateur read nothing is raising flags. It comes from a Japanese retailer.
Find this 2914 Railmaster here from Eguchi Japan for ~24000 USD.