Wood Dial 16019 Rolex Datejust
If you were ever in any doubt that Rolex are, in fact, the preeminent masters of marketing, consider this. Rolex convinced their clientele back in the 4-digit era that wood was a luxury material. Wood; you know, the stuff you burn to keep warm, that's always decomposing slowly. Granted, they chose very lovely varieties, lacquered them to freeze any degradation, and only used beautifully burled sections (there was a high rejection rate, it's legend that only 1 in 10 dial blanks were selected), but it's still wood. Rolex have been subverting expectation and playing with norms to the tune of huge revenue longer than you think; the first wood dials appeared shortly after Stella circa '73.
Most of the time what you'll see is birch, likely in a yellow gold Date-Day or the odd Oysterquartz. This particular Woolex subverts expectation in a few ways. It's a white gold Datejust, stealthy as you like and not as common. It's a darker burl, possibly walnut, not the usual light orangey-warm birch tones you're more commonly used to seeing. And perhaps most notably, this particular one was ordered on a white gold Swiss Oyster bracelet, which dresses down the otherwise more Presidential look you'd generally see on these to something altogether more sporting.
While it's not exactly scientific, there's only one other documented sale of a wood dial ref. 16019 (the 9 here designates white gold) in 2015 from Phillips. Fewer than five are known to the community. Back in 2015, the market for special dial Datejusts was nothing like today, and someone got a screaming deal at 250K HKD. White gold Datejusts are not particularly common as is, as you had to pay a significant premium in period in order to look just like steel. So it's a special production dial, rare metal watch, on a likely one-off bracelet. The only thing, and I mean the only thing, that I hold against it as a very mild-OCD sufferer is that it's a T Swiss T dial with non-luminous hands. It's still correct as wood dials came with or without T signatures and luminous hands in any given combination, but it annoys me. The rest though, straight aces.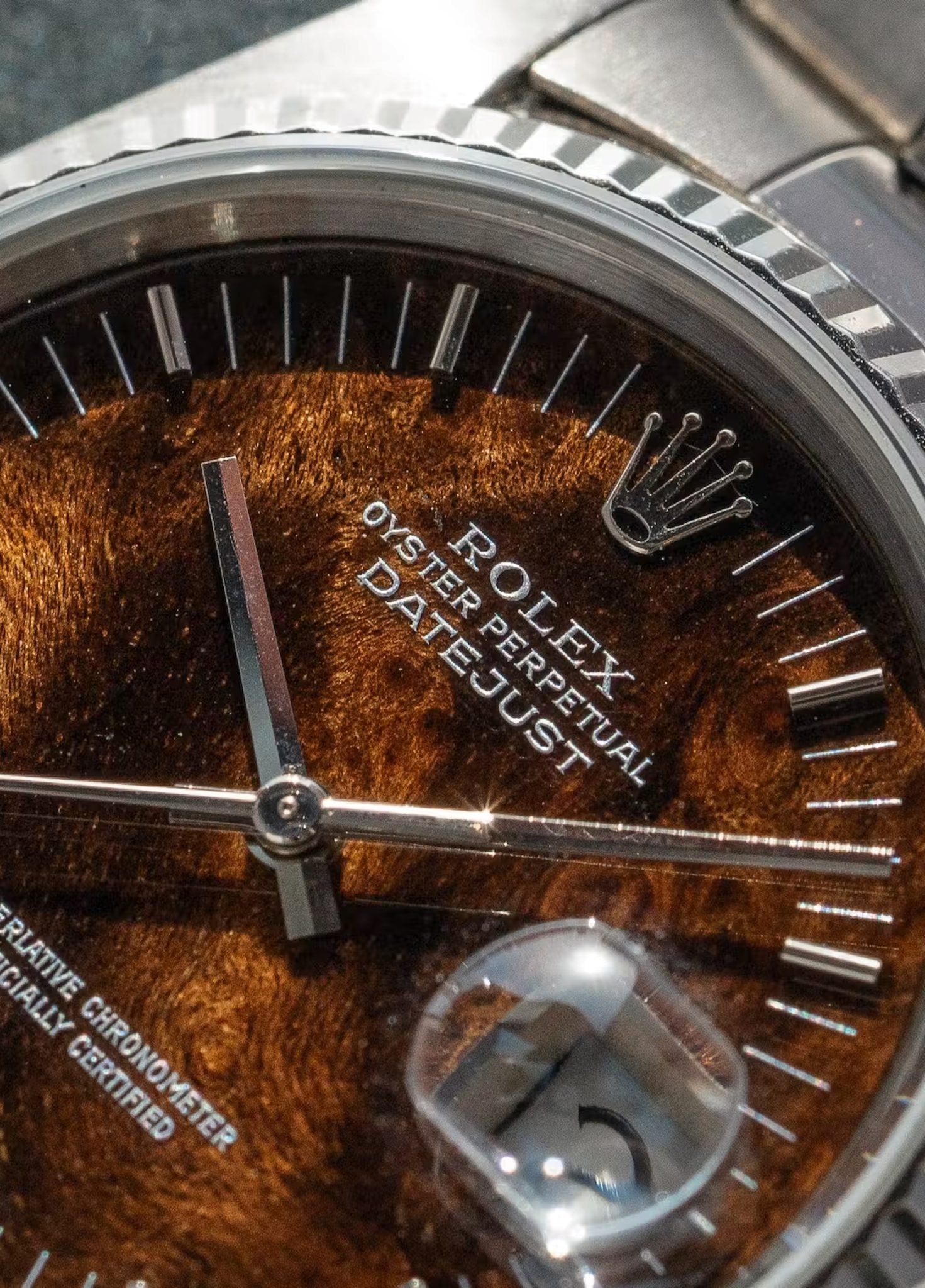 And as examples go this one is magnificent. You may be aware, but the folks at Collectors Gallery Dubai, who are offering this beauty, are partnered with our friends at Amsterdam Vintage Watches. Previously, it was one of their museum pieces. Deservingly so. The dial is perfectly preserved, the case is beautiful and totally sharp, and the bracelet is incredible. There's no word you can hold against it.