Walser Wald-Signed, Steel 'Tasti Tondi' Patek Philippe 1463
Any Patek Philippe executed in that noblest of metals, steel, could be said to be a significant watch. But a steel Tasti Tondi? That's beyond special. Of the ref. 1463, just 750 are thought to exist across all metals. Those in steel make up just a handful of that production, produced sporadically over the life of the reference at special request. When I say a handful, Mr. John Goldberger (a trailblazing luminary of this subject and many others) has only been able to catalogue 17 examples. Of the known steel 1463s, there is a huge degree of variation in dials, cases, and even handsets. This example is unusual both for its telemetre-scale sector dial and signature from Argentinian retailer Walser Wald.
Of two-tone sector dialed 1463s, just four are known so far including this watch. It is the only known with a Walser signature. The 1463 was Patek's first water resistant chronograph, succeeding the previous and iconic 530 chronograph in 1940. The improvements were characterized by a larger, modern case, rounded pushers, and a screw-down back. Some call this Patek's first 'sports' watch, though it is a bit of a stretch. That 35.5mm case was manufactured by Francois Borgel with some delightfully intricate, fluted, and oversized chronograph pushers to accomplish water resistance. As with most watches, the Italians got to naming it first: 'Tasti Tondi' (tondi meaning round pushers in Italian). Since then, the reference has achieved a grail-like status and justly so.
The 1463 has a wide fan base. Carroll Shelby owned one. So too did Briggs Cunningham. Even Eric Clapton was seduced. It was something of the last of an era. The 1463 ceased production in 1968. It was only in 1998 that the line was resurrected with the Lemania-era 5070; Patek went three decades without a manual waterproof chronograph offering. As such, the Tasti Tondi is seen as the last of the old guard, a very innovative and very attractive chronograph that even Patek Philippe couldn't offer a following act to. Seen here in steel with such an attractive and rare dial combination, I suspect the market will go a bit mad for this example despite the economic downturn.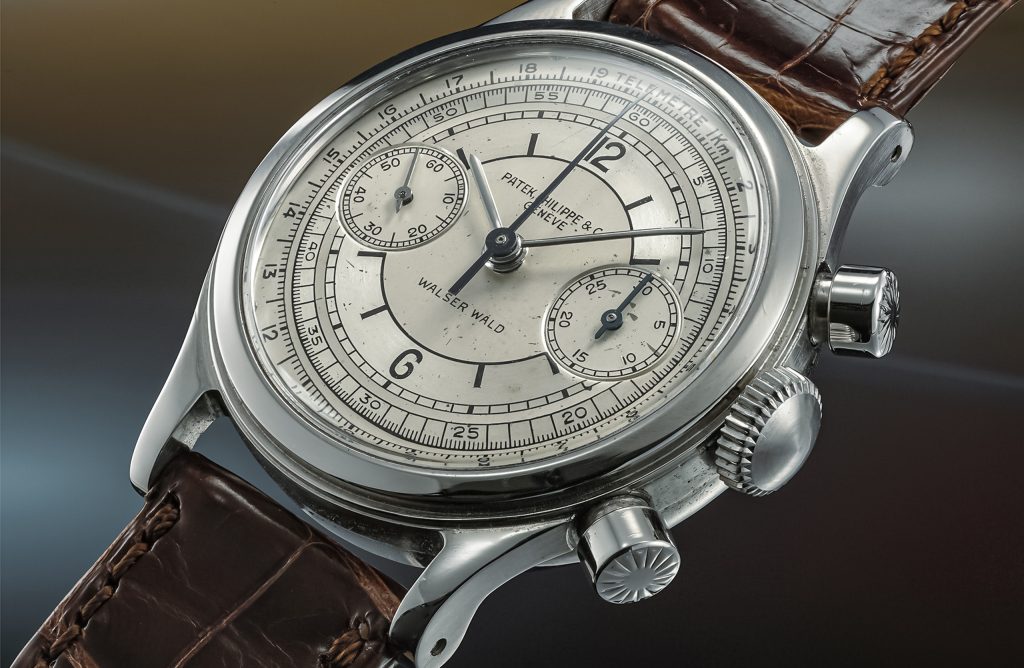 In terms of condition, the dial is lovely. There is very light spotting but its enamel work is original and unrestored. This has been confirmed by a recent visit to Patek Philippe where they advised their client not to touch the dial. It's beautiful. The case has lightly seen a polish, but is not egregiously soft. Those beautiful pushers and crown are correct. It comes from Phillips as part of their upcoming Geneva Watch Auction XVI, just don't expect to get a deal on this lot.
Find this steel 1463 here as part of Phillips 2022 Geneva Auction XVI set to hammer 5 Nov 2022 (estimated 311,000-623,000 USD).