Value Proposition: 222101/1 Universal Genève Compax
The humble three-register chronograph: executed by many, yet perfected by few. I am not claiming that the 222101 is a perfect watch, within Universal that's probably something we call Nina. Outside of Universal, we call it Daytona or Speedmaster. However, I am saying that outside of this triumvirate, it is one of the best ever to do the damn thing. Its 36mm lyre case, blued tachymetre scale, vertically brushed dial with sunken subs, and manual Martel-based UG calibre 281. If you want a steel chronograph with no frills, a considered design, and honest value far away from hype, I'd offer this as a consideration.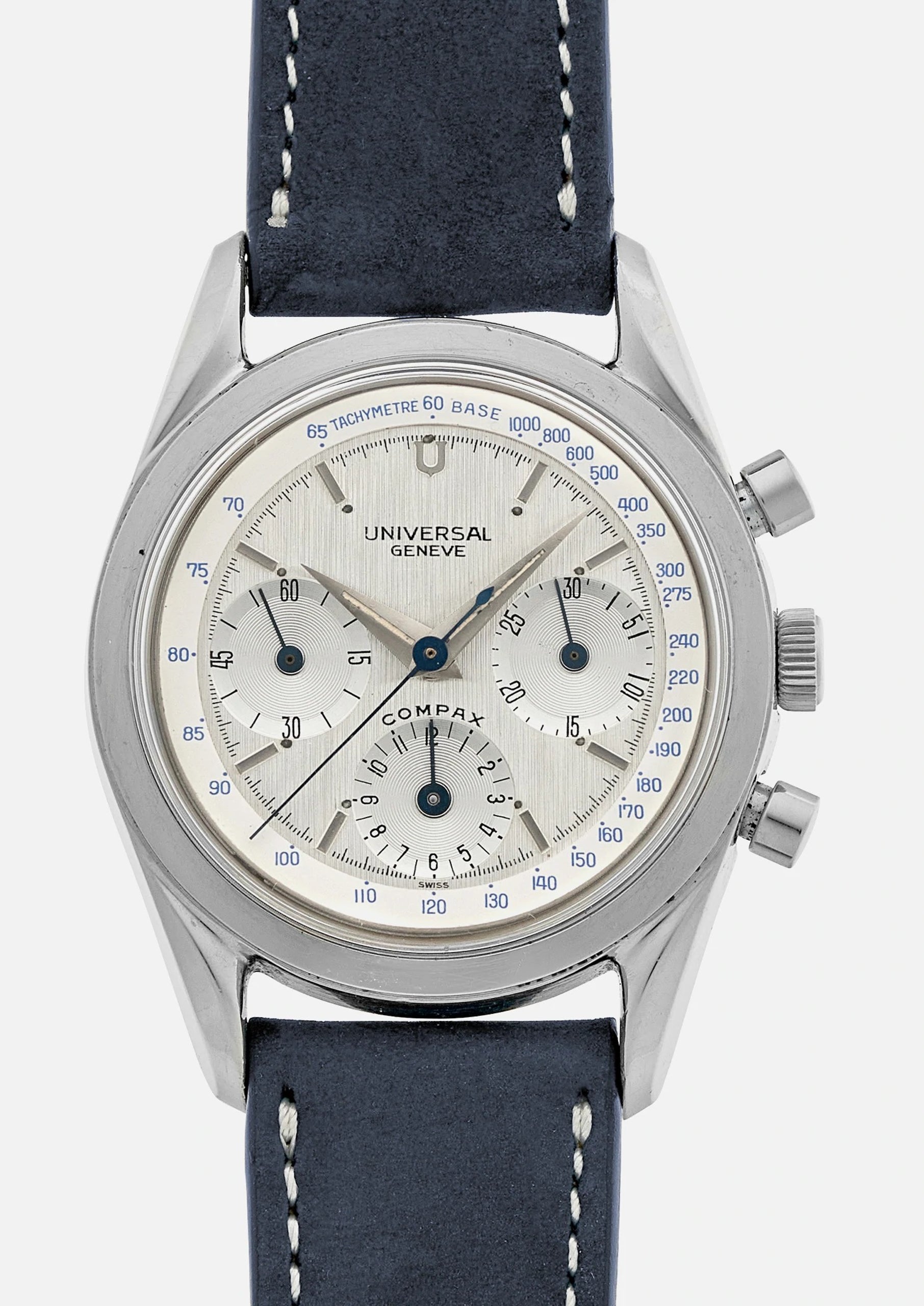 The original Compax watches were purposeful chronographs with a reference time complication derived from aviation. However, in the early 60s, Universal exploded with creativity. The classically handsome aviator's chronograph evolved to include the Aero-Compax, Tri-Compax Clapton, Nina, Space-Compax, and so much more. The line was one of the Quartz Crisis' greatest casualties, along with the Polerouter. Sob story aside, where's the value?
This base Compax featured a two-body 36mm water resistant case and lyre lugs, a proportion as rare as it is perfect. This was paired with a very grained dial featuring straight indices (except a U at 12), luminous hands/plots, and a 30 minute interval register. The calibre 281 was adapted from Universal's (kinda) acquisition of Martel and featured rhodium plating, 17 jewels, Breguet spring, 18800 vph, and 36 hour reserve. Classic in every detail, really.
Now shock, horror—I'm about to do something I've never done: feature a watch from Hodinkee. They don't need my help. But really, if I'm striving to feature the best watches across the entire market, I'm not going to blanket-ban any retailer. Sure, from time to time their offerings have been less-than-market-priced. However, when a ship corrects course, credit should be given where due. They got this watch right. It's a strong example and priced fairly. The case is strong with back serial visible. Dial checks out. And it's fairly priced. Let's hope this becomes a trend.
Find this 222101 Compax here from the Hodinkee Shop for 8200 USD.