Value Buy: an Anordain Model 2 in Blue Fumé
I once had the absolute best curry I've ever had in my life, in Glasgow. This is not entirely relevant, I am aware. However, Glasgow struck me in my time there as a town very much on the up and up. It felt like what Detroit should be today, a former industrial powerhouse now teeming with industrious people in new cottage industries. Enthusiasm and optimism are palpable there. It's what made my curry memorable. It's also what created Anordain and this utterly gorgeous dial.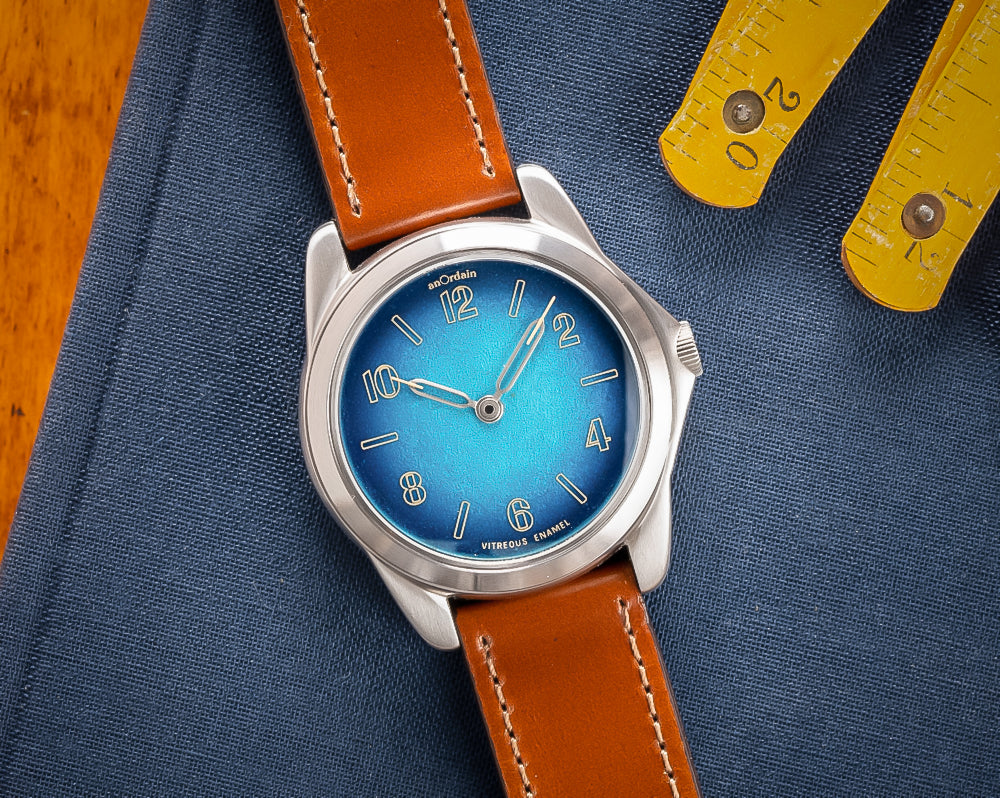 I am almost entirely uninspired by the micro-brand scene of today. A majority of what I see is easily purchasable on Alibaba and made without a thought or ounce of love. That's why I prefer to call Anordain a small brand and not use the now-dirty adjective micro. Anordain smartly chose to specialize in a crowded market. They didn't specialize in bizarre complications or advanced materials. They didn't bulk-purchase meteorite. They specialized in a unique dial manufacture. As any collector worth their salt will have experienced, dials make or break a watch. Why did I just feature a Seamaster 300 that costs 10X a standard? It has a unique dial (granted history too, but that's beside the point I'm making here). Collectors go gaga for unique dials. Anordain does them better than many of the big houses in Switzerland.
They are largely known for enamel Fumé. Fumé is a smoking of the enamel to acheive radial color distributions and textures. The technique was once fairly widespread, but fell by the wayside as it was deemed too time and labour intensive in the era of mass manufacturing. H. Moser & Cie resurrected the technique at the start of the last decade and Anordain has perfected it in enamel (their USP). I love that their technique is such as to leave the strong fume texture in the enamel, creating a gorgeous field of radial troughs and valleys to reflect.
These watches are made with a svelt proportion in a modern case design. The manual Sellita SW-210 may leave some wanting, but that's really not the point here. This is a watch designed for pure enjoyment, and the company is young. It is an appropriate caliber for the piece. I would liken this watch to the early days of Tudor's resurrection, ETAs were appropriate. You must give these guys time, they're smart enough to evolve things as they grow.
This example is minty mint. It's a piece that hits the secondary market not-too-often, outside of Scotland. I have watched the brand grow parallel to the mentions on the Scottish Watches pod and it has been a pleasure to watch both evolve respectively. This is a smart group of people with a bright future. That's what you'd be buying: a small slice of the vibe that is an optimistic city walking into the modern age.
Find this Model 2 here from Those Watch Guys for 1400 USD.