Universal Genève 884100 'Big Eye' Uni-Compax
It's hard to articulate just how desirable I, and many other collectors, find the mythical Big Eye. So named for its oversized thirty-minute subdial, the two-register chronograph does not come in a more nuanced form. In production between 1963 and 1965, most estimate the quantity of genuine original dial examples somewhere under one hundred. A handful of known Big Eye serials are catalogued here. Certainly, very few have surfaced in the market. This blue-handed panda dial is a significantly rarer variety than the black and grey more commonly seen. In either guise, most are only spotted at auction. It is an absolute pleasure to be able to share with you a truly rare bird today, a piece exemplary of what I strive (often in vain) to feature here.
The Big Eye's significance lies primarily in its aesthetics, rarity, and level of knowledge required to seek. Not only does one have to be the sort of collector who has enough knowledge to appreciate UG, but also the short production of the asymmetric variety of Compax dial. Granted, the reference 884100 has recently been rocketed into the generalist's consciousness by one William Massena. However, the genuine article still requires a massive dedication of a collector both in time dedicated to the hunt and the size of war chest. This is a crowning diamond to a Universal collector. The watch featured a 36.5mm steel case, dual-set crosshairs across the dial and little eye, and Valjoux 23 (signed as Universal 125). One small detail I adore: its two-o'clock pusher is marginally closer to the signed crown than its 4-o'clock pusher. The watch is asymmetrical in more than its registers. They say black and blue should never be seen without a color in-between. This beauty would beg to differ.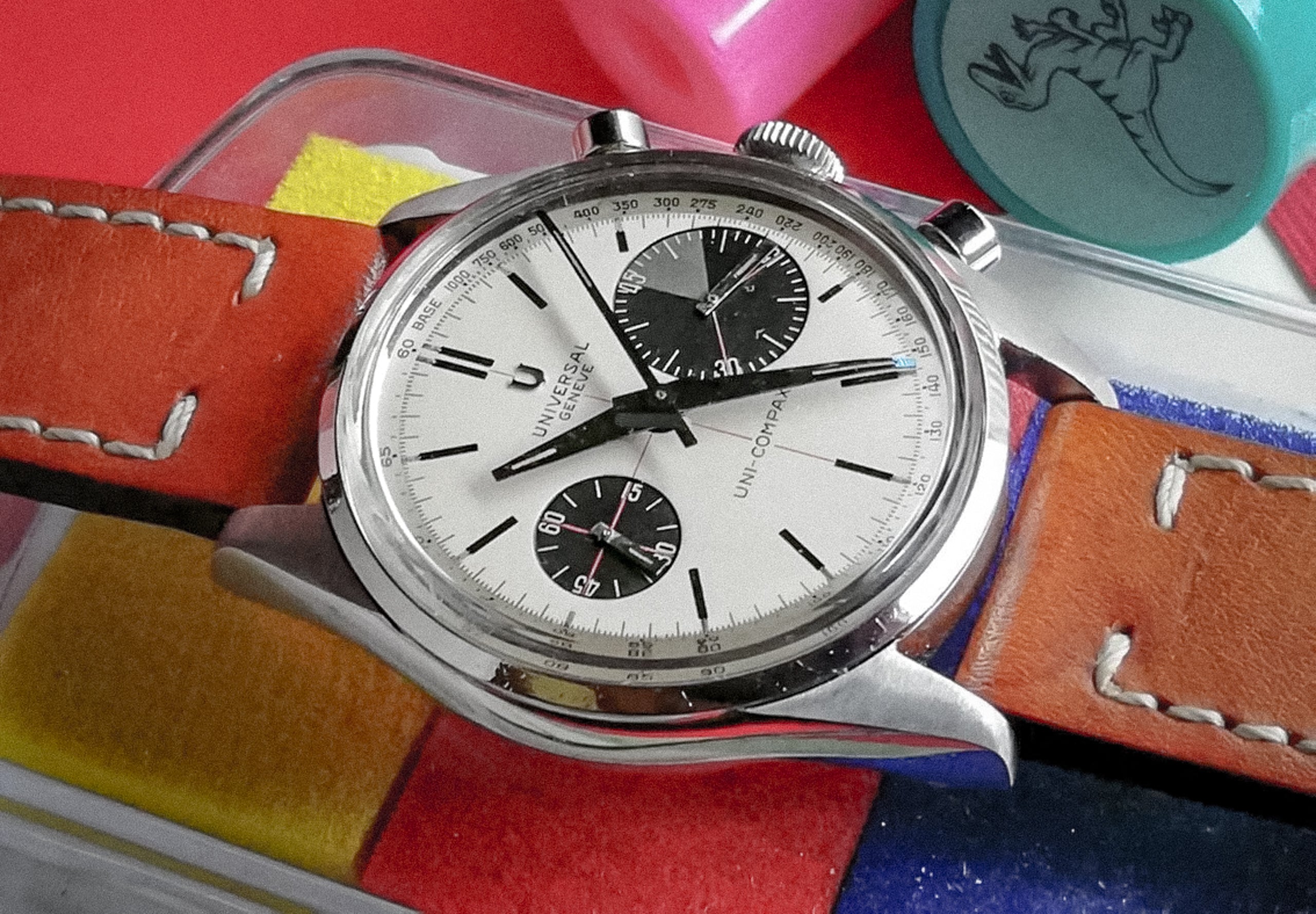 This example sports an honest original condition. Its dial is spectacular and quite gracefully aged. The luminous handset (even the chronograph seconds hand mind you, god I love UG) and dial pips are matched and evenly lightly yellowed, though some spotting is present. Its case shows signs of a light-handed polish with nothing truly upsetting. Brushed surfaces remain brushed. Don't you dare laser weld it. The blued handset has begun to grey mildly in places, which I actually kind of like. The watch has been recently serviced with receipt. It comes from a private collector out of Austria.
Find this 884100 Big Eye here available here from @k.kairos24 by DM on Instagram for 27750 USD.