'Ultraman' 145.012-67 Omega Speedmaster
At face value, this is just a 145.012 Speedy with an orange seconds hand. But that's like calling a Hemi Orange 1969 Dodge Charger just a car; it's not. That's General Lee. And this is Ultraman. The Ultraman is the Speedmaster enthusiast's Speedmaster, a watch that demonstrates how far scholarship can develop a market. Omega collectors, more than most, are students of detail, each as keen as the next to demonstrate themselves as in the inner circle with terms like DON, Alaska, Blue Soliel, or 220 Error. They're my kind of people. And this is my kind of watch: a beautifully and evenly patinated '67 Ultraman. Despite being completely separate in attitude (and build quality), it's about as close as the Omega community have to a mascot to rally behind like the General Lee is for the Mopar crowd. Let's quickly gloss over the flag on top shall we.
For many years, there was contention in forums about just what was or was not kosher. Did production cover multiple years? Was the hand produced in collaboration with the Japanese TV series? Did the TV series just mod theirs to match? Eventually, Omega themselves weighed in and settled the debate, noting that orange hands appeared on a small run of 145.012s and would confirm with an extract. But not any Omega orange hand, as this hand was specific to this run of watches and a different length if measured precisely.
In 1968 the rare orange hand Speedmaster made an appearance in the Japanese TV series Ultraman. We still don't know in 2023 just why Omega chose to produce just a few 145.012s within a specific serial range with orange hands totally unrelated to that series. We know only that some are genuine, delivered from Bienne. Only a few genuine examples of these are known. 50 is an estimate but likely number; all that is known is that the genuine article is not common. TOHO studios created the TV series and its creator, Eiji Tsuburaya is likely to have been a watch collector. Many of his TV series featured quite nuanced watches for their characters, so this orange-hand was likely not a coincidence but choice by the creator. What a badass. It is widely reported that in filming jumps, Dukes of Hazzard destroyed over 300 Chargers. Thankfully, I don't think one Ultraman has been harmed in the making of the series.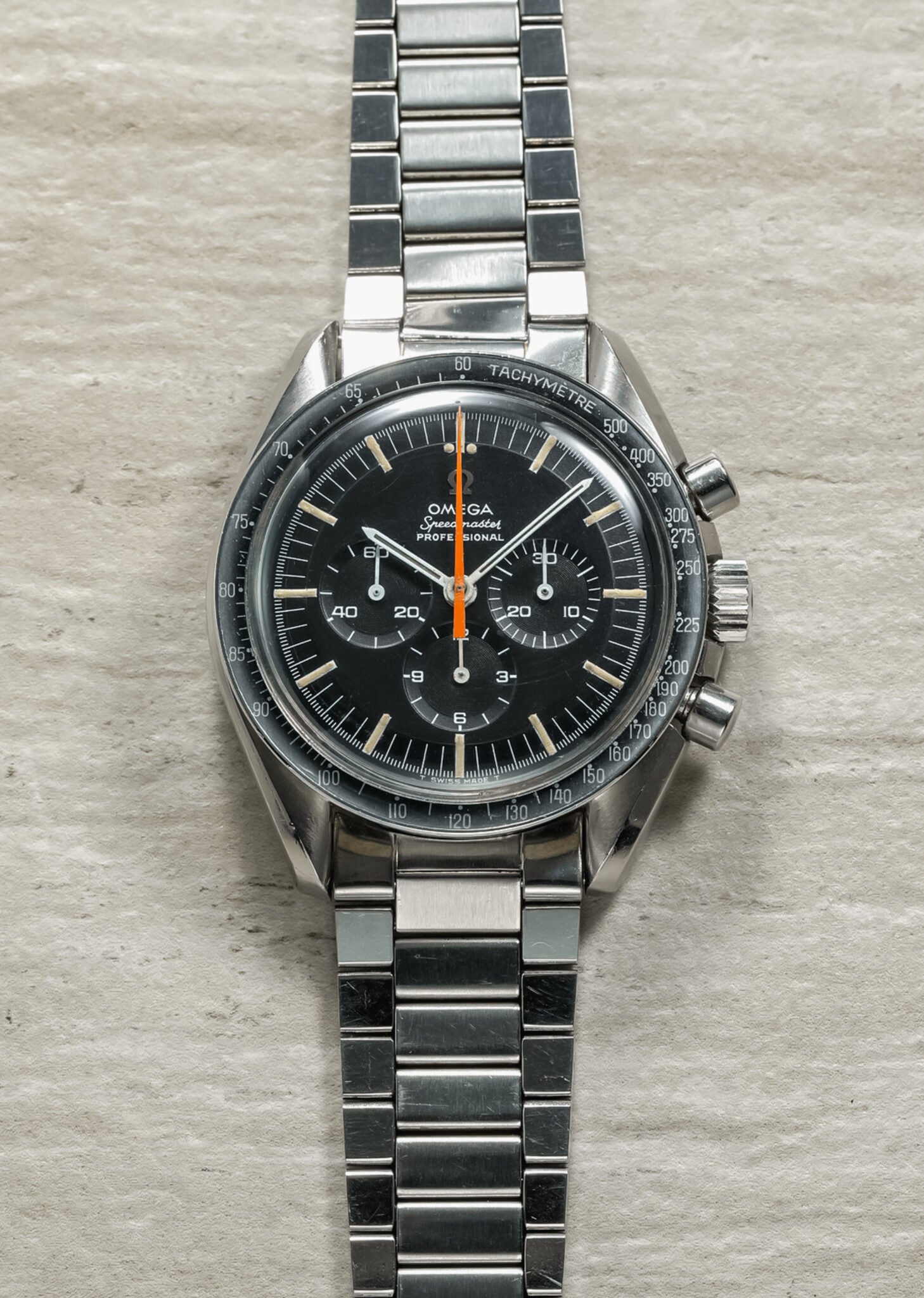 There is one known way to determine a genuine Ultraman hand: to measure the orange precisely. It also helps to get an extract to confirm. I defer here to Roy & Sacha Davidoff or Speedmaster101, but I believe the correct measurement is 18.80mm precisely. Certainly, the end needs to extend beyond the outer seconds track. This separates one from orange Chronostop, Mark II, 145.006, or Flightmaster hands, all of which are shorter. Please, do research here. Luckily, this one comes from the brothers synonymous with Speedmaster, this is the place to pick yours up. The serial range these oddities emerged from is around 26.076.xxx and 26.079.xxx, a 3000 example range. Where wearing a standard Speedmaster is a mark of one's appreciation for excellent watches with history, wearing an Ultraman is a mark of one's appreciation for watch scholarship.
The bezel on this one is a standout as well. Ghosted naturally, with the inner slightly darker than the outer. Its case is sharp, the dial and tritium all perfectly cream. It comes with an extract noting the special orange hand, as you'd want to see. It went to Denmark in '68, but today comes from Geneva and the most established name in Speedmasters.