Tropical Rolex 6538 Big Crown Submariner
Here we have the mackdaddy submariner, and one of the more unique examples I've seen for sale this year. Before the 6538 generation, the submariner was a serious tool for those divers who required water resistance. The 6538 took the submariner to the people by way of Sean Connery in the 1962 classic Dr. No. This was not sponsored or placed, unlike the current Omegas. Fleming mentioned some nondescript Rolex in the novels and the film crews obliged. The rest is history, though this 6538 spent its intervening years crafting one hell of an attractive dial tan.
Leaving alone the film connection, the 6538 stands on its own as a spectacular piece of horology. The guard-less 38mm was very sporting for the time, well ahead of most. The large Brevette crown is a brilliantly proportioned chunky bit of serrated metal. The dial went through many variations, but here is one of the wildest I have seen. It is a more common chronometer-rated four liner (as opposed to two), but with a spectacular patina. The hours this example spent in the sun has left its originally black dial somewhere between Godiva and Starbucks.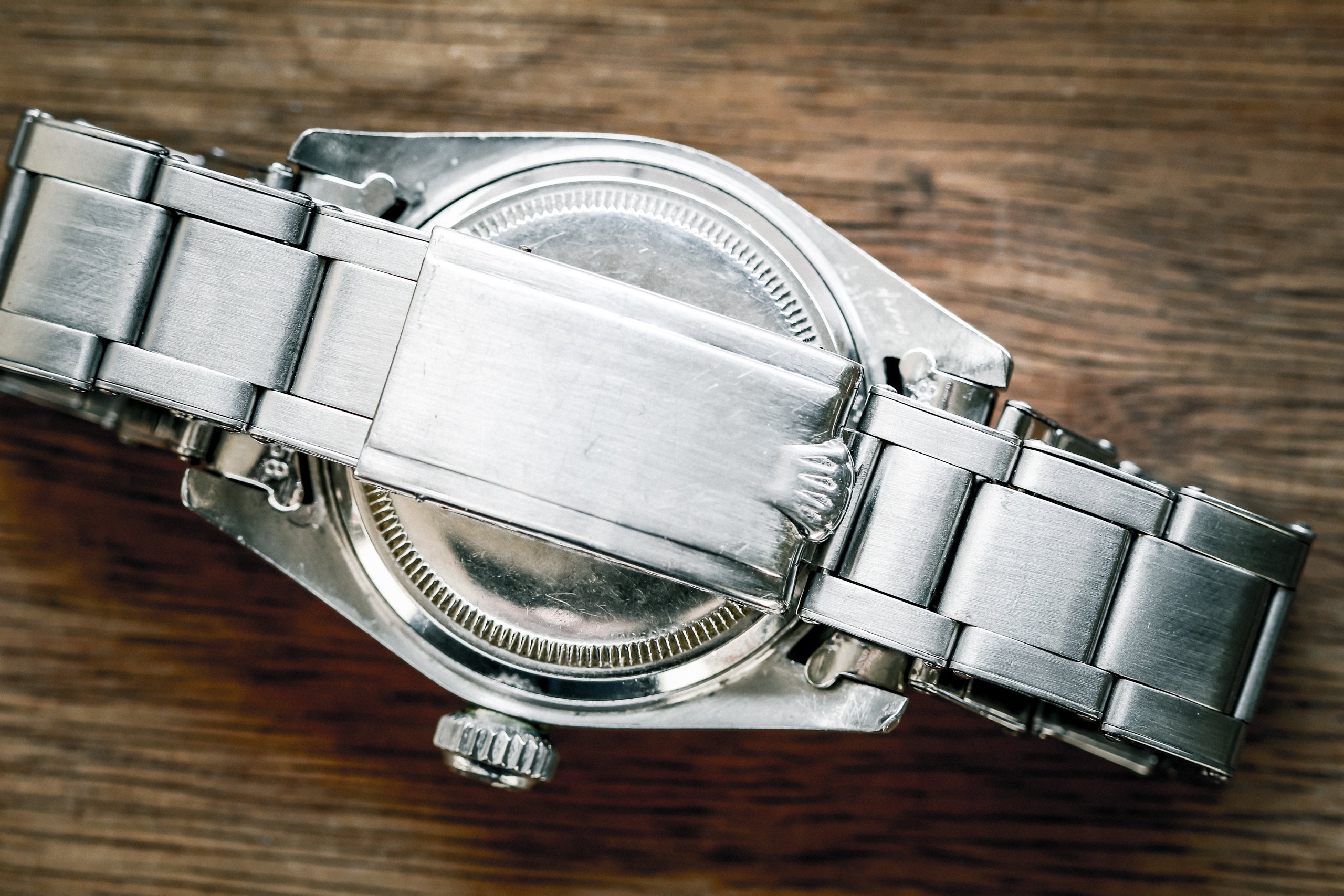 The unghosted bezel is just that slight bit more discreet compared to the dial with its red 12 and lume pip. Some of these bezels have hashes between 0 and 15 and some don't. This is one of the latter more common examples with hashes. The 6538 is powered by Rolex's 1030 25-jewel movement. That powerhouse has proven its place here by the simple fact that almost all 6538s and other Oyster cases it found its way into are running strong with only a few seconds deviance, even today.
The dial and hands are unusually intact given the level of patina they've acquired over the years. Its dial has faded to an even cappuccino. Its handset has been relumed to match, worth noting as imagine the original hand lume had probably disintegrated in the strong sun this dial was born in. It comes on a rivet stretch 6636 bracelet. The case appears to have seen some polishing but the intial bevel remains. The pictured example comes from German retailer Roy Watches. They are the real deal and well-respected.
Find this 6538 Big Crown here from Roy Watches for 285K USD.