Tropical 7928 Tudor Submariner
Five years ago, I attended a small dinner with a group of collectors. They chose an exceptional restaurant, I attired appropriately. There, I was lightly chided, by a man in red trousers I will add, for wearing a 16808 with a suit. Now, I'd never claim to be an authority in anything remotely sartorial. But I know the basics. And even so, I believe the era of only 36mm dress watches being appropriate for anything that requires a lapel to be fascist. The day Pierce Brosnan's stylist matched a Seamaster with Brioni, the standard shifted. I'm not saying a Deepsea Challenge is necessarily the best choice for the Milan Fashion Week, unless you aspire to Steph Curry's fashion sense. But I am saying that today, watches are first and foremost objects of self-expression. And the warm tones of a burgundy tropical Tudor are about as expressive as they get.
Perhaps because I'm also a worn old soul, and a bit fucked up really, today I'd happily choose to slide this under steel cuff links. Or I simply enjoy giving purists aneurysms. In any event, the Tudor Sub was always meant to be wabi-sabi, tools look better used. The line between abuse and patina is a thing to celebrate to my Midwestern sensibility, a matter of the heart more than mind. But the drastic tropical mocha dial is proof that this 7928 wouldn't crack over time or under pressure (unlikely many more complicated TAGs), but could be made more attractive for the life it has lived. No modern Rolex will ever look like this. No 36mm Patek will either. Both have their place, but until I'm 45 and comfortably accomplished enough to feel I morally deserve wearing Journe or similar, this is how I'd want to project my personal sensibility. Is there anything wrong with that? Not as in invading the Donbas kind of wrong, more serving Macallan on ice kind of wrong?
I've spoken briefly before about the concept of anti-fragility, made famous by Black Swan author Nassim Taleb. In short, he defines antifragile as that which gains from disorder to grow better. Most of life is fragile: my ego, Twitter under Elon, America's foreign policy for the last decade, etc. It is the rare system that betters itself through chaos: our immune systems, chatGPT, or @kingflum's Venn diagrams the day after a Richemont visit. We can add to that last list 7928s, or early Subs in general. If only Brosnan's stylist had better taste or Jean Claude-Biver's bank balance had been a little less inflated around the time of Omega sponsorship, perhaps my sartorial choice would be more en vogue. At least I wasn't in a fucking red trouser. It's been years, I'm not bitter. Not at all.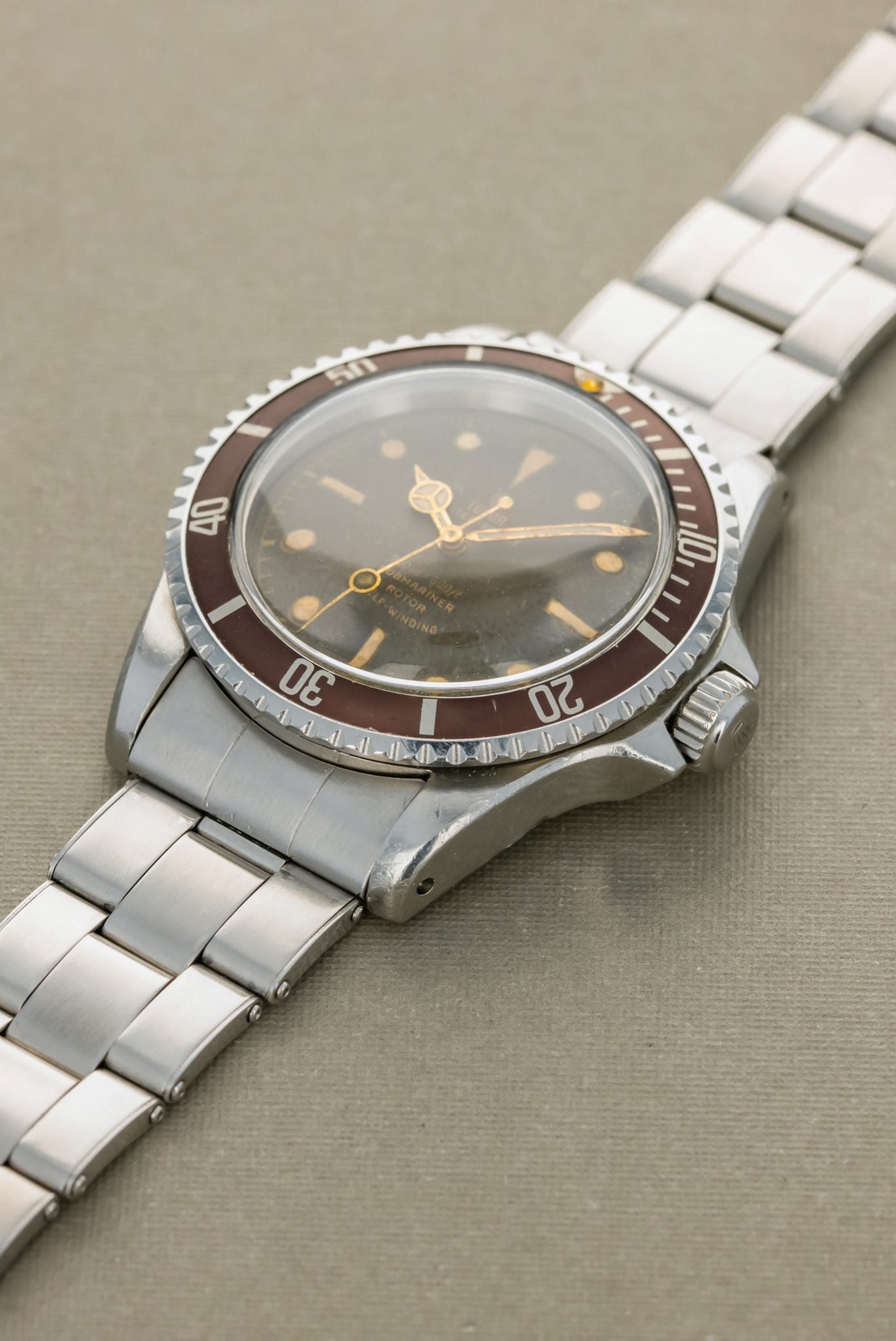 The first four early gilt 7928s came in iterations delineated by their dials and cases, all signed as Swiss-only. There was the Mk1 with square crown guards, generally accepted that only about 100 examples exist. Then came Mk2 eagle beak guards, of which most think a few hundred exist. When the eagle beaks were shaved off, we arrived at this Mk3 PCG case with gilt dial, followed by a Mk4 with underline to signify the transition from radium to tritium safety.
This example is in great honest overall condition. I love that the dial tone matches the bezel's ghosting, who knows it its original but it is correctly and absolutely perfect. The dial has has a very honest look with even puffy radium lume application. Its case is full, possibly a light polish but only possibly, it's really great. It comes on a stretch rivet from a well-regarded California retailer.