Tropical 1004 Breitling Superocean
Breitling makes watches for aviators. This is their marketing, this is their IP, and this is their history. And yet, Breitling have made some of the world's most gorgeous pieces of submersible steel, the likes of which are often totally overlooked. These watches were designed to be highly legible underwater, robust, but also styled as elegantly as possible. The were marketed to the gentleman-casual diver. As it turns out, the 1950s gentleman-casual diver didn't really exist and sales were slow. Slow markets in period mean scarce surviving numbers. This is a watch with pedigree and beauty, not oft-discussed and not oft-seen.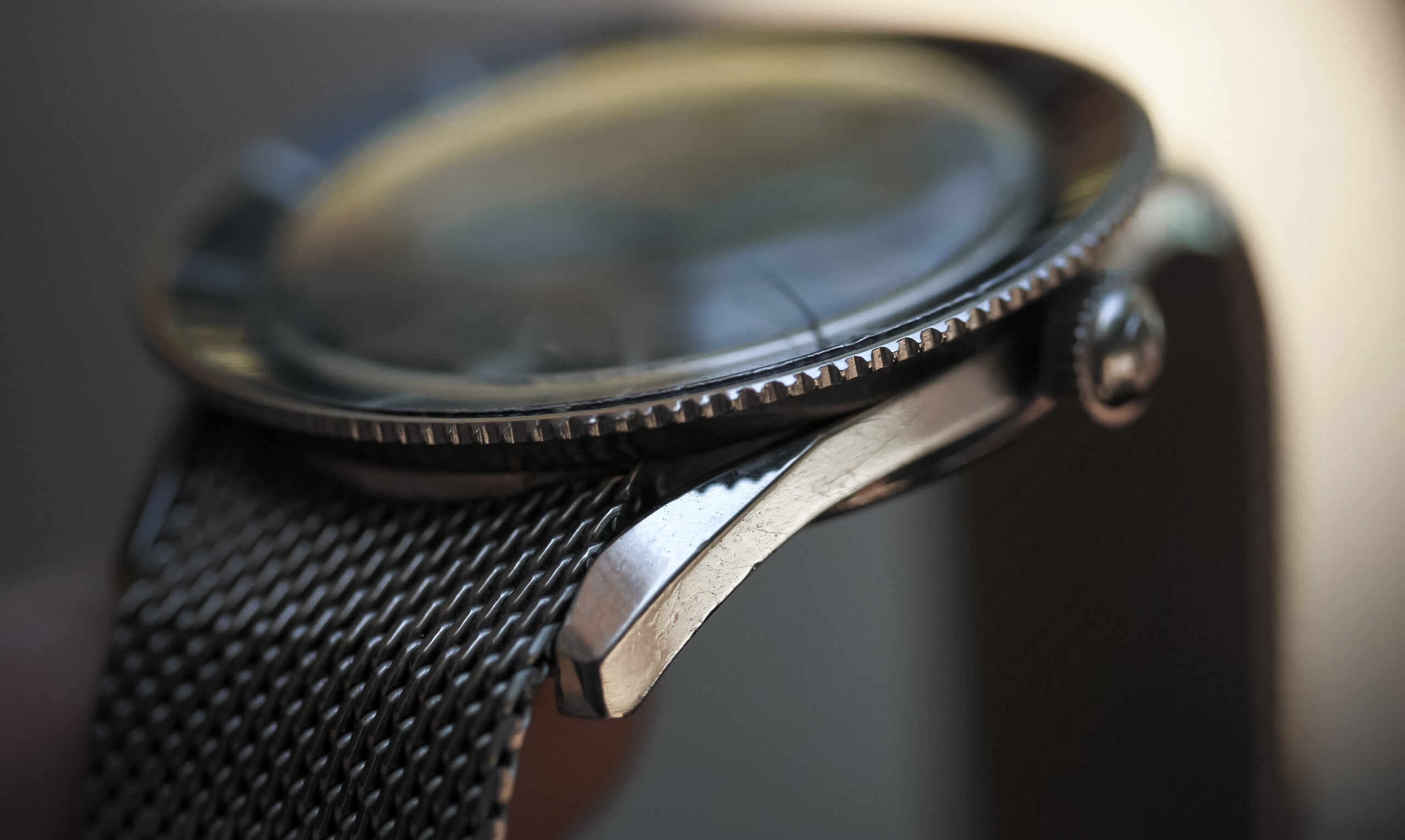 Breitling's answer the the early-60s dive watch frenzy was unique. More on that later. Introduced in 1957, the range included the 807 chronograph (interestingly, the world's first known reverse panda dial) and this, the 1004. Breitling marketed to their aviation-clientele a sort of resort-to-sky appeal, aiming to cover all bases. The case was a large 39mm, chunky even today. Today, Breitling makes seemingly endless variations this design, but this is one of the two models that started it all. So why are there none at auction, scarcely ever seen?
If you love vintage dive watches, you are also likely someone who appreciates a good bezel. Breitling's was the most radical in the game. Watchmakers generally design bezels at an angle away from the crystal, to clearly differentiate the plane at a glance. However, for reasons unknown to practically everyone, Breitling designed its bakelite bezel to angle the opposite direction to every other watchmaker (pretend the Gruen Ocean Chief doesn't exist for now, Rado too). The result was a totally unique look, one that has been copied by niche watchmakers seeking differentiation ever since.
However, there was a problem. This was watch that went underwater. If that concave bezel looks a little bit like the bottom of a lake bed, that's because it was. Seawater would collect and rest in between the crystal and bezel's bottom when set down, a notorious fault of this design. That water would corrode the case, get under the crystal, eat at the bezel, and cause all sort of havoc over time. If it was rare to begin with, that's why these are neigh on unicorns these days; many simply didn't make it.
The condition of this example is about as clean as one could hope for short of (gasp) refinishing. The dial is radium and remarkably intact given its age. The metal around concentrated lume application has begun to brown, a phenomena known as radium burn, not rust. Even its bakelite bezel, uncracked, has some remaining. Gilt prints are clear and the lugs retain shape. It is believed to be on its original mesh. It comes from a well regarded retailer after sitting in a vault some twenty years.
Find this 1004 Superocean here from Lunar Oyster for 45000 USD.