Tiffany-Signed 16550 Rolex Explorer II Cream Dial
Some watches require very little explanation; their appeal is inherent. FPJ's resonance is intriguing on the dial side and downright bewitching once flipped over. VC's skeletonized perpetual calendars will not let your eye rest. Watching a Lange rattrapante split seconds with complete equanimity is mesmerizing. Others take a bit more background. If you've been into watches for some time, the title alone is all you'll need to know. This Tiffany dial is almost certainly rarer than the blue 5711 (and orders of magnitude more subtle). This 16550 is a confluence of provenance, patina, Wilsdorf details, and charm. A transitional reference, the 16550 often misses attention from collectors; I'd like to note that this should not be the case.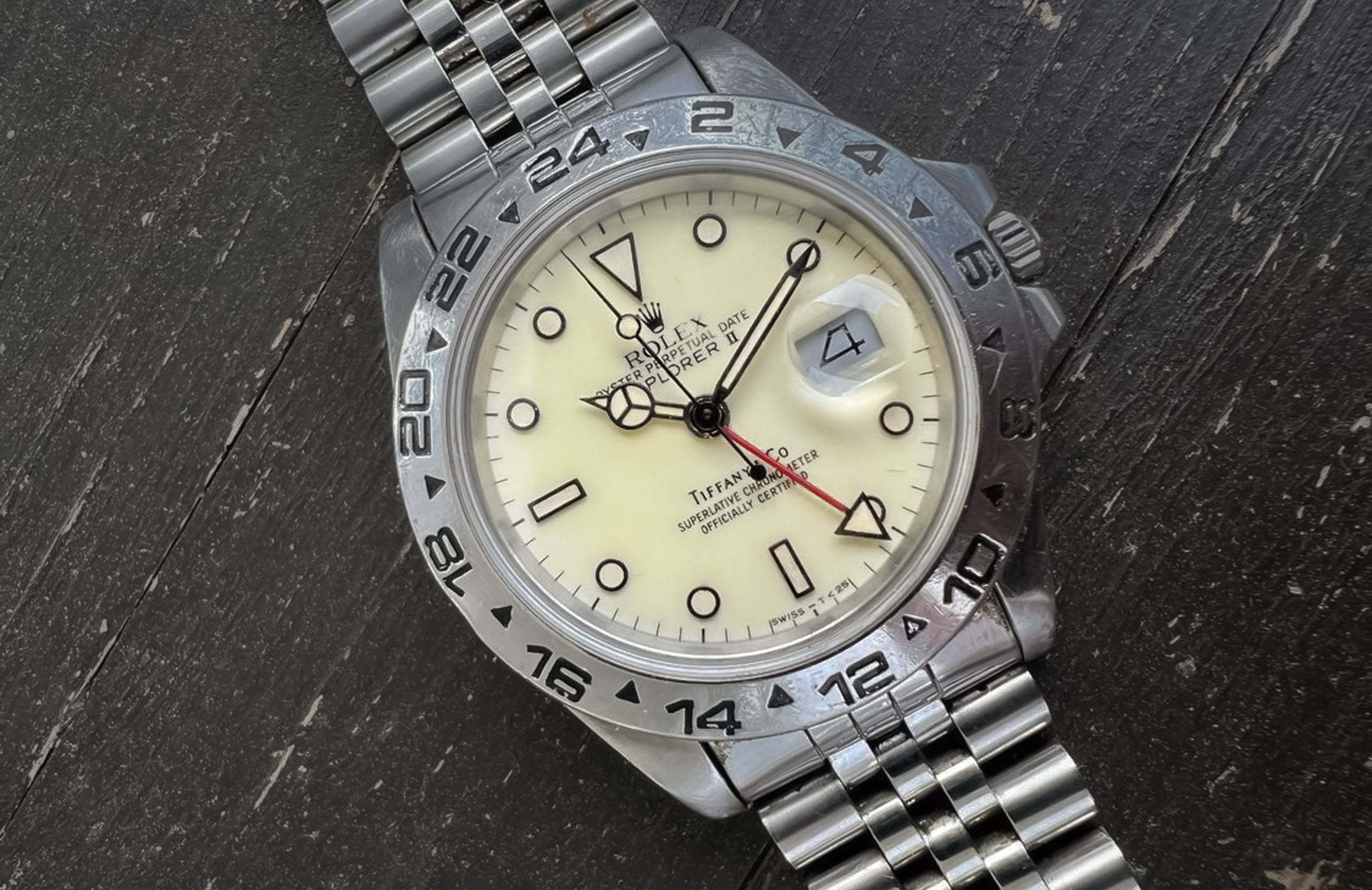 The 16550 updated the classic 1655 design by adding a fully independent jumping hour hand to track secondary timezones. Production ran from 1985 to 1989, with fewer pieces being produced than the references on either side of it. These few pieces had many variations through the production run. Hands and surrounds changed materials. Small variations often occurred in the 'Superlative Chronometer; Official Certified' text. Small hands exits. Fat and slim (or often called square vs thin) font bezels exist in the reference. Dials varied by rail (or not), black, white, and the gem we see here–cream.
If you're used to seeing cream 16550s in either rail dials or 'T SWISS < 25 T' with white gold indices, so am I. Those are by far the two most common forms. However, others do exist. Latter cream 16550s with black surrounds have been cited in multiple examples with 'SWISS – T <25', though rare. Typically, collectors will associate the black handset and surrounds with the 16570, but there was crossover in production within the 16550 reference. This is further bolstered by the fat font bezel, only found on the 16550 with its squared off numerals. All signs point to correct. Wilsdorf details, see what I mean? Further, the headline stamp. Yes, this is a Tiffany signed 16550. That is no common sight. These are not complete un-obtainium, but are far rarer in my experience than Tiffany Daytonas or Subs. This is partially explained by demand, as the 16550 simply was not terribly popular in period and undersold. I have seen one of these (of this kind of cream quality) maybe every other year at auction across all the big three houses.
This example has a beautifully even lemon-ish cream. Its signatures appear correct to me. There is a small mark on the dial above the E of Rolex, only visible in some angles. This example was found with a service luminova handset and was changed back & color matched. To my sensibilities that is no mark against it. The case is full but has likely seen a polish, 9-mil serial. Its case back is engraved with a name whose history remains obscure. It comes from a small, well-regarded retailer who operates mostly through social media.
Find this Tiffany 16550 available here from @rustycrowns on Instagram by DM for 65000 USD.