'Test' Dial 16520 Rolex Cosmograph Daytona
No, you're not having an aneurysm. This is a 16520, but not as you know it. This is a test dial, often called a prototype though that's not exactly correct, made by singer for Rolex before the Zenith Daytona existed for COSC testing. And yet, it looks like what would happen if you asked AI today to draw you a minimalist Zenith Daytona. Have you ever seen something so familiar and foreign at the same time? It's quite the contrast to warmed Patrizzi dials or the porcelain floating Cosmograph dials which came later. Almost as if the Zenith Daytona had been invented in an era were dial production was still '60s spec.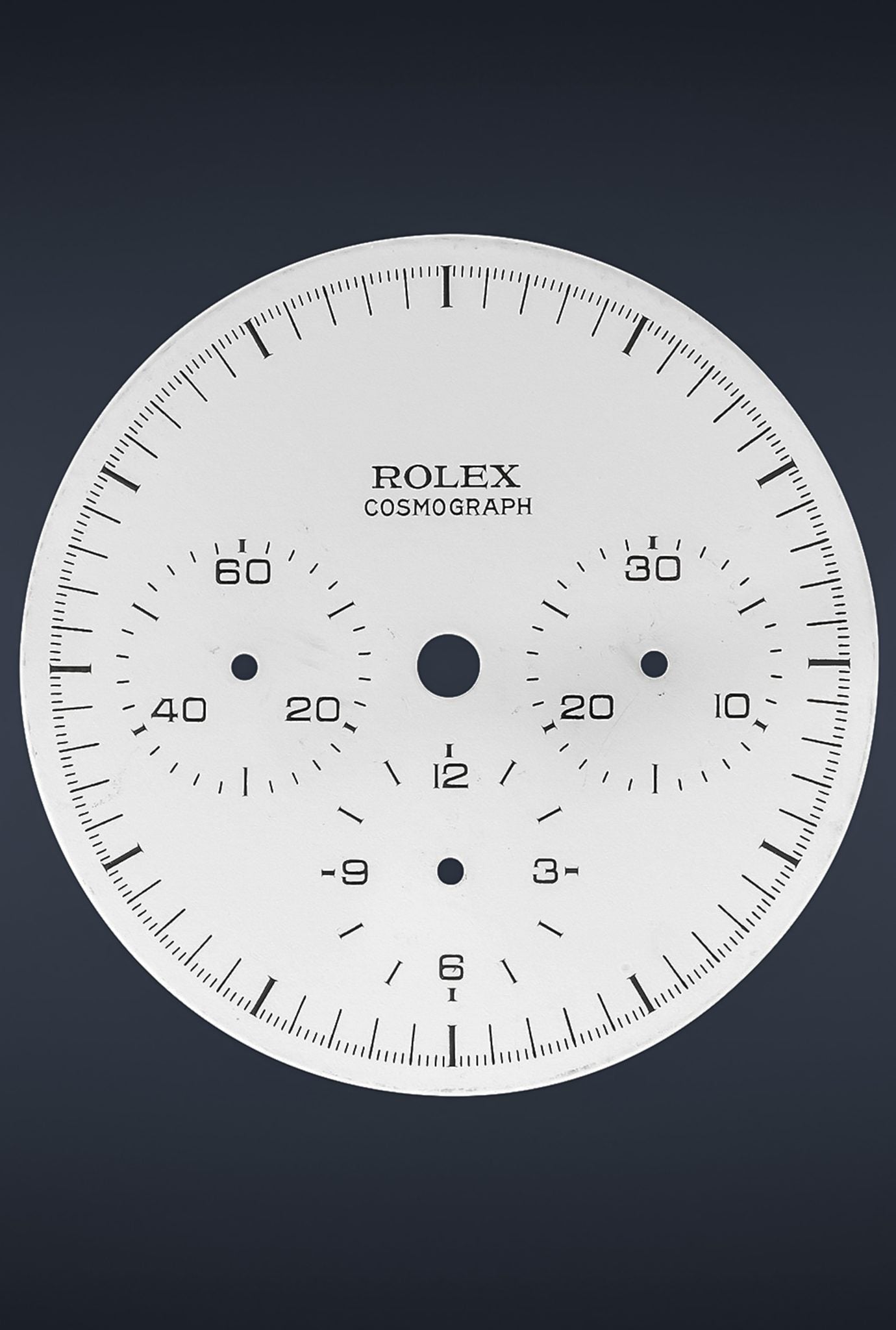 Rolex test dials are a contentious topic, entirely up for debate. Rolex's methods are mysterious, not precisely known to us. Often, because of the immense value associated with a 'prototype' Rolexes now, dials used for testing pre-production watches in earlier decades somehow have found their way onto the secondary market, years later. Singer supplied Rolex through decades, between the transition from manual Daytonas to the first Zeniths. This period, 1987 to be precise, saw the creation of a few starkly plain 'albino' test dials that had no applied or decorative elements whatsoever and only two lines of text, no Swiss signature. The design was clean so as to not distract at all from the chronometry testing they were made to undergo. It is widely thought that these dials were only used internally at Rolex for COSC testing, and largely scrapped afterwards. A few are known to survive, in three slightly differing styles, catalogued first by Mr. Pucci Papaleo.
There are two prior auctions results of a cased dial like this. Sothebys sold one in 2020, hammering at 63K USD. Then in 2021 Phillips sold a separate example for 242K and that exact example is the one here, coming back up for auction. 'Cased' is an operative word there, it is still widely debated if any of these movement/test dial apparatus were ever married to cases at Rolex. Most believe these have been cased well afterwards; like test Judd V10 it's too good to scrap and so winds up in some privately-owned 1990s Lola Le Mans chassis. Everything here is veritable Rolex, but make no mistake you're buying a dial. A dial that has but two lines at twelve, so far removed from modern Rolex production tropes that it's almost alien. This lot will demand a brave soul, but fortune favors the bold.
The dial here is great, not that there's much to go wrong. Light patina which could just be dust on the white. Its hands are cream tritium, but there's none on the dial. And its case has a few light marks of surface wear, not that anyone cares. This dial, I mean Daytona, comes with a letter from Pucci Papaleo, stating it is similar to one he's catalogued. It's coming up in November at Hong Kong.