Steel FP Journe Octa Automatique
The word steel very, very rarely appears next to FP Journe. Journe's following has grown so vast and so dedicated that any small deviation from the usual recipe often results in pandemonium. There are few collector sets which become so frantic over rare dials, one offs, or limited series. You can imagine, then, the furor which result when, in 2015, FP Journe celebrated the end of their 38mm cases with a boxed set of their five icons. All were in steel, all were sold together, and all were limited to 38 examples. These 38 sets have only very rarely been separated. Yet, that is exactly what we have here.
This Octa Automatique was in many ways one of the original Journes, borne of a napkin sketch in 1994 and introduced to the world in 1999. This model was one of the four which set the foundation on which modern FP Journe has been built. And today you'd struggle to source any of those originals. Four of those foundational models comprised the five watch set, plus a take on the Chronomètre Bleu. All watches in this set featured gold dials and movements inside of steel cases. Aside from the steel vs platinum of the originals, this replicates the look of those original watches with dials prone to oxidation and the patina that collectors find quite appealing. However, there are slight differences. Whereas early Journe watches used black numerals, this set uses a very dark blue aimed to perfectly matched their blued steel hands. The only other times Journe has utilized steel were in his minute repeater and grand sonnerie, purely for steel's acoustic properties.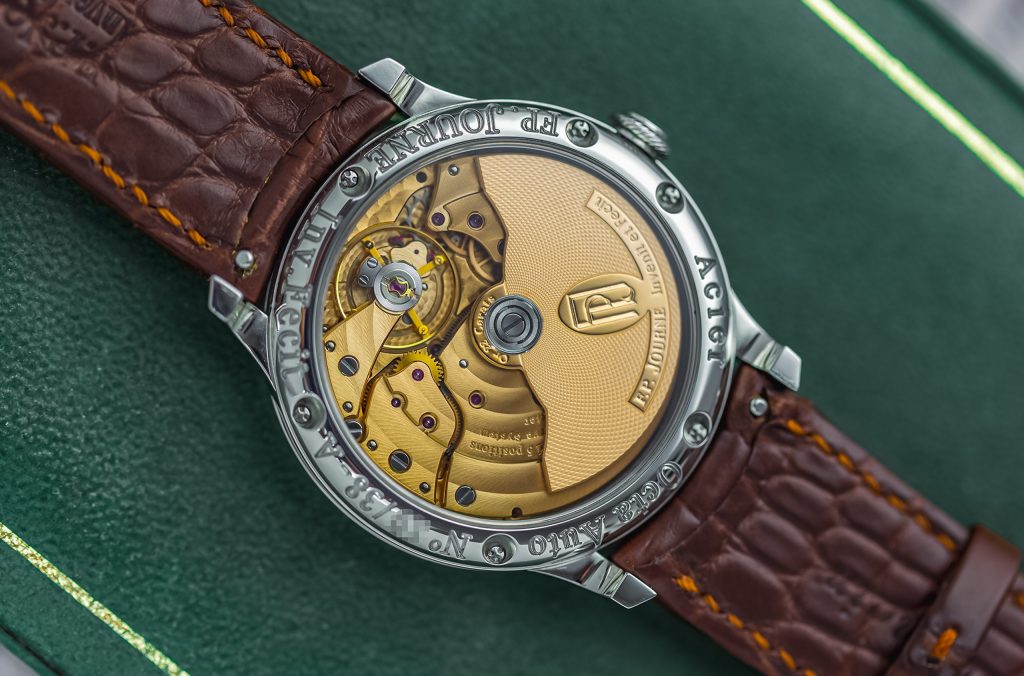 As the Octa Automatique was discontinued in 2014, the offer here is something doubly special. It is one of the more practical offerings from Journe, yet still manages to fit its automatic calibre 1300.3 with five days of reserve in a case no taller than a manual Chronomètre Bleu. Its dial is stark in its off-center time display, large open space, and artful arrangement of date and power reserve. Individual steel watches from this set are a scarce commodity. I can think of just three that I've seen for sale since 2015 introduction. Knowing that this OA is one of just 38 lends it an imperious attitude, which nicely contrasts the playfulness of its dial design. One thing is for certain, this is not likely to be a repeatable proposition for some time.
This example sports a case with no noticeable wear to my eye. Literally none. The dial has not yet begun to oxidize, and this would be early for that process to begin anyway. It comes with a copy of its Coffret Set Certificate and pin buckle from a well-regarded retailer.
Find this Steel Octa Automatique here from Phillips Perpetual for 135000 GBP.