Salmon Laine Gelidus Guilloché
After a decade of attentive watch interest, it's hard to get excited about the lion's share of modern releases. Torsti Laine is a Finnish watchmaker, trained under Lange and Voutilainen. There is a level of intention behind his work that shines through in in the details. Many can take a Unitas calibre and off-the shelf components to create a relatively affordable offering. Not many can make that feel cohesive and truly unique. Laine excels in elevating the ordinary to something truly remarkable. That is particularly the case with this example its custom salmon dial. Excited is understatement.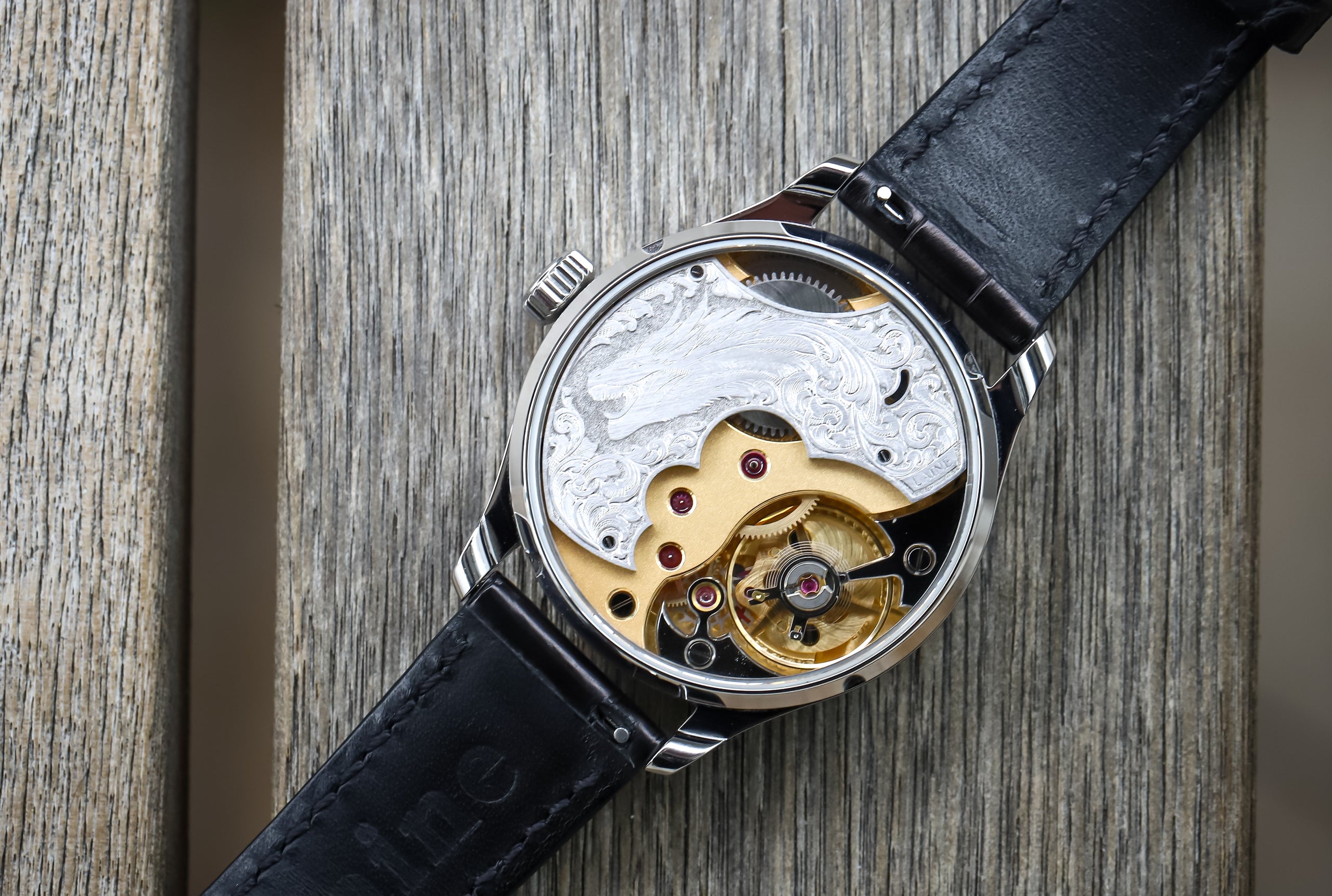 Laine starting building his own watches in small numbers in 2016. There is a considerable degree of hand finishing applied to what is a Unitas derived calibre. Don't hold that against the Gelidus. The steel bridge and escape wheels are grained and mirror polished on their bevels. All screws are hand polished. Then there's the engraving custom ordered on this example, to be reminiscent of a dragon motif across that huge plate surface. Very, very delicate engraving work and beautifully done. This relatively young watchmaker is clearly on to great things. But I adore this point in a brand's nascent stages, where one can talk face-to-face with their watchmaker and create works of art together. That one-on-one interaction is so rare these days, but the products that result from it emanate passion.
That base movement does unfortunately dictate a slightly larger case proportion, slotting in at just over 40mm. That controversy aside, the manufacture is probably most known for their striking signature dials, finished in a granular guilloché with applied indices, tracks, and signatures. That guilloché is done by hand, the old-fashioned way on a rose engine. This is not the standard guilloché you may know. This watch features a totally custom salmon version with a frosted finish, chinese oracle bone numerals, and a purple handset. Wicked.
This example is not completely original, the dial was made by Laine to retrofitted on this GG. That said, everything else checks out A+. The original dial and full set are included. It has barely seen wear, nothing abusive. The watch was crafted in 2019 and should not require a service for some time. It comes from a reputable Australian retailer.
Find this Gelidus here from Watch Vault for 11950 AUD.