Rolex 16753 Root Beer GMT-Master II with 'Volcanic' Dial
This watch has all the hype words: nipple-dial, root beer, two-tone, tropical, GMT, and Rolex. And yet, I don't feel it's a hype watch in the slightest. This is a nuanced, Rolex collectors' choice. The tropical (if indeed that is the correct term) dial holds a perfectly reddish/brown marble patina, a beautiful ageing known as a volcanic dial. I think there's much to be said for the watch classics which grow on you over time. Many sympathize with the experience of initially disliking the RO & Nautilus, only to slow reverse that stance in lock step as their love of collecting grows. This 16573 falls into that category for me: viewed as brash in my horological infancy, yet now deeply attracted. If its charms don't hold sway on you yet, rest assured they will.
The root beer was a an early deviation from the usual formula for Rolex. Just after Bond's Pussy Galore shoved the GMT-Master into the limelight, the historically conservative brand went a bit off the rails. In the years since, the model has achieved a sort of cult-status amongst GMT-Master enthusiasts. Two among them, Clint Eastwood and Elio de Angelis. The polarizing design may not speak to all, but it tends to make zealots out of those who appreciate it. I think I can safely say this example even moreso.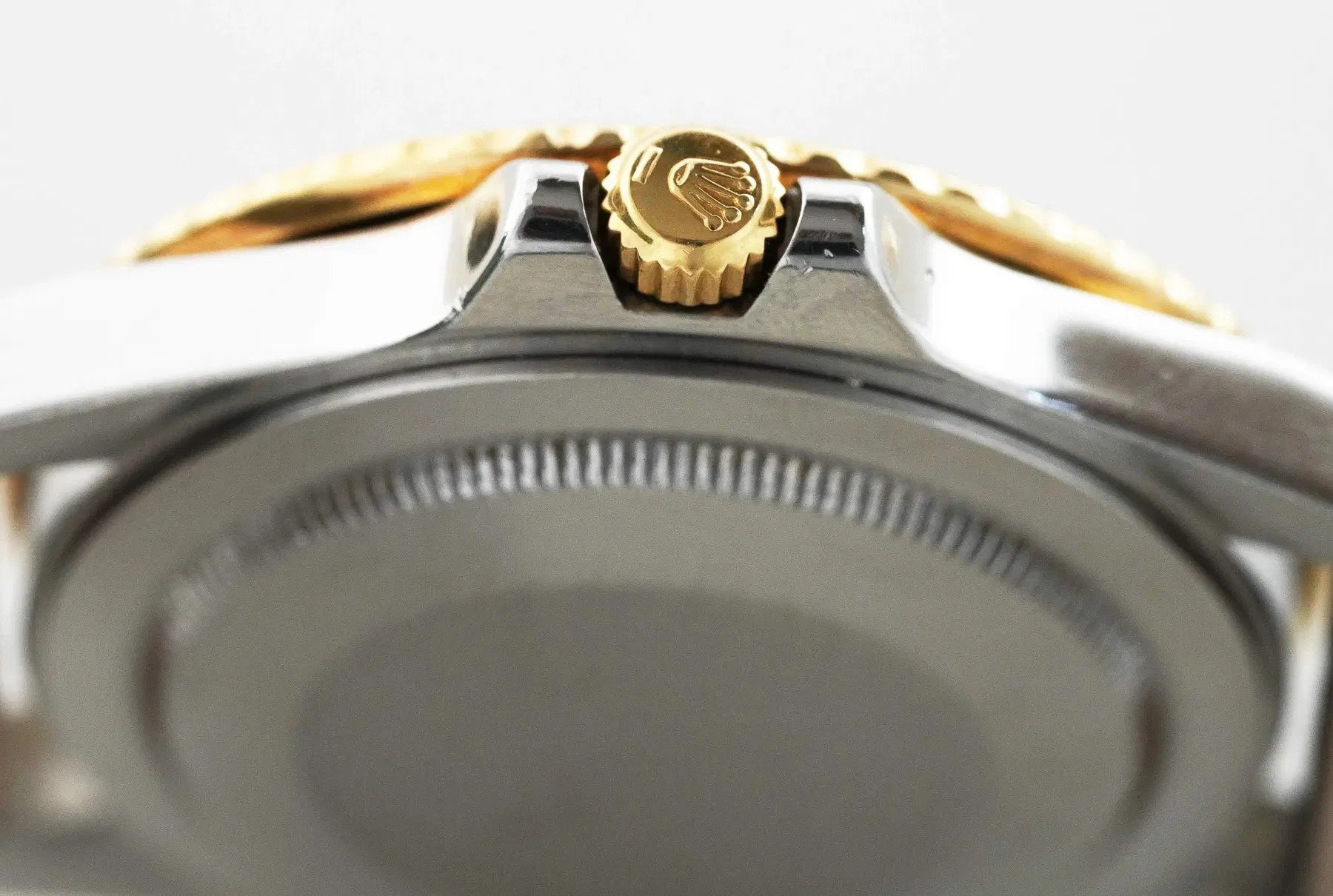 Its bezel has gone from traditional root beer tones to a blue/green & bronze. The dial, aforementioned, is spectacular. Its handset and tritium are in lovely condition. The case is a little toward the rough side but nothing abusive. All components pictured are correct. I particularly adore contrasting crowns in two-tone executions, this one included. The watch is missing a correct bracelet, but I would just be patient and keep an eye on Chrono24 for that. The important points, this watch has in abundance.
Find this 16753 Root Beer here from Subdial for 9200 GBP.