'Red Racing' Dial 145.012-67 Omega Speedmaster
This is something of a final boss for those who worship at the altar of Moonwatch. It's known as the 'Red Racing' or sometimes 'Black Racing', as both colors are distinct to this dial. There are two iterations, with and without a professional line, and fewer than 10 examples of each are known. For many years these were so scarce that they were assumed prototypes, some even thought they were fugazi. But no, this a production Speedmaster, just so extraordinarily rare that they're chasing values around 100K USD regularly. WTF?
Late 60s and early 70s racing dials are a highly collected category of Speedmaster with colorful accents and fun chronograph seconds tracks. Mostly, these watches have grey dials with orange accents, in 145.022 and 145.012. But, more scarce than either, there are these vanishingly rare 145.012 black dials with red accents. Unlike most Speedmasters the variant without the professional line appears more collected in these, such as this example.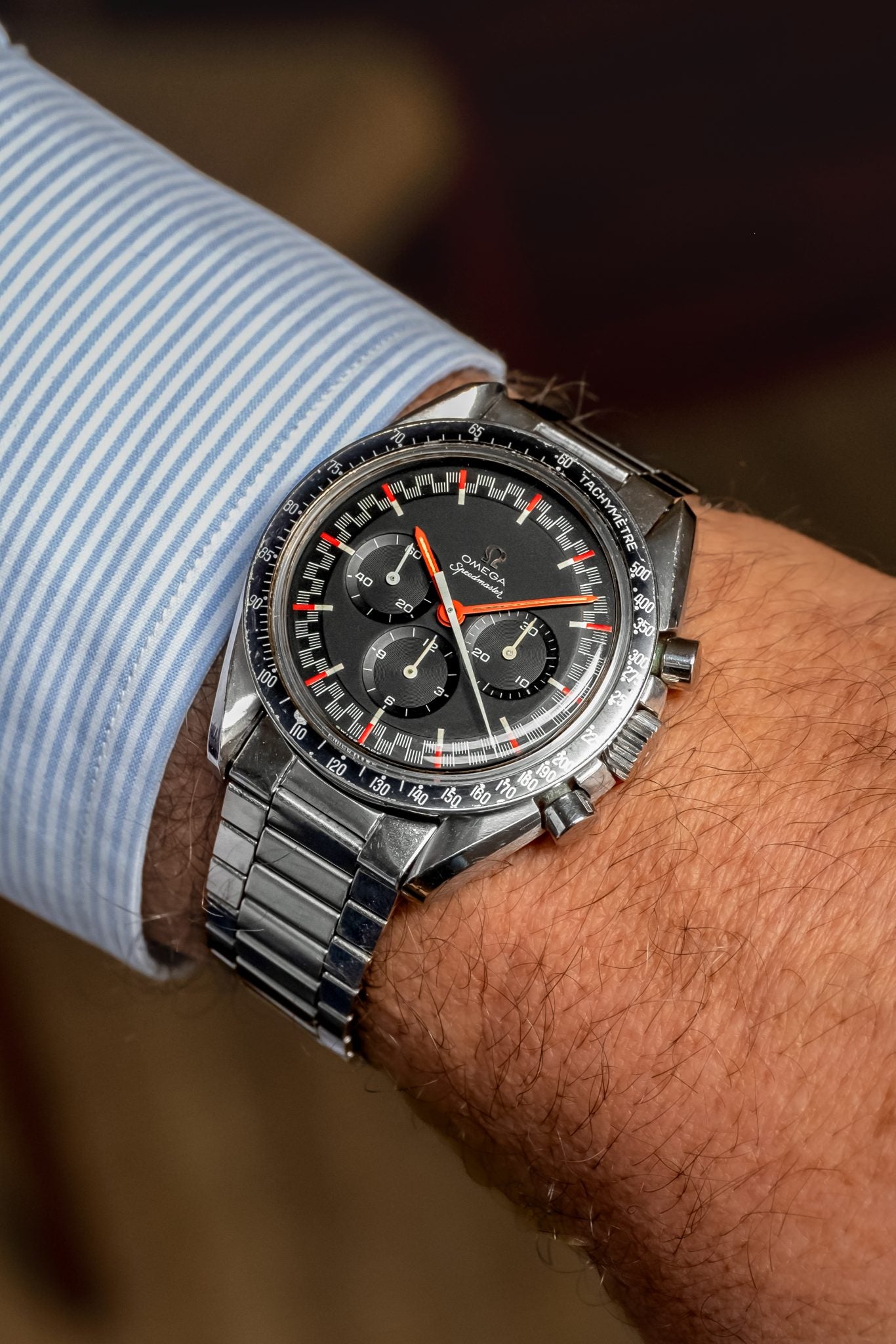 When a bunch of watch nerds collaborate and get together on the internet, it's almost an emergent phenomena that people start looking for rare and more strange iterations of watches as means to demonstrate their knowledge to the in group. The value of this behavior is debatable. But it does push the edges of scholarship and knowledge out just slightly. The Red Racing is one such watch, a Speedmaster that even most Speedmaster people are not going to be aware of. Combine this with near-prototype scarcity and its a recipe for a very interesting market. I also appreciate the fact that this is a Speedmaster seen through a very different lens, not as much a Moonwatch as a racing watch, which was what the original design brief intended.
Last year was a down overall but a great year for these. Antiquorum sold one last year, non-pro dial, at an astonishing 206K USD. Phillips sold two the same year, one at 63K and one at 97K. In '21, Sotheby's hit 94.5K with the only Meister signed dial known and then sold a standout pro dial for 88K. This is all put in context by Phillips result in 2018, just 45K. This is a watch that's becoming that final boss to many, those who know and appreciate Speedmaster on a very high level. Think of it being positioned market-wise right now as the Milsub was in 2014. Not from a value perspective, but that it's every bit as rare, very significant, and just starting to be widely known by those who don't frequent Omega Forums.
This example is impressively preserved, better than many of the examples we've seen auction for higher sums than the ask here. There is no visible damage to the dial. Its tritium is bright, a bit lighter than the hands which have a deep cream, but that's very likely normal here. It's all in a strong HF case on a flat link 1039/516. It's lovely, and comes with an extract from Omega and its original box from a well-regarded French retailer.