'Pre-Carrera' Heuer Triple Calendar Chronograph in Yellow Gold
I adore a watch with a story, and an 18k Heuer triple calendar from the 1950s sold originally to Brazil satisfies that criteria with full marks. If you're in the market for a triple calendar, there are many with character: you could sell the house for a Jean-Claude Killy, invest a house and you child's college fun a Patek 2497, keep it alternative with a Girard Perregaux 5368 or VC 4241, or stretch the definition with a UG Clapton. This falls into the stretch category for its additional chronograph. In short, it is a complication with no shortage of meaningfully attractive historic entrants. Yet, this humble Heuer is offering serious value and a still more serious degree of attraction.
Heuer have used Valjoux's 72C for nearly a half-century to great effect through the Carrera 12 Dato and many others, going so far as to see their case and movement combinations to countless other brands. This example is from the very start of that collaboration. These earlier iterations lack much of the sporting associations, but compensate with a wide variety of dials, cases, and details. This black dial with gilt tracks to match its case is a very attractive option, something a bit close to a John Player Special from well before Senna was born.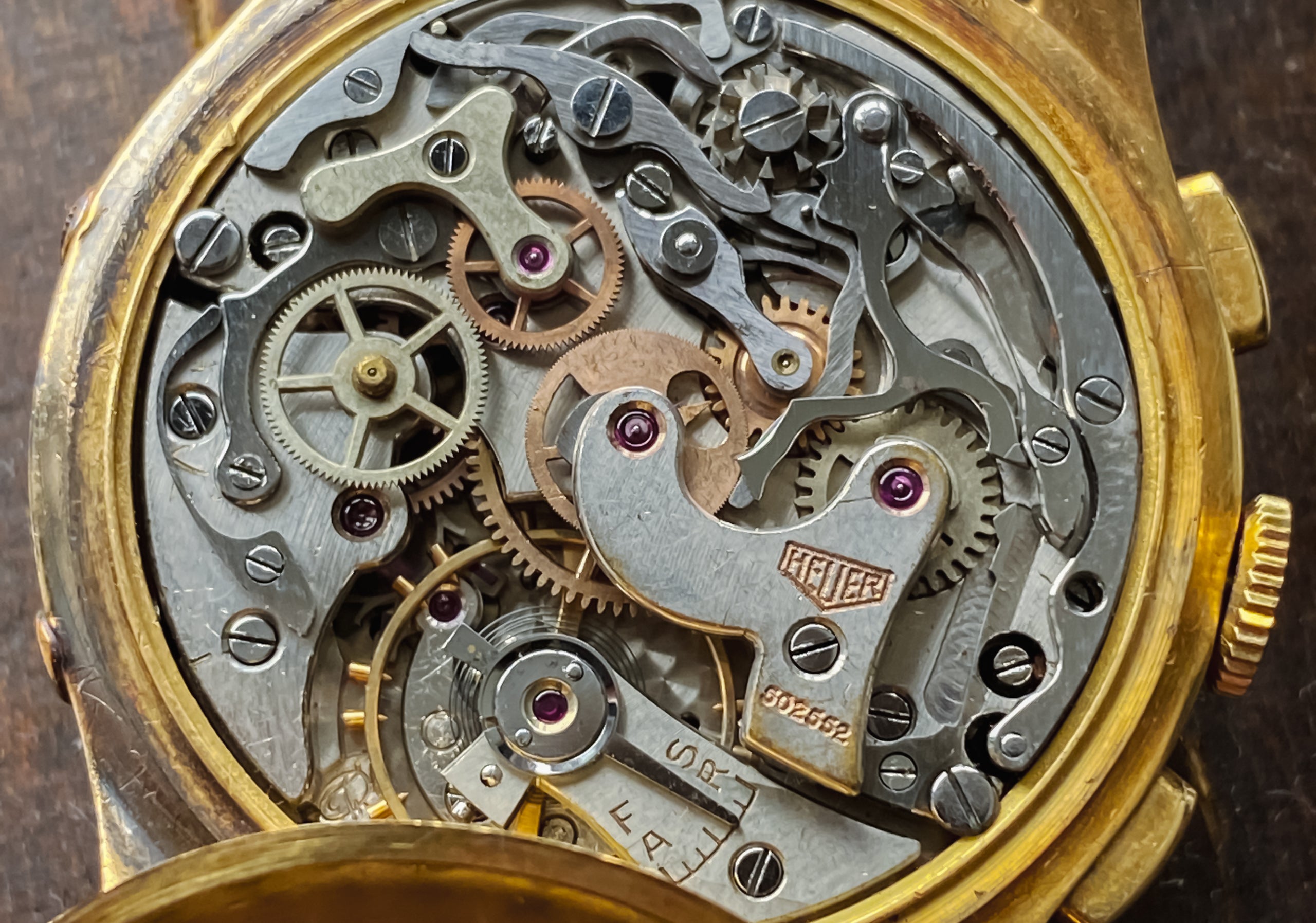 This 18k yellow gold case is made so much more special for its period engraving in Portuguese with a date. The engraving fonts are varied and clearly executed by hand. Its date of 31-12-1950 suggests this was one hell of a way to kick off the New Year for one Louis Alberto Veiga. To have survived through the seven decades when engravings were often polished off at resale is a beautiful thing.
This example has a probably seen a light polish going by its lugs, as would have been customary. Otherwise its case is quite full for its age. The dial is remarkably well-preserved, with all gilt still very clear and un-degraded. Its Valjoux appears to have no corrosion and is said to be running well. It comes from a well-regarded Dutch retailer.
Find this 1950s Heuer Triple Calendar here from Vintage Times Amsterdam for 6000 EUR.