Omega Speedmaster Apollo-Soyuz 35th Anniversary
A Speedmaster with a meteorite dial just seems right. However, it didn't happen until 2010. Though it's often assumed that the platinum 321 was the first meteorite dial Moonwatch, it wasn't even second (that was the Grey Side of the Moon). Because the appearance is so similar, it's often mistaken for the platinum 321. But this, the Apollo-Soyuz 35th, was released a decade prior. In 2010, watch media existed but in nowhere near the massive capacity it does today. It launched under the radar and has stayed relatively under the radar even until today. And its not just the subdials that are made of meteorite, but the whole damn thing. What a lapis dial is to the standard 18038 Day-Date, this is to the standard 1861 Speedy.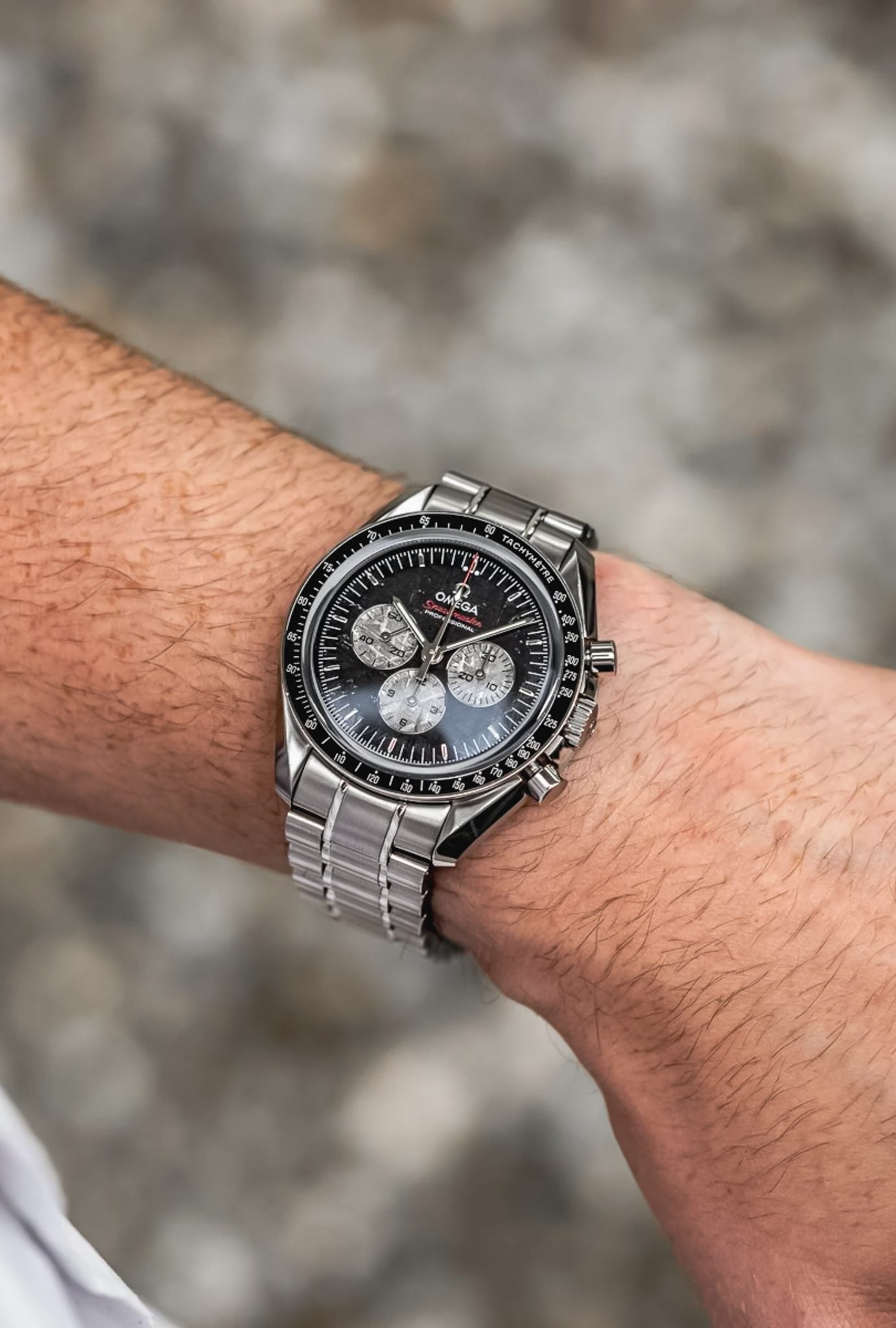 In fact, I'd argue it has to be in the top 10 of under-loved Speedmaster references. The 90s up until 2010 saw some incredible looking and rather adventurous Speedmaster iterations released that have just been a bit lost in the mix of countless sort-of-limited editions. But this one really is worth the learning. In 1975, the Apollo-Soyuz Test Project was the first crewed international space mission to join the US and Soviet Union. Now, that partnership is bit more fraught today. However, when the American Apollo docked with the Soviet Soyuz capsule, history was made and man was united toward a common aim. The Space Race and Cold War era definitively ceased in 1975. To celebrate the 35th of that event, we got this.
This particular dial is from a 4 billion year old Gibeon rock discovered in 1836 in Namibia. The darker main section is chemically oxidized in a manner to bring out the 'marbled' structure, while the registers are the natural meteorite tone. Speedmaster is in red, mild Daytona line vibes. But then it has one of sickest solid caseback engravings of any modern Speedmaster, showing the moment of docking with English American and Cyrillic Russian text of crew members. Made in 1975 examples, it is a tribute act that entirely lives up to the original 145.022 with the stamp at 12. Today, they trade hands for approximately the same values as a modern 321. Call me a хуй, but I'd rather have this.
This example is great. Light signs of wear, totally factory looking lug proportion. No significant damage visisble, maybe a few light lines on the case. Its a little more special though, in my estimation, as it comes from RJ of Fratello, the man who made Speedy Tuesday and just an all around legend.