Oman Khanjar Dial 3700 Patek Philippe Nautilus
When watch lovers throw around the phrase 'exit watch', which is a fanciful concept in itself, they usually mean 'the next watch I can reasonably see myself attaining.' If a sole watch is going to pull you off the hedonistic treadmill entirely, it has to be an order of magnitude more of whatever interests you, the apex of all time. Usually, that dictates a few orders of magnitude more valuable as well. Which all means that by the time it's a possibility, you're not cross-shopping other watches. You're cross shopping houses and your economic means have changed so substantially that you now likely value different metrics entirely. However, I can honestly state this 3700 is more attractive to me than any mansion. And so maybe these mythical creatures do exist after all?
Mythical creature is the only way you could accurately describe this Nautilus, made for the Sultan of Oman Qaboos bin Said al Said in 1978. You'll probably be familiar with this start, but this is no Rolex Day-Date. Where there are hundreds, perhaps thousands of khanjar Day-Dates, in Nautilus it's a different thing entirely.
There are only four known yellow gold 3700s with a khanjar. And now this fourth example known, fresh to market, is heading to Christie's. There are also three known in steel and two in white gold (yes, Patek made white gold 3700s, but only 12 are known including those two khanjars). All were made in '78 likely to meet one single mass order from the Sultan, within a few case and movement numbers of each other, and feature the early style of bracelet manufactured by Gay Frères.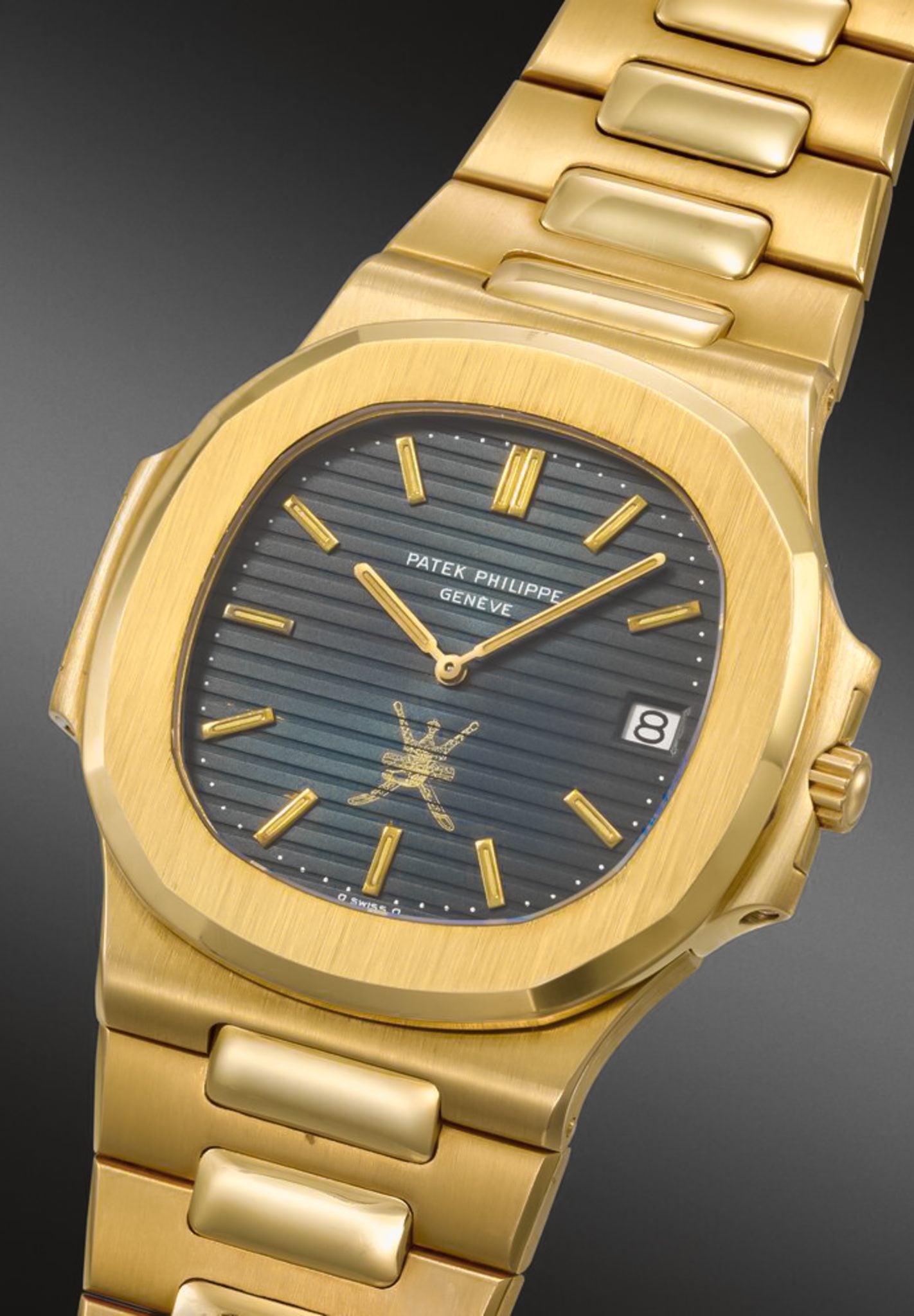 There are only four prior khanjar 3700 auction results to study for this sale, two in steel and two in white gold. Christie's previously sold a steel example in '16 for 193K USD and then again, a different example, in '20 at 378K. In '16 Phillips sold a white gold for 710K. And then last April Monaco Legends sold a white gold at 1.4M. This tells us a few things. The premium for a khanjar dial in steel, most recently, was roughly double the ask of a standard dial. There are fewer than 10 known white gold 3700s, so one would expect a huge premium there and we see that. But yellow gold attracts a premium in the normal 3700 market as well, to a much smaller extent. Where this lands will be an interesting data point, a first. It'll be a long time before another surfaces. What are you really going to do with a big house anyway, live in it? There are many more than 4 mansions. You can't even wear a mansion.
This example is truly beautiful condition wise as well. The dial has the lightest signs of going tropical around a few of the applied indices and some lightening to aqua in sections of the deep blue. The all important hand-painted khanjar is perfect. No signs of serious damage anywhere. The handset tritium matches lovely golden indices. Its case shows light superficial wear commensurate with age, no more. It comes watch only as part of Christie's upcoming Passion For Time auction. Don't expect the estimate to be any limitation on bidding.