No Reserve eBay Find: 216570 'Floating-Hand' Explorer II
I have said for some time that I aim to feature rare, interesting, or undervalued watches here. This beautiful 216570 definitively falls into the latter category. I don't tend to feature a huge amount of modern Rolex here, they tend to sell themselves. I also shy away from all the AD . . .stuff. Nonetheless, I am attracted to a huge amount of modern Rolex. Today, eBay gives me the chance to feature one within my criteria with a no-reserve black dial, discontinued Explorer II.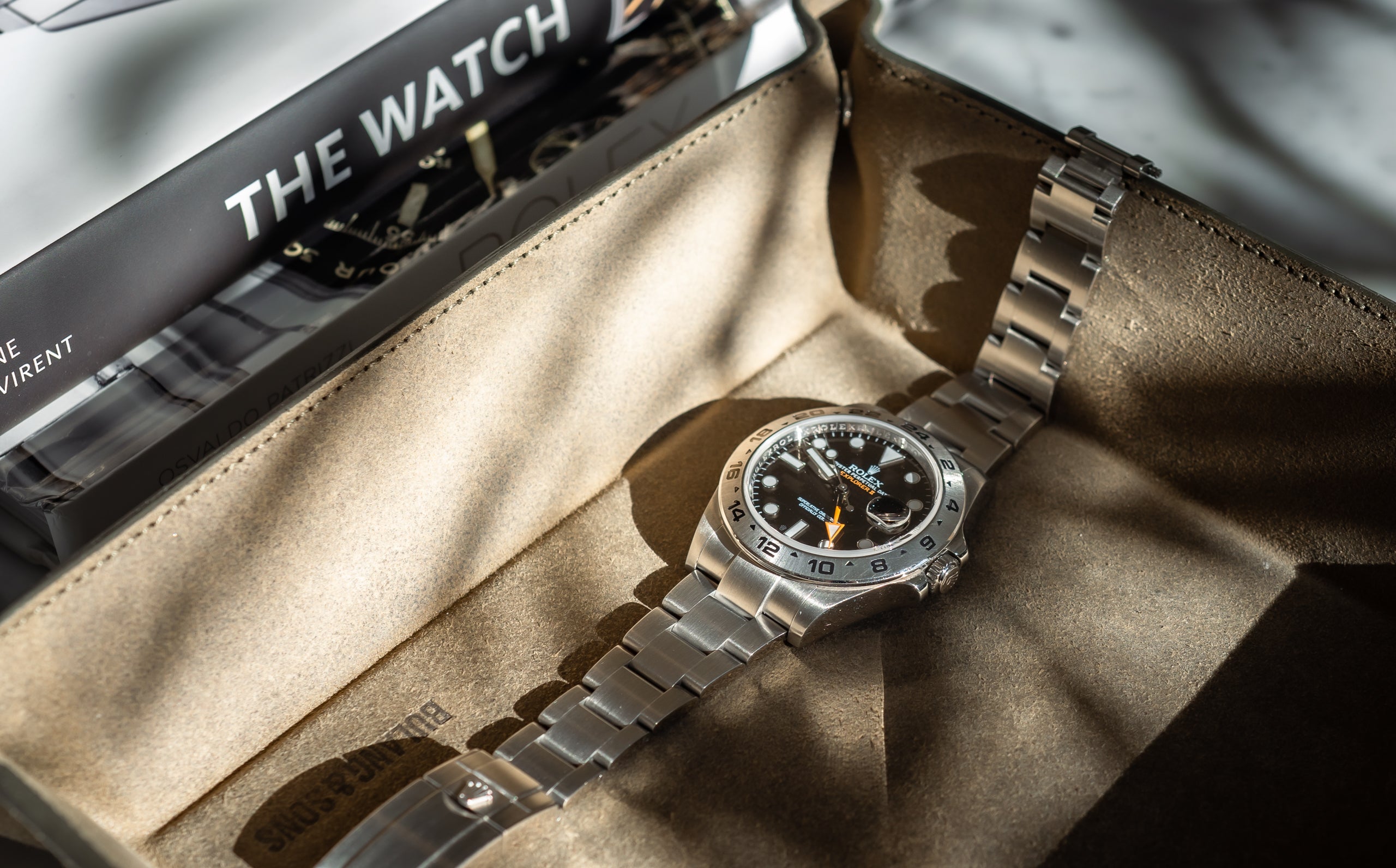 I would like to begin by making a bid . . .but not on the watch. I dream of the day where a nickname I make for a watch might stick. A few years ago, I took a shot at naming Omega's 311.32.42.30.04.001 Alaska Project the 'Space Coconut'. Time will tell if that was a success. I so desperately want it to be. But I'm going to try again. The white dial 216570 is known as the Polar for obvious reasons. However, it is less discussed that the black dial 216570 was the only model of its generation to feature floating hands, something that the recent refresh has done away with. By 'floating', I mean that the central portion of its handset resolves in black. This was first done on the 1655 and recalled on the orange-hand reintroduction. Now that the black dial 226570 has removed this detail, I once again aspire with resolve to create a nickname: the 216570 the 'Floating-Hand'.
That aside, let me cover the actual watch. Introduced to celebrate the Explorer II's 40th, Rolex revamped the 16570 with a bright orange 24 hour hand, meant to recall the 1655 generations prior. Case dimensions bumped to 42mm and large Chromalight maxi-style plots graced its dial. Interestingly, its movement, the calibre 3187 was only used for this watch, something rare for Rolex. It featured a Parachrom (namedrop) hairspring, 24-hour GMT hand, rapid-set hour, and instantaneous date with 50 hour reserve. I know a few people who self describe as watch people and in fact only own a single Explorer. There's a reason; this is a reserved tool watch with beastly capability. Common, but great.
This example presents well. Its case is unpolished with small surface wear visible across the bezel and polished sides. Nothing appears out of place on the dial, rehaut, or crystal. As always, please do your own reasearch. It comes on an original bracelet as a naked watch from a private collector.
Find this 216570 here on eBay at no reserve.