Monaco's Best: Tudor Home Plate 7032
There are a lot superlatives on this site, I know. But that's what happens when you strive to feature the best things from all over the market. Let me add to that collection today, because this is the greatest Tudor chronograph reference of all time. The Home Plate is one of the rarest Tudors and certainly their rarest chronograph. It inspired the new era of Tudor through their 2011 Monte Carlo range. Moreover, you won't recognize it unless you know watches. That it might be mistaken for a Daytona by idiots is the only small detraction, but, aside from that, you're looking at a perfect chronograph.
Tudor collectors are beginning to see their dreams realized as values have skyrocketed over the past ten years. The Home Plate is one of their greats, speaking perfectly to the luxury casino F1 playboy style of the 70s. This example, with its textured grey home plate-style dial, is really quite breathtaking. If that's not enough to convince you, just take a look at the font on the date wheel. What else could shout Monaco as strongly? The case is a 40mm monster when compared to the 37mm Daytona of the era. That Oyster case houses a highly solid Valjoux 7734. Let's not be snobs, it's a great movement.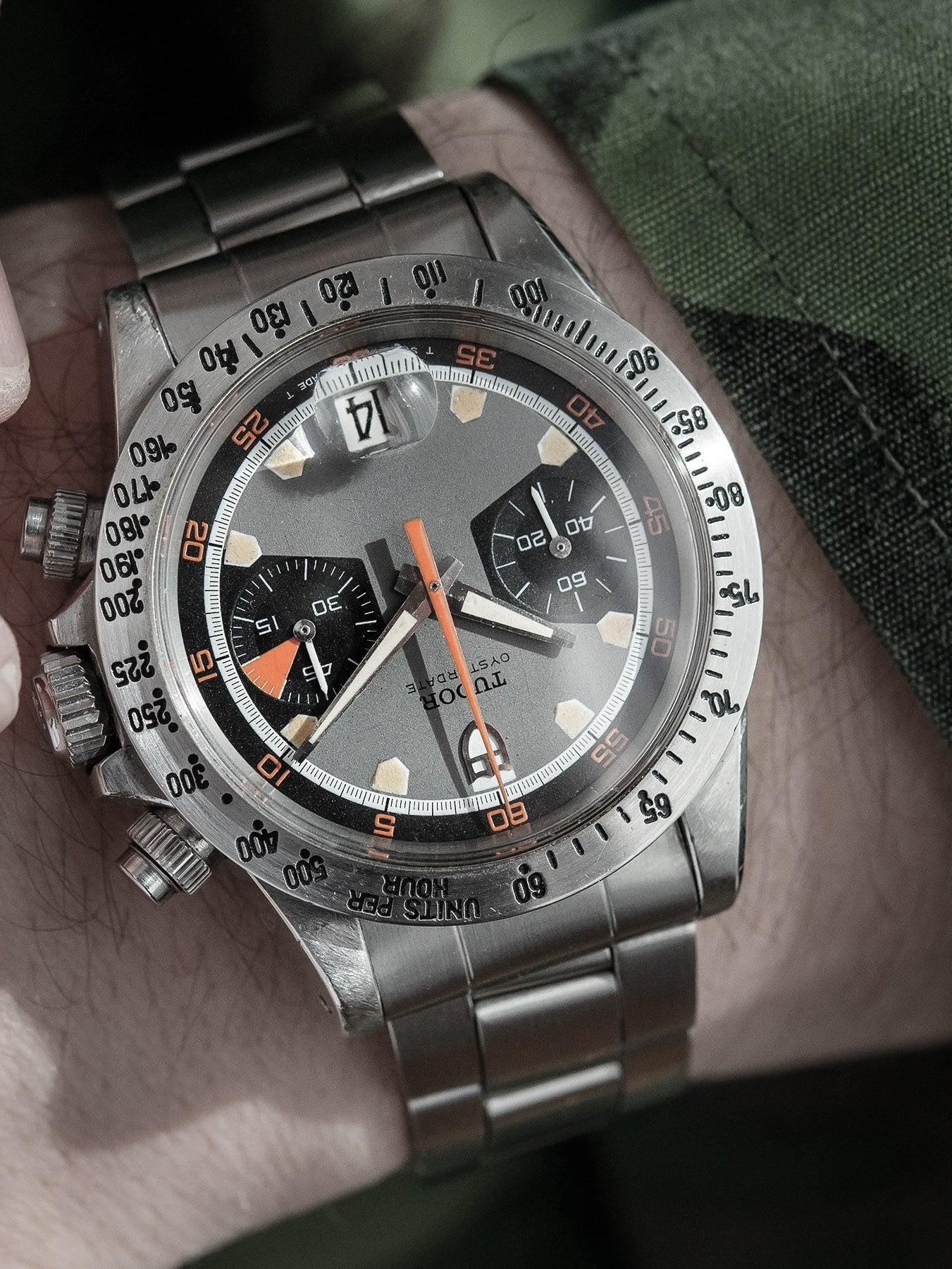 The example here has a serial dating it to the first run of production, either a 1970 or 1971. The pusher style is also an early variation. Its dial is perfectly aged and entirely correct. Stare at those home plate markers more than a few minutes and you might fall for it as hard as I have. Moreover, this one comes with a full set: box and papers. That's a seriously rare thing, nobody collected Tudors when this was released. Apparently some person in Singapore loved it enough to hold on to them. It comes from one of the best in the game.
Find this Home Plate here from Bulang & Sons for an undisclosed sum.