2485 Cartier CPCP Tank À Vis in PT
Cartier are something of a master at evolving variations on a theme, all equally elegant. However, some are more equal than others. The CPCP era is, if not the most classic, Cartiers most sincere attempt to flatter enthusiasts of traditional watchmaking. This Tank à Vis hails from that time, but is not the Tank you know. It is a nod toward the 1931 Tank Étanche (meaning waterproof), taken to a modern extreme across the spectrum of precious metals.
In the same way that the Tank À Guichet looks more like a Tank than any classic Tank case, this Tank À Vis keeps the more rectilinear case proportion, executed in platinum at 27x31mm. Here, however, we see the addition of four diminutive screws at the corners. These are a nod to the ingenious Étanche design of 1931, which was a very early attempt at waterproofing for Pasha de Marrakesh, who wanted a Cartier he could swim with frequently. That watch had a gold inner case with a compressed rubber spacer. The solution on this modern interpretation was a screw-compression crystal surround, shared with the CPCP Wandering Hour.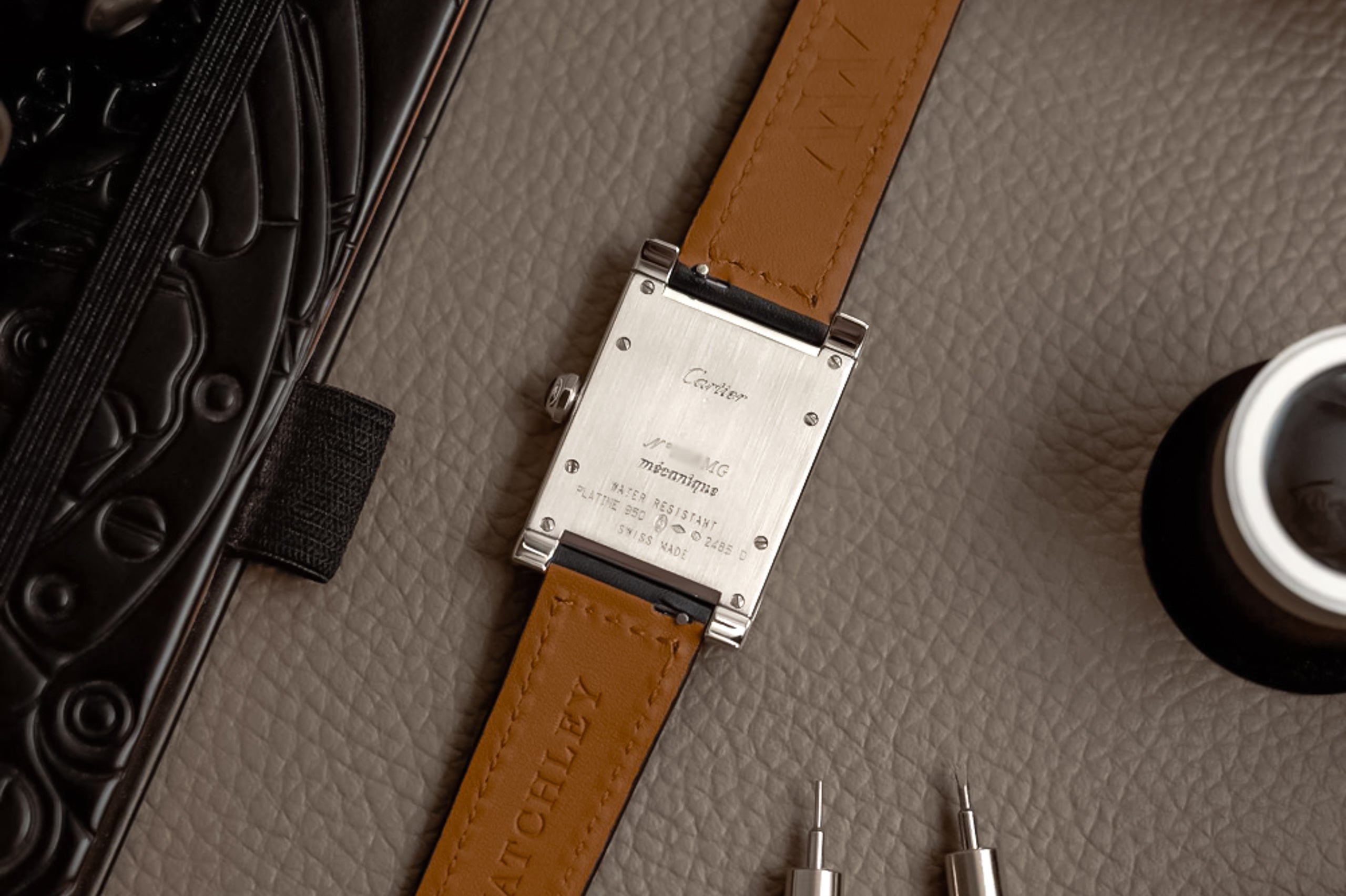 The Cartier Paris signature at 12 is an equal nod to the past century, printed on a rose guilloché dial made of solid gold. It is powered by a calibre 437MC, a Piaget ébauche and ultra-thin manual. This allows for a slender 8mm rise, easily slid under a tight cuff. Interestingly, Cartier chose to brush the sides of this case, which is somewhat unusual and provides a nice contrast to the polished upper. Though one usually associates CPCP with display backs, we see here a more traditional fully enclosed case. True to form, Cartier's variation here was not a literal evolution of the Étanche, but a respectful nod to it with a technical eye.
This example is in strong condition overall. The platinum case shows very little wear either on its highly polished sections or the delicate brushed back. The screw heads on face have not been messed about with, thankfully, as one can often see with these. Seeing nicks of a watchmaker who did not select a properly sized tool always grates for me. The dial is faultless. It comes with a full set, recently serviced, from a well-regarded retailer.
Find this CPCP Tank À Vis here from Mr Watchley for 23850 EUR.