Mk1 7032 Tudor 'Home Plate'
There are many superlatives in my feed. Such is the the way when you strive to feature the best things from all over the market and are equally excited by them. Let me add to that collection today, because this is the greatest Tudor chronograph reference of all time. The Home Plate is one of the rarest Tudors and certainly their rarest chronograph. It helped inspire the new era of Tudor through their 2011 Monte Carlo range. Moreover, you won't recognize it unless you know watches. This watch is a knowing nod to the enthusiast set, a perfect chronograph for those who don't need to flaunt something with Cosmograph at 12.
Tudor was traditionally a toe-in path to Wilsdorf ownership that didn't require bank loans. This is no longer the case in vintage. Much in the same way that modern Tudor is what Rolex used to be (ie producing no-frills bulletproof watches at a reasonable ask), vintage Tudor today is what vintage Rolex used to be in the mid 2000s (that is to say a developing market). This has left the Home Plate as perhaps their most desirable chronograph, well, ever.
The 7032 was launched in the early 70s. Its case is a 40mm monster (when compared to the 37mm Daytona of the era). The first Tudor chronograph, it was available in two references: a 7031 acrylic tachymetre bezel and this 7032 steel bezel. That Oyster case with square crown guards (rare style of this era) houses a highly solid Valjoux 7734. Let's not be snobs, it's a great movement. This example, with its textured grey home plate-style dial, is really quite breathtaking. Other, rarer, dial variants exist. If that's not enough to convince you, just take a look at the font on the date wheel. That'll be down at 6, a cyclops display like none other. There are more expensive, more complicated, and more beautifully finished chronographs. But, where serious values are involved, I'm not sure there's any chronograph which speaks more of the 70s F1 playboy style.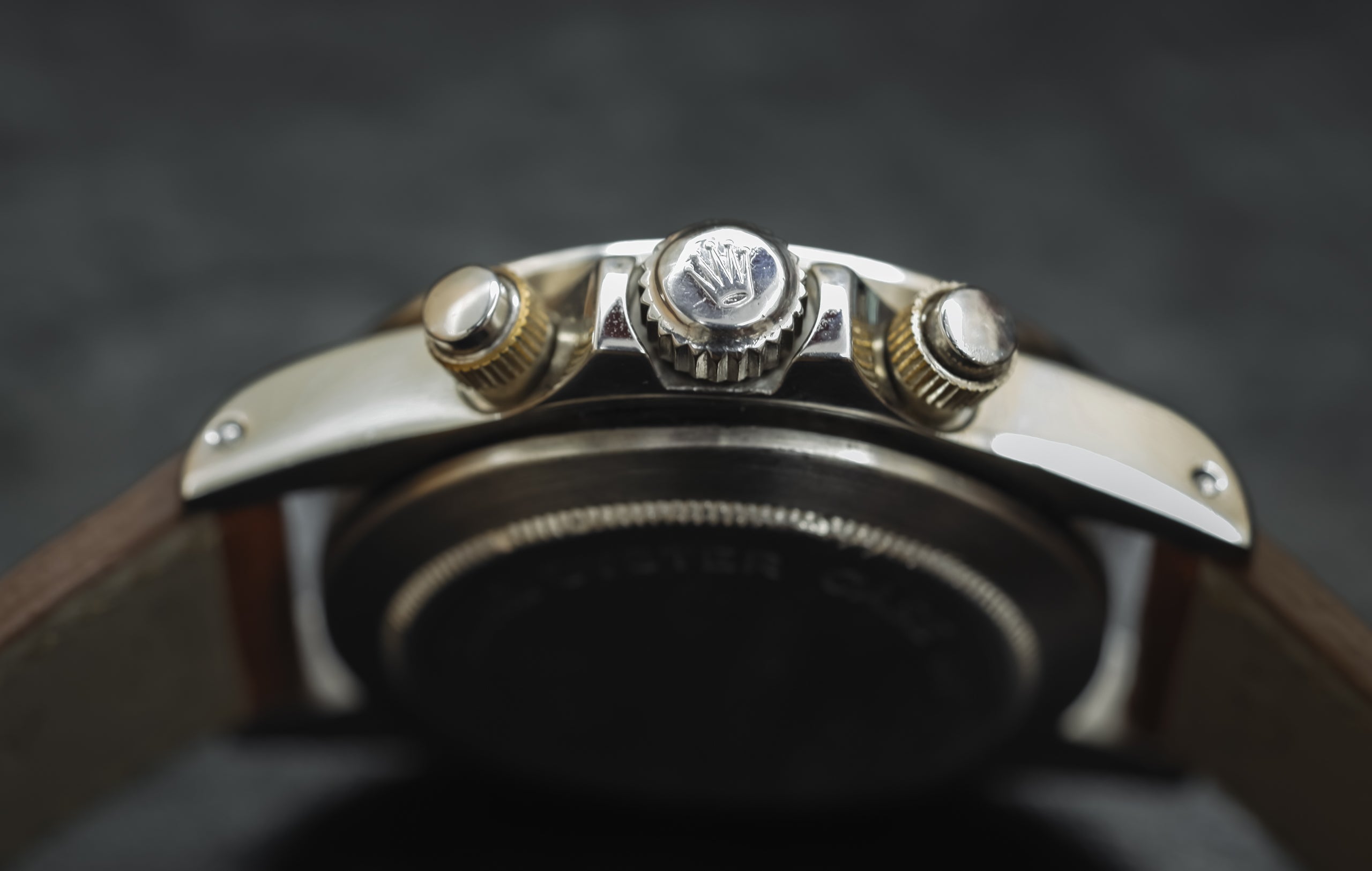 This example is a first series, distinguished by its dial, pushers, and 1971 production. The case is full with lug proportion intact. The dial has patinated evenly with some of the standard Tudor bubbling we see on 9411/0s and many other models in its subregisters. If that annoys you a less patinated example was just posted on Chrono this morning. The tritium is even and matched across the handset and dial. I see nothing out of place. It comes from a small, well-regarded Italian retailer.
Find this 7032 here from L'ora del Gallo for 32500 USD.