MB&F x H. Moser LM101 Aqua Blue Fumé
'A creative adult is a child who survived.' The origins of this line are debated, thought to be first penned by Robin W. Winks, but in any case MB&F describe this tenet as central to their creative process. Their use was the first time I'd ever come across the quote, engraved on early cases. Last year, I had the chance to talk to Max Büsser about this very thing. I started the conversation by noting that this, more than almost any single quote, has stuck with me over the years. And, like a good professor who leads with a question in place of an answer, Max asked me, 'and how are you applying that to your life then?' I was a bit awestruck for at least a full second. I then stumbled my way through trying to describe what Hairspring is, how I attempt to tell the stories of various interesting watches for sale in an entertaining way, and how that's afforded me the ability to surround myself with what I love and be creative through writing. He nodded very politely and looked at me with a well-concealed confusion, as if I'd just answered his query through creative dance, masterfully changing the topic by saying, 'well you'd better talk about this then'. He then gestured toward a Moser LM101. So now, half a year later (as it's the first time since one's come to market), I will.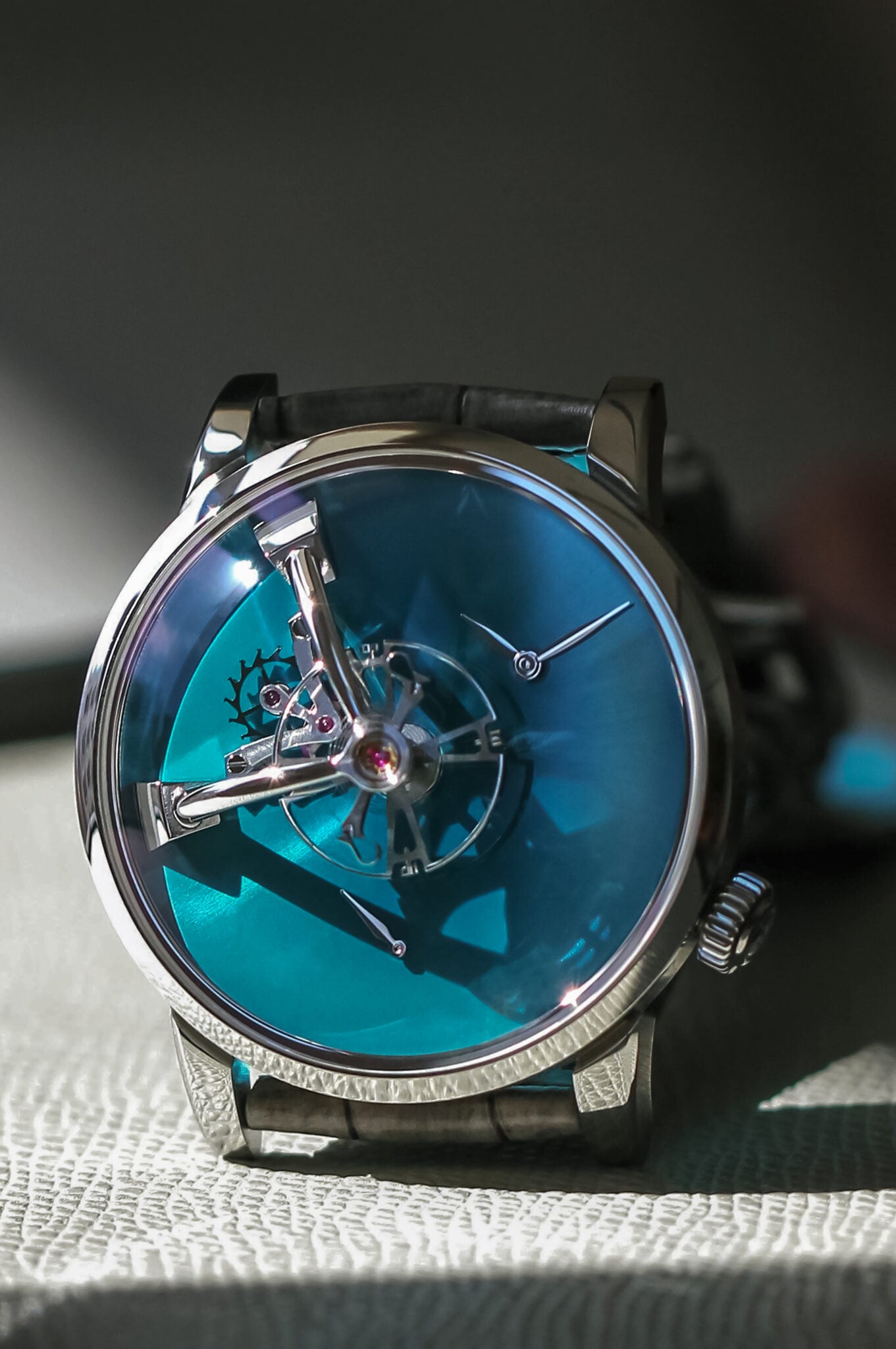 The '&F' of MB&F should tell you, MB&F are more collaborative than most. This LM101 was created to emphasize a dial made by H. Moser, a fumé which is the only teal deeper than Vanessa Kirby's eyes. To keep that dial center stage, you'll note there is no signature by either Moser or Max & crew. The traditional subdials for time and power reserve, too, have been removed. Even the case changed, given a narrower bezel in order to allow the dial more real estate. This collab is its own watch, and perhaps the cleanest expression of LM101 out there. But the best detail, most emblematic of the partnership, is in the balance. It's still MB&Fs flying display. But this LM101 has a double hairspring made by Straumann (Moser's sister company). The dual hairsprings are coiled in opposite directions, leading to a far superior isochronism. Each fumé dial was made in 15 examples (for MB&F's 15th), across four colors, 45 total. This Aqua is, you'll not be surprised to hear, the standout for me.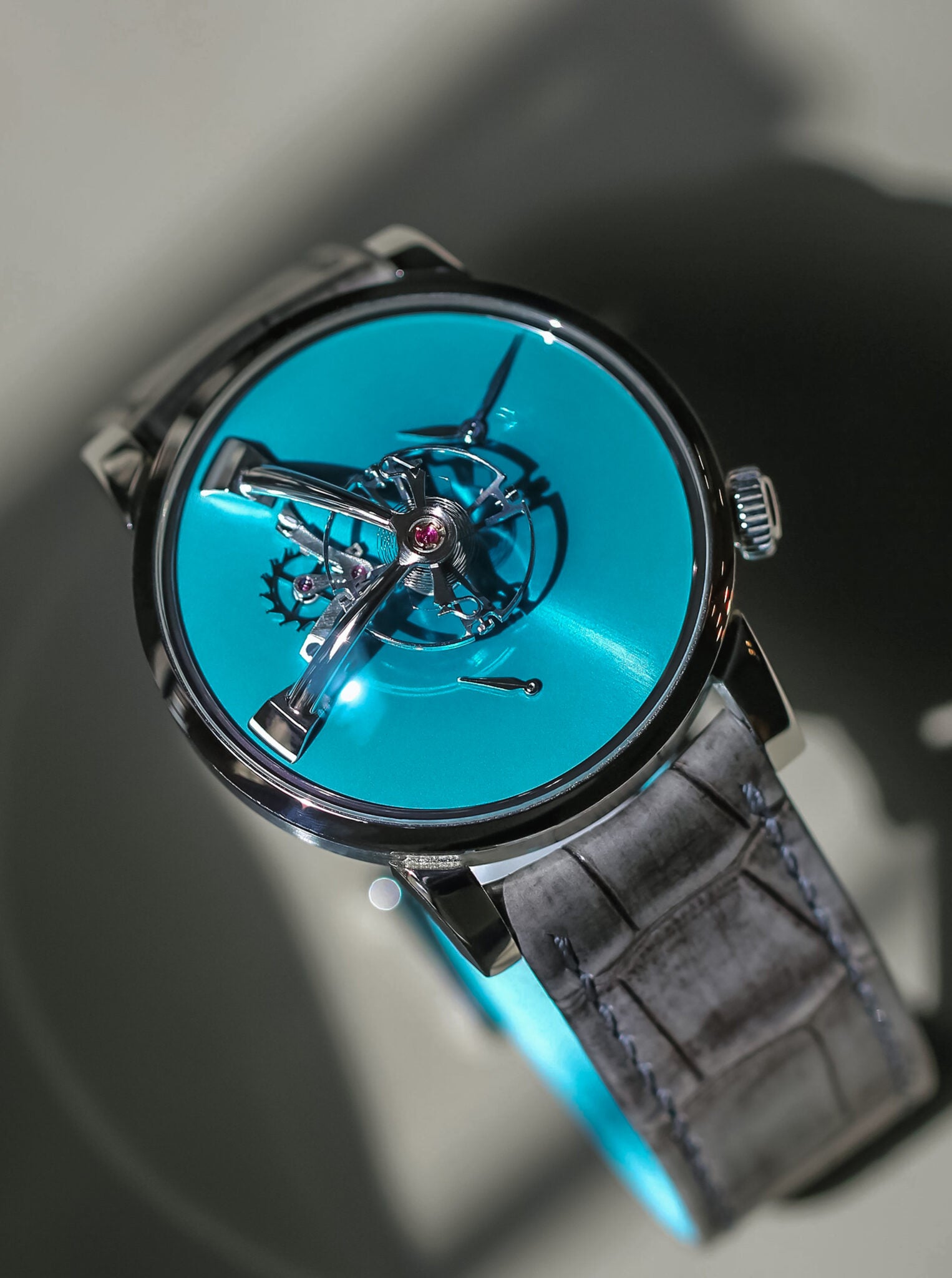 On the topic of creativity, I've also heard it described as connecting a new bridge between two previously separate thoughts or disciplines. It seems to me that's what's going on here. The very best collaborations result in a sort of 1+1=3 arithmetic, where the extra 1 comes from the witchcraft in that creative bridge. Fitting then, that this dial has one of the most massive balance bridges ever, front and center. Its dial even got the abstract metaphor right. Thank god I don't have to explain this convoluted thinking in front of one of my watchmaking idols at short notice, I think I'd probably have more luck just going to the dance option. Writing about creativity is also like dancing about architecture. I'm just glad it exists, and that Max is such a charming, patient, open-minded, and collaboratively-curious man.
This example shows only the very lightest surface wear. The steel case shows hairlines and that's really about it. It comes with a full set from a well-regarded Singaporean retailer.