Longines 7855-1 in a Tropical Pink
Having recently featured the incredibly debonaire pink-on-pink 96R Calatrava recently, I thought I'd offer a more attainable alternative. More attainable, but no less unique. In fact, due to the incredible ageing this example wears, it may be more unique. Longines may be most associated with horse racing and the Kentucky Derby today, but they were once royalty. Longines provided military supply, period haute-horology (like the 13ZN movement), and classic Calatravas like this 7855 from 1967.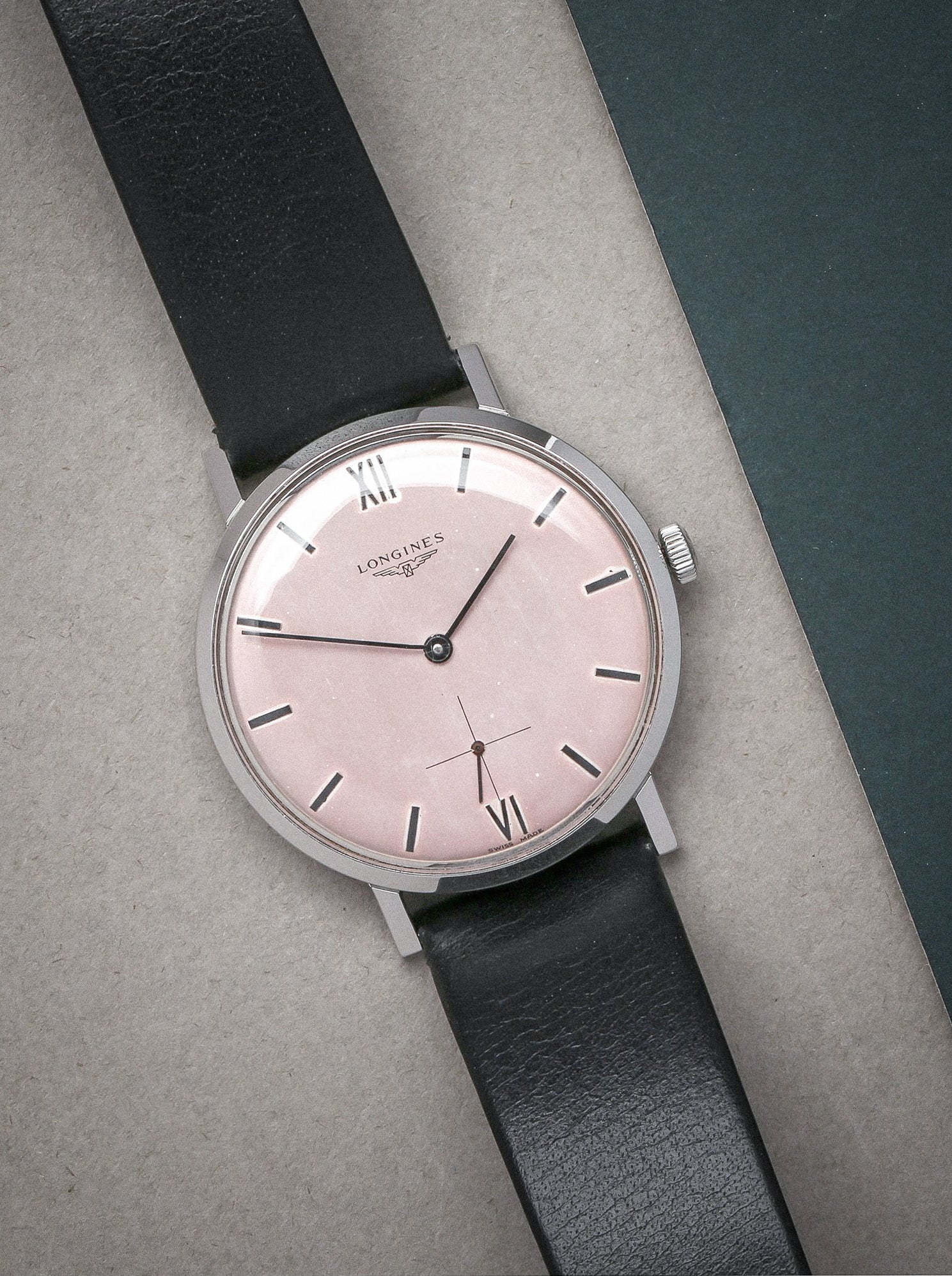 There's a lot to be said for mid-century modern. The period is all the rage in interior design, but not yet on the wrist. I'd venture to say with the increased desire for pre-sport Rolex, vintage Patek, and period VC, the tide is turning. Longines, by constrast, is one of the most rewarding and oft-overlooked manufactures of this period. What I mean by rewarding is that your time spent in research will be validated—and then some. Their back catalogue is so rich and treasure-filled that I entirely sympathize with those collectors who choose to acquire nothing but.
This example is a wild one. Its dial, originally a silver-white, has gone a pastel pink with sun exposure. The dial features bar indices with roman numerals for 12 & 6 and a crosshair petite seconds. The case is a thin UFO-design that feels almost art deco. Is movement is the manually-wound caliber 30L in decent condition, recently serviced. The case is likely polished, not abusively. The lugs, importantly, are even and true. It comes from a well-established retailer.
Find this 7855-1 here from Xupes for 2599 GBP.