IWC Pilot Mark XVII 'Le Petit Prince'
The modern standard for the pilot has been set by the IWC mark series. From the original X & XIs on the wrist of RAF pilots to the clean design of the XV, the model has seen a slow evolution always fit to purpose. This is a tool watch. But this tool watch is a special one.
Le Petit Prince is a classic children's tale that teaches much but remains open to interpretation. If you haven't given it a read, it comes recommended for adults as well. One line that I've found hard to forget was, "It is only with the heart that one can see rightly; what is essential is invisible to the eye." What is less ambiguous than Le Petit Prince's intention is that its author, Antoine de Saint-Exupéry was an avid French Aviator. The link between fiction and reality grows closer through this pilot's watch.
Today, IWC donates a large percentage of these limited run Petit Prince and Antoine de Saint-Exupéry models' profit to the Antoine de Saint-Exupéry Youth Foundation, founded to further the opportunities of children who have not had access to a more formal education. Changes to the limited run Mark watch seen here include an opened date window, reflective navy dial, serif font for the indices, shooting star seconds hand, and engraving of the prince. It is a nice reminder that the watch once served an altruistic purpose with an additional reverie of whatever the novel meant to you. They were limited to a 1000 model production.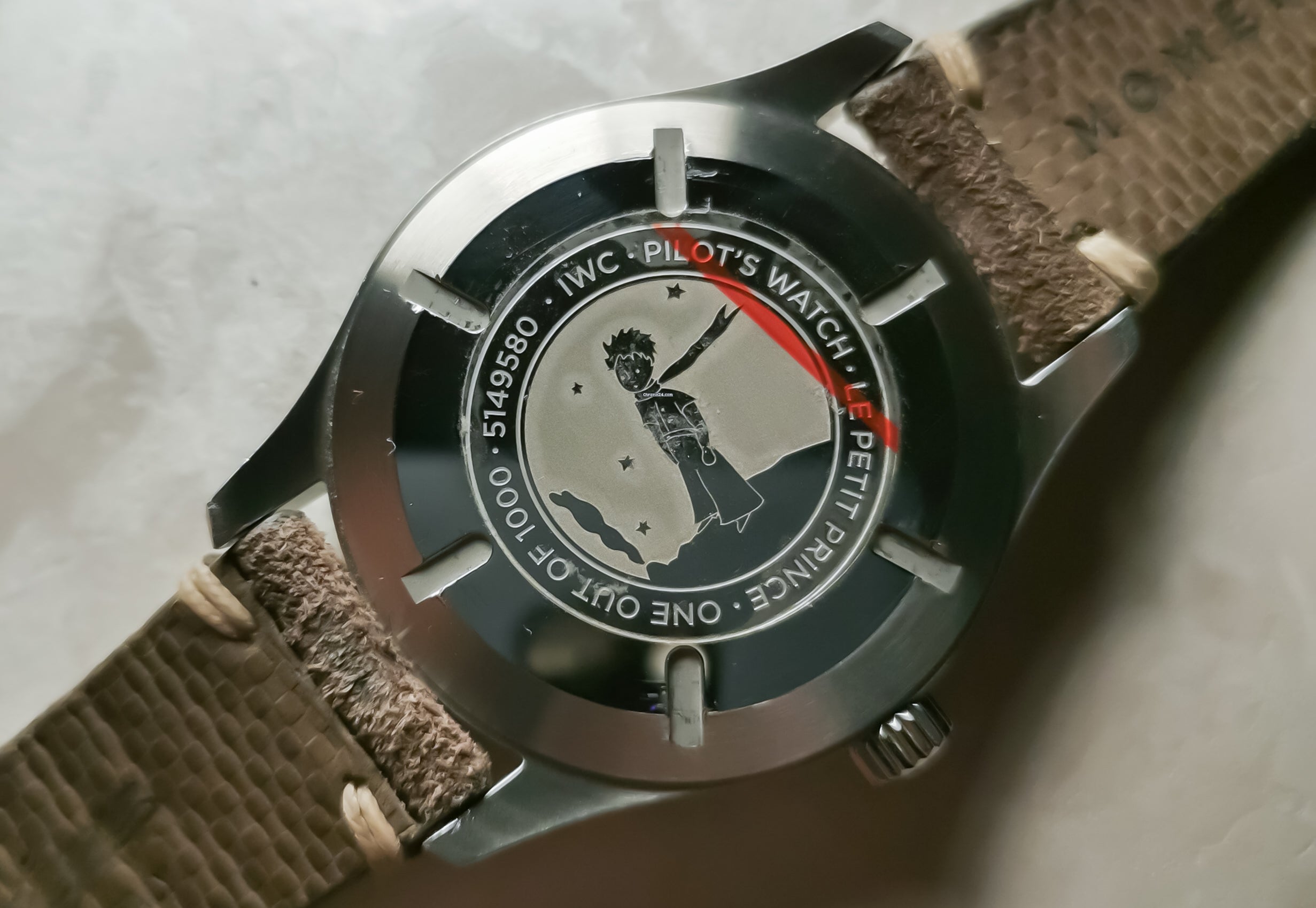 This example is a near perfect one. The watch has been worn but I see no scars. It comes complete with box and papers. It even retains its original case back sticker. It comes from a private seller in the UAE.
Find this Le Petit Prince here on Chrono24 for 6500 USD.