'Italian Albino' 3893.20 Omega Speedmaster
A white dial Speedmaster is like a Ferrari in Le Mans Blue or Just the Two of Us by Bill Withers off vinyl, so wrong it's right. Since my earliest years of watch writing, I've been shouting from the rooftops that there is a magic about white dial Speedmasters. Prior to the introduction of the Canopus white gold last year and excluding the racing, a white dial Speedmaster meant you'd dove headfirst into Speedmaster history and waded out with a very alternative, always interesting catch. You knew about the Alaska prototypes, Mitsukoshi department stores, Apollo XIII, or NASA's Snoopy award. The point is, a white dial was never available on a boring Speedmaster variant. Any time I spied a white Speedy in the wild I got excited. And one of the best of the bunch is very little discussed, known as the Italian Albino.
The first ever white gold dial, more silver than white, was on a BC345.0802, nicknamed the 'Stafford'. Omega made 20, a handful are known. Then came a very rare two-tone case with a white dial for the German market in '81, ref. DD 145.0022, of which very little is known. Then in '97 the same happened for Italy, the watch you see before you. It's known as the Italian Albino, made to celebrate the Speedmaster's 40th in 500 examples. Rather confusingly, it goes by two references: this 3893.20 on leather and 3593.20 on bracelet. The case is steel with a display back before any standard production model had an exhibition back, its 1863 is rhodium plated and finished to a higher standard than normal to fit its display back, and its dial is a white which ages to cream and sports thick outlines around all indices. The tells are subtle, but it's a very lovely take on the Speedmaster and probably the only Speedmaster which can legitimately be said to be a cream dial. Or, as it's Italian, we'll call it a 'panna'.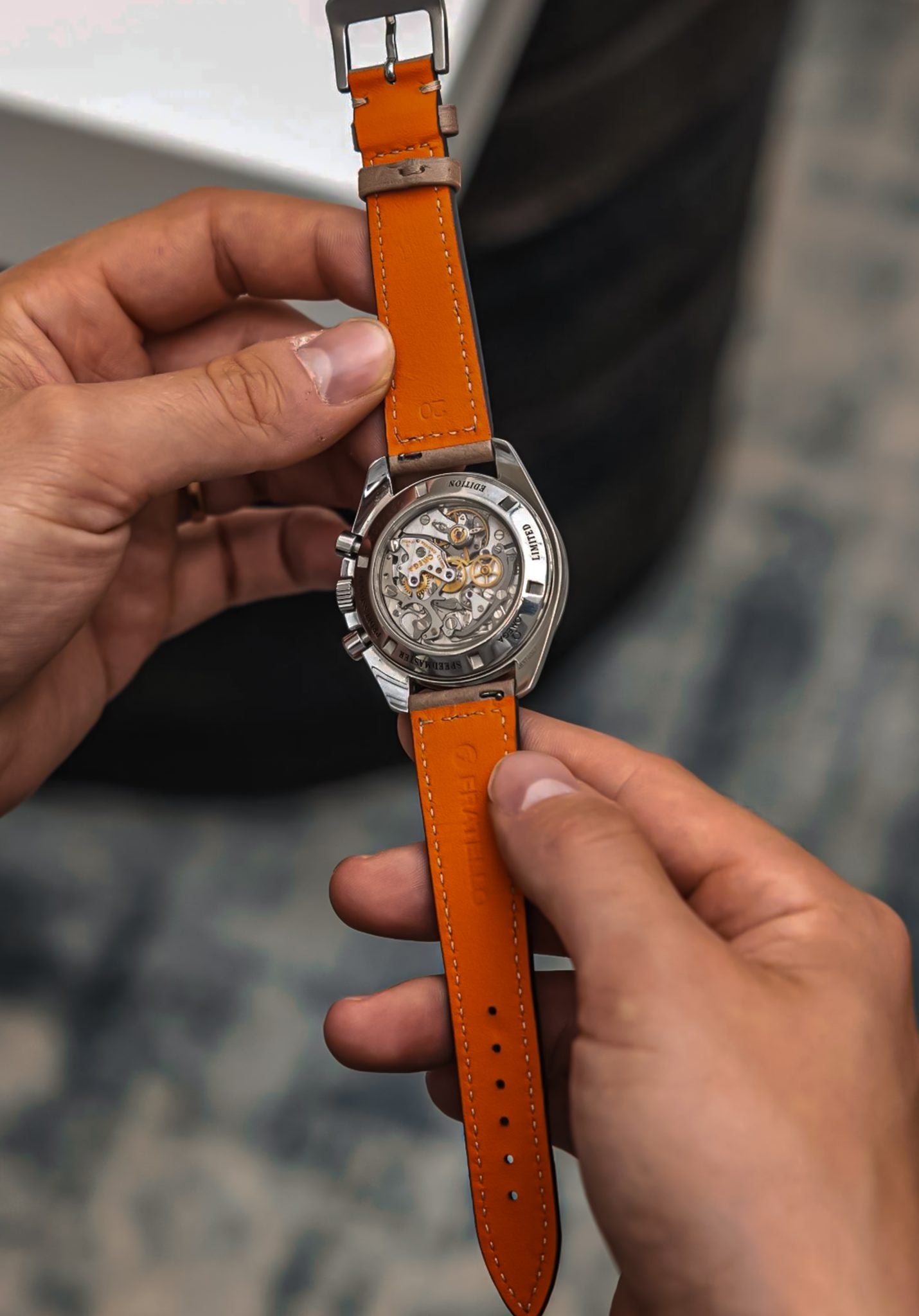 Back in '97, Omega's focus and fixation on limited edition models did not exist. Hard to imagine, I know. But a 500-example production for a particular market was a very rare occurrence. Fewer than half of these are likely to still be around or what we'd call 'known'. The last decade saw them soar from trading hands around 10K in 2015 all the way up to frequent 30-35K sales at the height of 2020, thanks largely to a NOS example selling at Phillips above 40K at the Racing Pulse sale. Today, they've settled around 25K or so and are back to being a decided value, if you can find one. This one has an extra dimension of cool, being sold by the guy who invented Speedy Tuesday, RJ. And it's about as cream as examples get. In the words of Mr. Withers, 'Good things might come to those who wait'.
If you didn't know, Fratello recently began upping their collaborative watch releases in their own store. But, simultaneous, they also starting selling a very few great vintage offerings alongside. Fittingly, these are Speedmasters under a section called 'RJ's Speedy Vault', Speedmasters from the Speedmaster don. They're all great editions and reasonably priced, great offering from a great media player. This example has a sharp case, brushing and edges defined, and very even cream dial. The lume is one of the first uses of Luminova ever, but quite warm in tone. It comes with its original box and warranty card from Fratello's new shop.