'Green DON Bezel' 2998-3 Omega Speedmaster
A childhood hero of mine, by the name of James May, used to famously spend his summers between doing Top Gear making shit documentaries learning about wine. He was accompanied by storied wine critic Oz Clarke and would drive around France in an attempt to be educated, but mostly an excuse to drink daily. In each episode, he would get in the room with a bunch of pretentious, ego-centric wine snobs and take a sip. Then, while they were all waiting on tenterhooks for his verdict, he'd say, 'Tastes like wine', then give a roaring laugh in attempt to mock the seriousness with which they were all treating a simple drink. The look on the patron's faces never failed to be amusing. But actually, it's a somewhat nuanced point. When you haven't experienced enough of something to key in on distinctions, it all seems similar. If you don't drink coffee, Starbucks and Kopi Luwak both taste like coffee. If all you do is drink coffee, all you can taste is the distinctions from one to another. That's why this 2998 is so appetizing. It looks like a Speedmaster, but the aged green bezel brings a new dimension to the aesthetic which you can't get anywhere else; or at least I haven't seen one.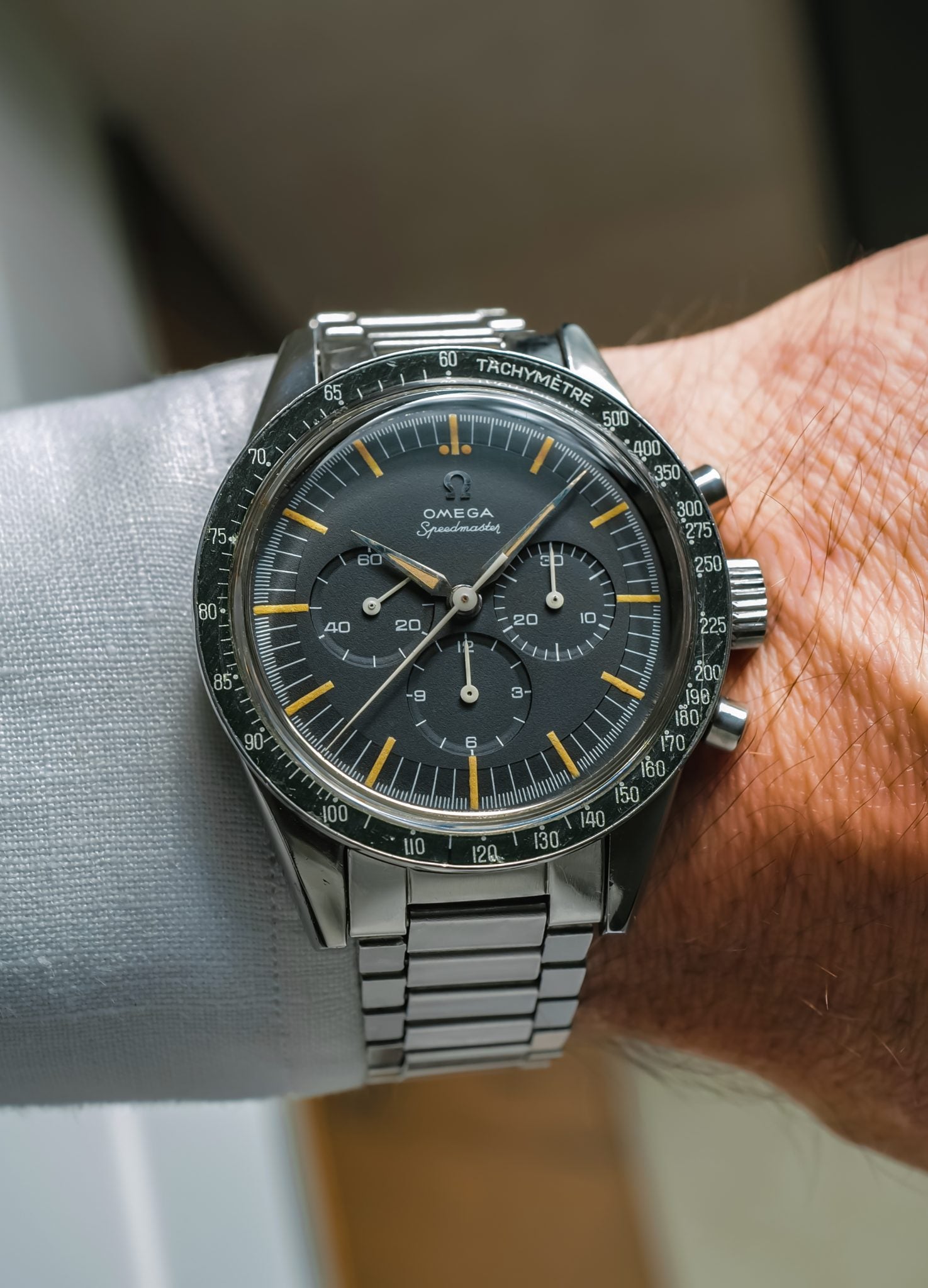 Those of you in the game will know, this is a 2998. It's one of the archetypal pre-moon Speedmasters: meaning straight lugs, calibre 321, radium, and alpha hands. Wally Schirra wore a 2998 on the Mercury Atlas 8 in 1962 and that exact watch was the inspiration for the recent-ish FOIS release. This is a flagship bit of Omega history. But when you're used to studying the Speedmaster market, you see hundreds of 2998s that all look rather similar save for the odd tropical dial or lollipop chronograph hand. The character of this watch is made by its bezel. It's not even a special bezel, that standard DON, by comparison to a telemetre, pulsations, or base 1000. But it is extremely special for the way it's aged. It hasn't ghosted, its faded into a dark forest green and that's a hit I haven't gotten from looking at any other Speedmaster. A detail really can make all the difference.
Moreover this watch is not messed about, it's straight from the grandson of its original purchaser, a US Army pilot and former CIA agent. A copy of the original owner's autobiography is even included in the sale (how cool is that?) and its extract confirms delivery to the US in 1961. Is there a better way to get into pre-moon? I'm not sure. But I do know any normal person looking at these images will say, 'That looks like a Speedmaster.' To us, though, it really doesn't. We pore over details anyway here, but this one really does seem to ask for it. It's its own thing; a green, clandestine moon machine the likes of which won't be seen again.
And condition matches that provenance. The case is great, full and very likely never touched. The same can be said of its dial. With original orange-tone radium lume that just looks mega. Original flat foot crown. Its flat link 7912 is in comparable condition. This really is the business. It comes with an extract from a well-regarded retailer US retailer who specializes in Omega.