Gilt Dial 1601 Rolex Datejust
A true gilt dial always hits a bit different. When we hear the word gilt, the first thing that usually comes to mind are Subs. But that era of Rolex saw gilt print on dials of Day-Dates, Datejusts, and every sport watch right down to the Thunderbird. It was just how dials were made in the early 60s, no more special than the machine print of today back then. But the gold text lends a warmth, sheen, and, contrasted with lacquer, depth that few modern watches can equal. The love for gilt dials is in part for their sheen, their gloss, but also just how time-intensive they were to produce, nothing like as automated as today.
Now what's so great about gilt? What even is gilt? Why did Tudor reference it on the Black Bay 58? Technically, gilt is anything covered in a layer of gold. But here, it references a style of dial production, as you'll find gilt dials with silver text as well. In the early days of Rolex dial production, the first step was to electroplate a brass blank in a layer of gold, then stamp or print the desired words. Next, a galvanic black paint was applied to cover the whole thing. The black paint layer would be etched away around the raised sections to reveal the underlying gold text or indices. Rolex would then occasionally also print text in white. Finally, the whole thing would be covered in a clear lacquer. This created a depth around the edges of text, a warmth to the whole dial, and has been heavily referenced by countless micro-brands since. Make no mistake though, printing in gold paint, as is done today, is not the same as what we see here. But then this 1601 is not just a dial, its aesthetic is made by a Gay Frères Rolex bracelet, pre-Rolex acquisition, in the classic 5-link style. And look at how much more finely cut the bezel is compared latter Datejusts, a greater number of cuts at the expense of time for a more subtle texture you only find on early vintage.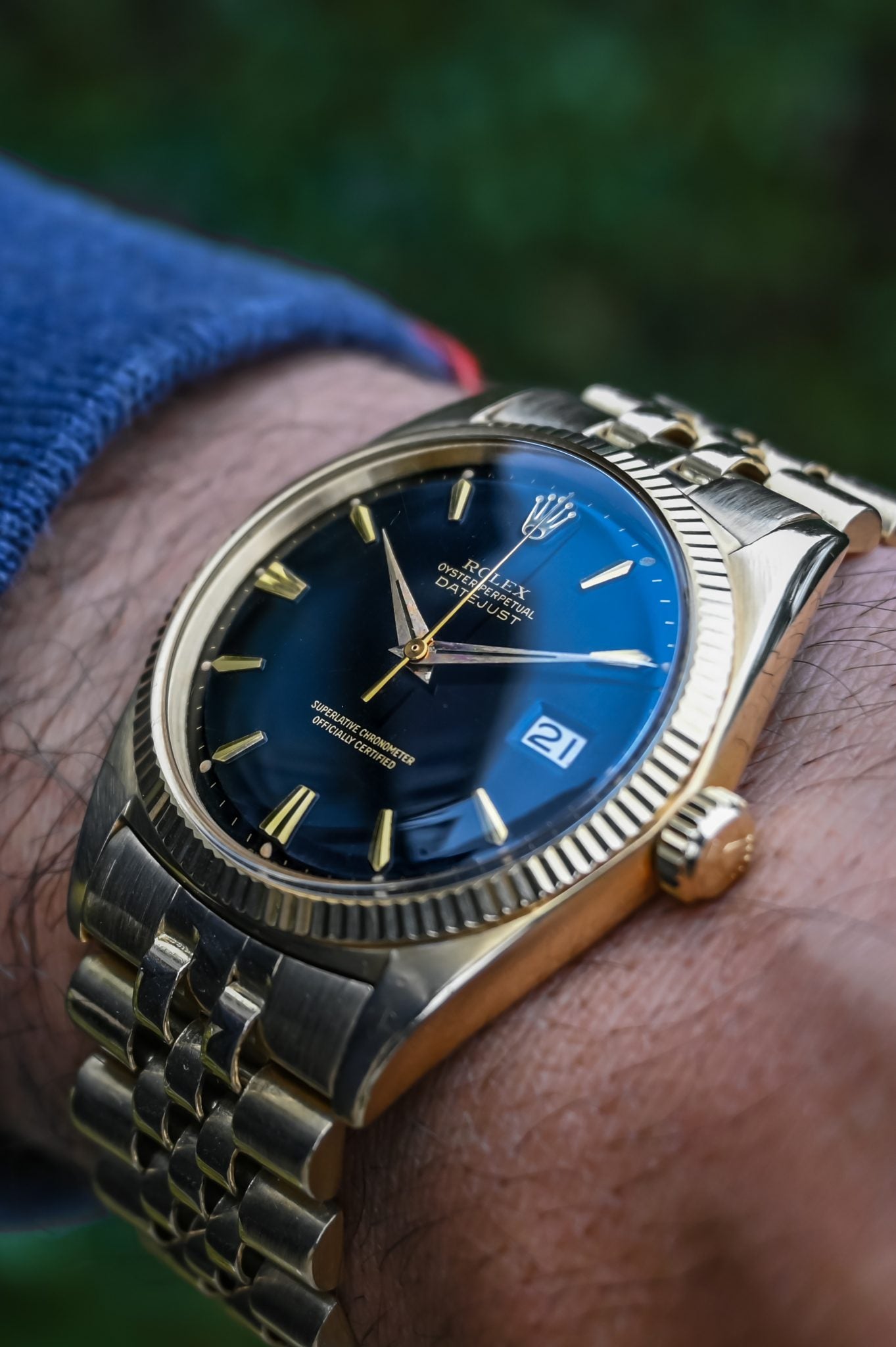 As Datejusts go, it's a bundle of quietly confident understated excellence, made in the details. I once had a design professor who every day wore a different tailored suit. But not the usual Tom Ford or Brioni, just smaller local tailors he liked in all the different locations he would travel for work. His wardrobe was a compilation of luxurious mementos. Some had notch lapels, others peaks. One day there would be a pocket square, the next a loud overcoat and sweater with parachute pants. Whatever he wore, he owned that look; the clothes never wore him. To date, he is my greatest fashion inspiration. And this is exactly the sort of watch which I imagine him wearing. Even if he did actually have a Reverso, which I cannot fault, this is that kind of dominating, effortless, elegant swagger in Rolex format.
This example is in peak condition as well. The lugs are beautiful, the dial even moreso. I don't believe the bracelet to be original to the case and the hand's radium has fallen through (to some that might be a pro), but there is no other fault you can find with it. Its dial is the best I've seen, hands down. It comes from a well-regarded Dutch retailer.