Gallet Flying Officer 2nd Generation
This two register chronograph with a world time dial and rotating bezel has almost certainly become Gallet's most famed model. The watch was introduced in 1939 and made for the US Army Air Corps, even being worn by Harry Truman at its height. Some have argued this is the world's first time-zone wristwatch, others point to Cottier and prototype GMTs. By any measure, it was early to the party. What a party it was.
The Flying Officer was innovative across a couple fronts. The original utilized a clamshell case, an early trailblazing waterproof design. This is also one of the first watches to use a rotating bezel. In harmony with the cities printed on dial, this meant one could rotate the bezel to track times across differing zones or measure hours elapsed in the traditional manner. The design was revolutionary and sold widely.
This second generation watch still uses the early and desirable 35mm clamshell case. Inside beats a Venus 150, which incorporates a quite unique gear train layout with a massive third wheel. This meant that all its chronograph components had to be mounted to an additional plate which is screwed into the barrel bridge. Most chronographs have components mounted directly on the bridge. The very earliest Flying Officers have black gilt dials, but this early second gen features a beautiful white with red writing set against a blued steel handset. The red 12 on its bezel for world time use is particularly lovely, as is the frankly ridiculous condition here.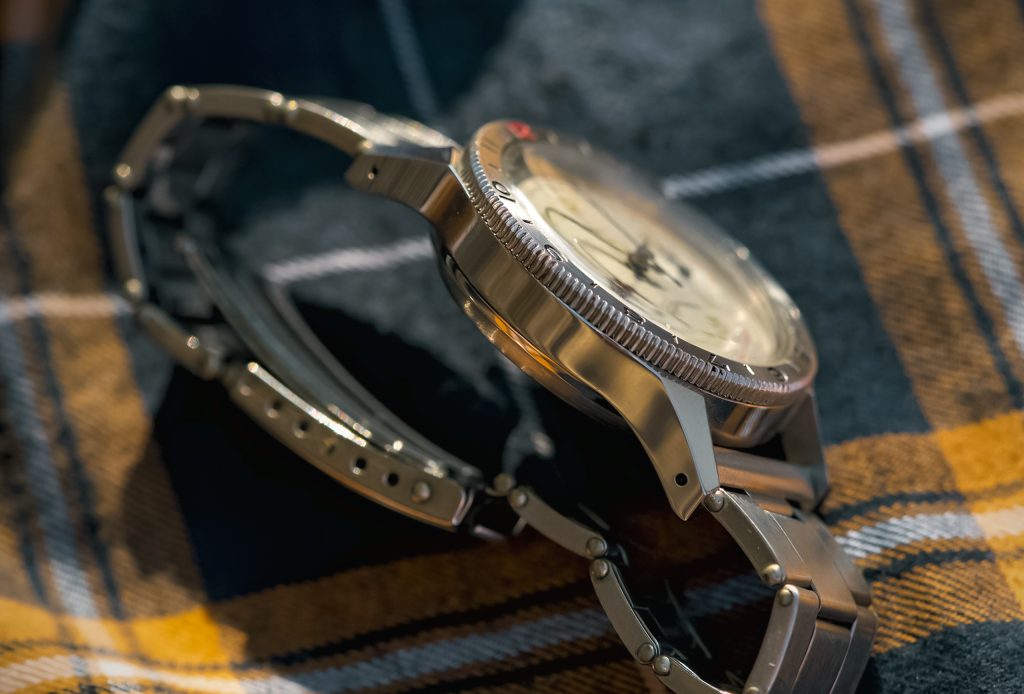 This example sports a very sharp case, clean dial, and intact original radium. Nothing is out of place. Its pushers and crown are correct and all printing is highly visible still. Even the red 12 remains unfaded. It comes from a well-regarded private Italian collector.
Find this Flying Officer here from @matt.watches on Instagram available by DM for 6500 EUR.