Fat-Lug, Radium Omega Seamaster 2576-15
The Submariner may be the most iconic ocean-going watch to ever be produced. However, it is not the most elegant. Surely, that title falls to a predecessor: the early Seamaster range. The Seamaster may look ultra-Mad-Men in design today, but it was born of necessity. Omega produced this watch and all that followed based on a watch made for airmen in WWII. Water resistance was added through a screw-down back and crown. The resulting watch was intended to be watch to wear at home, out with a suit, or under the sea. Such equanimity has rarely been seen since in consumer dive offerings.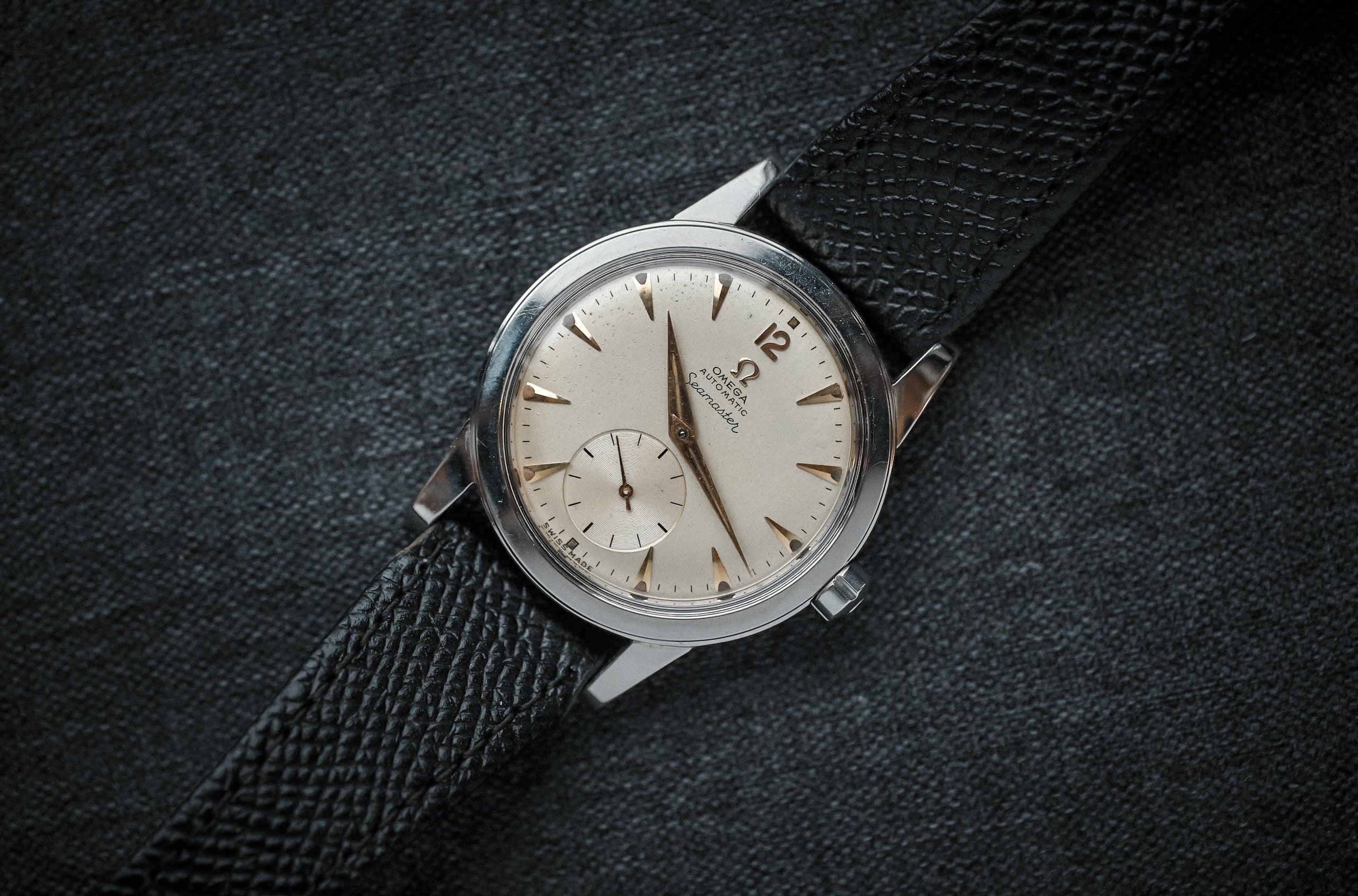 Just like Rolex swam the English channel with an Oyster case to establish is credibility and do some period-influencer marketing, Omega strapped a Seamaster to the wrist of Gordon McLean in 1955 to reach a record-breaking 62.5 meters. Engineers at Omega were among the first to use rubber gaskets in their construction in place of traditional shellac gaskets (which were susceptible to temperature devation and cracking). The innovation allowed for extremely robust construction, relative to what was on offer at the time. Inside that ~35mm case lies an automatic bumper, calibre 342. This reference is slightly rarer for being what's called a 'fat lug' reference. Early Seamaster references had handsomely chamfered lugs that were extra-thicc, giving a set of references this well-deserved moniker. This example is also sporting a slightly rarer dial; where most feature a 3-6-9 layout, this Seamaster comes in with a single Arabic 12.
This is a very original example and that's what collectors will be looking for. It features a champagne patina with contrast gold indices and radium lume still present. The movement is working within a tight spec, no mention of service history. The case shows strong lugs, though the sides may have seen a light polish. It comes as a naked watch from a private collector.
Find this Fat Lug 2576 here on Omega Forums or by DM at @wa666ou on Instagram for 1600 EUR.