Eberhard 'Pre Extra-Fort' Rattrapante
Not often discussed, Eberhard Split Seconds chronographs were among the very first to attempt the complication. There is, of course, controversy over whether Rolex or Eberhard reached rattrapante first, but consensus seems to be that Eberhard were first to market. Demand was driven by the heyday of the Bentley Boys and Italian playboys on newly founded rally racing. These millionaires raced through Italy and the South of France in the Mille Miglia and Targa Florio. The races required the measurement of elapsed times. Eberhard met market demand and did so in remarkable style.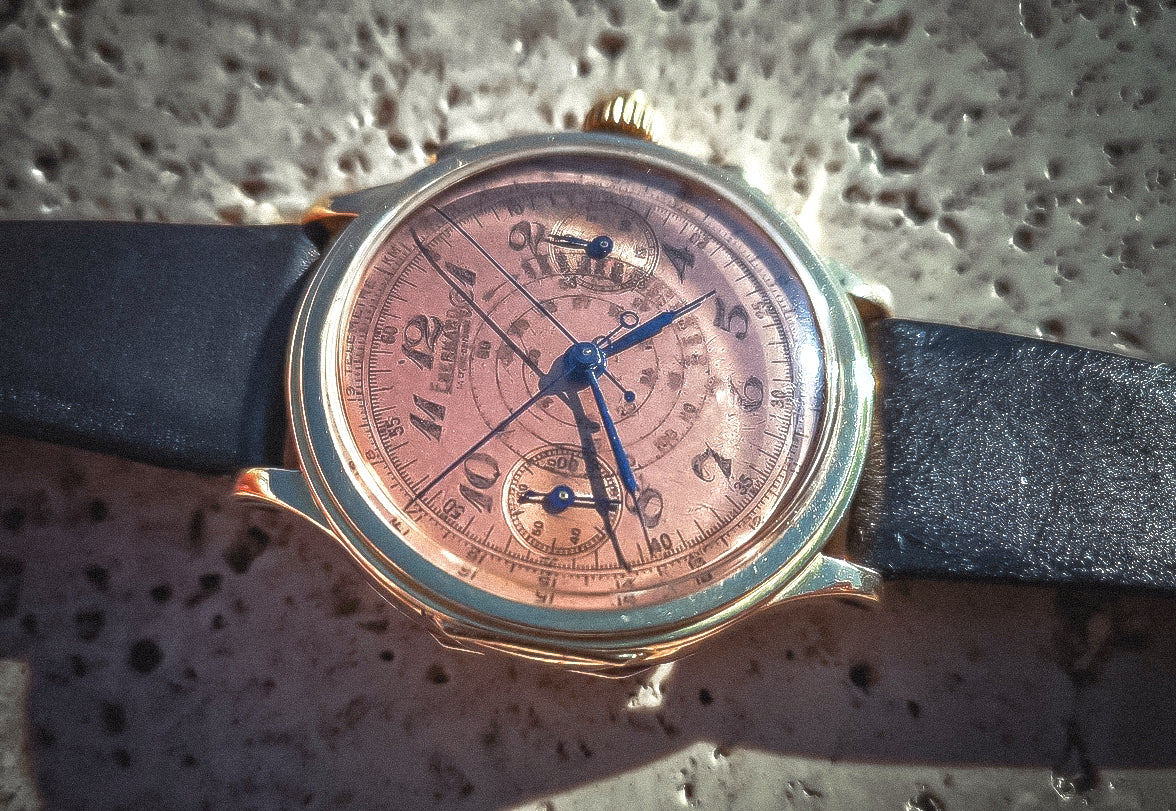 Their split seconds watches did not have specific references. The Eberhard 'Extra-Fort' is the name of the successor to this watch, it was a much more common and iconic rattrapante. Collectors tend to refer to these earlier generations as the pre Extra-Fort. This is analagous to pre-Daytona Rolex references. They were available in a range of metals, dials, and handsets.
What grounded these pieces together as one generation was the 1600 caliber. It uses a double column wheel split seconds through Eberhard's patented sliding pusher pause function. This is some serious engineering, particularly before the era of mass manufacture. You get the sense whoever painstaking made this piece really cared about it. Moreover, this is an extremely rare salmon/copper dial with Breguet indices. Somehow, a watch from the 1930s has never looked more modern. Trendy, even.
This example is strong for what it is. Extremely so. You have to remember that this would have nearly been a vintage watch in the late 1960s. Then it's doubled that again in age. The case, for being a soft 18K alloy is not heavily marked anywhere. The dial is remarkably strong. The scales and indices have faded but are still visible, they often aren't. It's an incredibly lovely watch and one that you simply do not see often. A nuanced addition for a discerning collector.
Find this Pre Extra-Fort here from Graficaoro for an undisclosed sum.