'Digital' Breitling 765 AVI
If you want to keep people guessing, a Rolex ghost dial is a great start. But if you want to take anonymity to its ultimate extent, who would have guessed Breitling would outdo themselves? Far from the garish oversized Breitling for Bentleys of the early 2000s, this is an aviators chronograph that represents the polar opposite. A very early (1953) aviator's chronograph, predating Breguet's Type XX. The earliest 765 AVIs are known as the 'Digital' for their unusual 15 minute-increment totalizer at 3 in place of where the date usually is. But it's only the earliest of those that come with this sterile dial, with no manufacture signature anywhere.
In fact, both Breguet and Breitling produced their respective chronographs in competition for a French military contract, but as the Breitling lacked a flyback the Type XX took the bid. The chronograph Breitling designed is pure utility, without a single frill to seen. The 15-minute register is the exact time pilots use for their warm-up and pre-flight checks, in the era of things like the F-86 Sabre (F86K in France). Many aviation chronographs use the interval in some regard, but it's only the early digital AVIs that display it like a date at 3. Neat, right? The rest is 50s chronograph, Venus 178, radium, signed caseback. Latter iterations came with a 15-minute subdial. The digital is rare than its register-based sibling and the sterile dial is the hardest find out there.
Though you won't find a Digital being referenced in the modern Breitling catalogue anywhere, it's one of the most significant watches for simply being first and taking a unique approach. Who knows for how long though, Breitling seem quite keen on a reissue these days. Currently, it's a footnote to the Raquel Welch. But I'd love to see what a bit of creativity or innovation on top of this basic idea could produce. If I were a gambling man, I'd bet it's already coming. Until, this is the ultimate in understated aviation chronographs.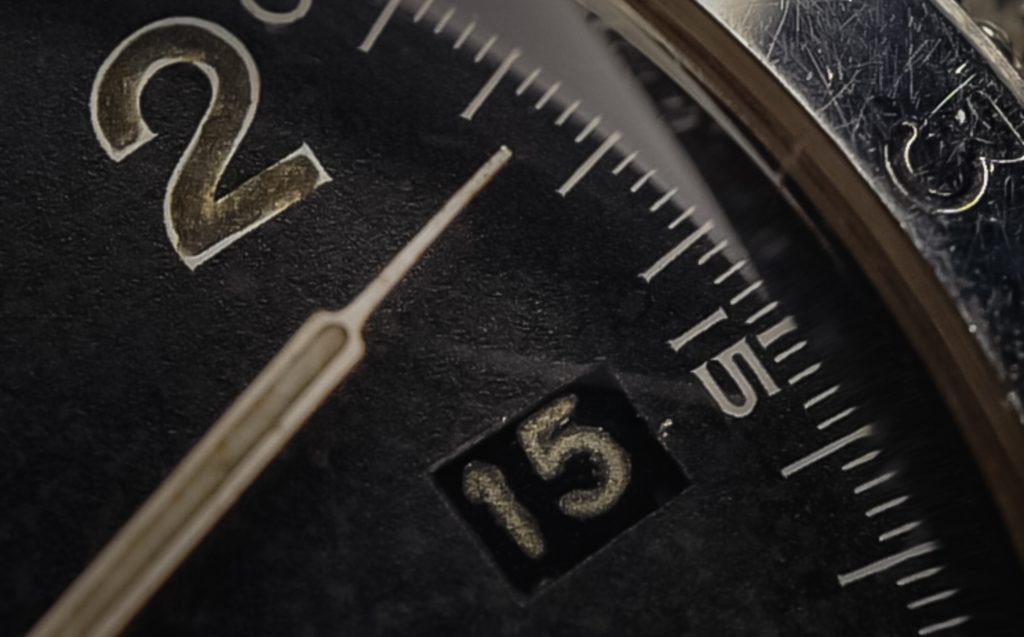 I love to see that this one hasn't been refinishing in any context either. The case is razor sharp yet hard worn. The original radium is burned, hands and dial, but present. Its bezel tells a few decades worth of light drags and dings. It looks incredible. The matte dial tone is actually quite even given the age. It comes from a well-regarded Parisian retailer.