'Cosmic' Dial 16610 Rolex Submariner
It somehow feels wrong to describe a Rolex as neo-vintage, and yet here we are. Everything about the 16610 is neo. I tend to over-index on four and early five digit Rolex, purely as much of modern Rolex lacks the romance I so desire in a steel tool watch. However, the 16610 still held on to a few of the bewitching charm points we love. More on that later. Most attractively, however, early dials had a slight paint defect in their gloss, which deteriorated in harsh sunlight. These dials did not go tropical in the traditional sense though many describe them as such. I prefer the more apt moniker, what those paying close attention will call a 'cosmic' dial.
The 16610 was interesting in that it transitioned the date Sub into the modern era. Much was lost over the course of its evolution, which is why examples from toward the start (1988) of production are more highly collected. First, the dials started in tritium and were replaced with Super-Luminova. This is the former. The early examples also came with a 93150 bracelet with folded clasp, the heavy 93250 bracelet came with the Luminova. Perhaps most notably, however, the reference started with drilled lug holes. Nothing is more practical for a steel tool watch and it is this simply drilled hole which I miss most in modern Subs. That was lost too, halfway through production.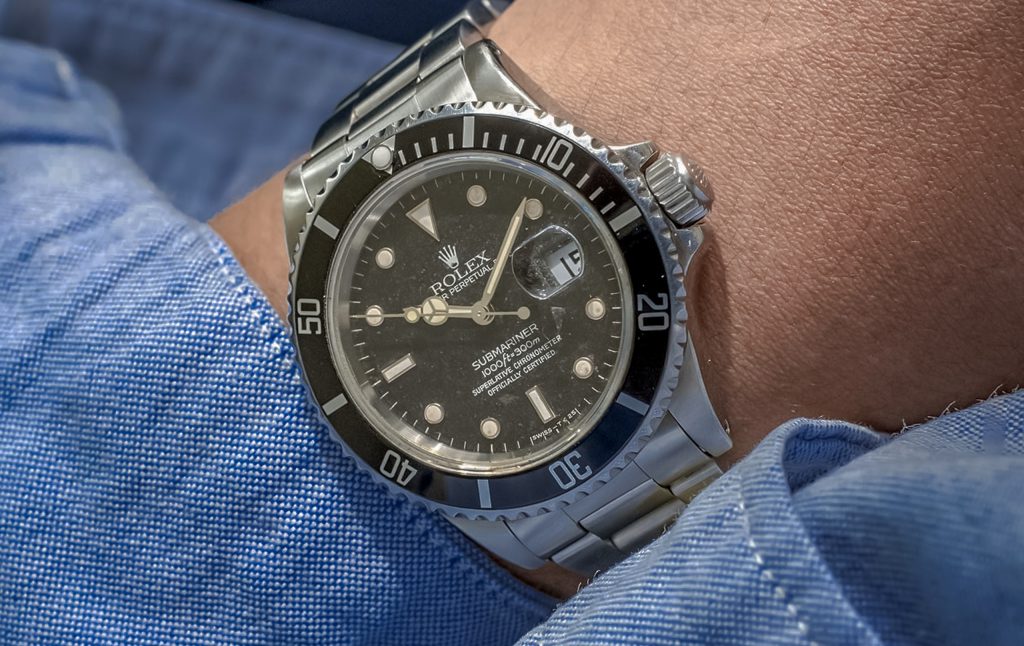 But the star of this example is its dial, which is ironic as the texture literally replicates the stars of a night sky. The gloss layer deformed, degraded, and in some portions of the dial has disappeared altogether. What remains is a textured patina with gloss bright spots that catch the light, a stardust applied by wear. The effect is subtle, but quite spectacular.
Aside from that very special dial, its case is not bad. I suspect it has seen a polish, but there is still a defined bevel. The tritium is starting to turn cream in tone. It comes as a naked watch from a well-regarded Vietnamese retailer.
Find this 16610 here from Spacetime Vintage Watches for 9500 USD.