Coral Stella Dial Rolex 18038 Day-Date
The Day-Date (colloquially President) is arguably Rolex's most iconic model, full stop. It is classic, subdued, sophisticated, timeless, and coveted. Like much of vintage Rolex the variety of iterations and custom-order examples within this one model could serve as subject to multiple volumes of research. This elicits the query, where to start? Well, when Eric Ku recommends a watch, you listen. When Eric Ku and Tariq Malik both nod toward the same reference as potential future classic, you go search all available listings only to realize that you're far too late. That is the rule to which, today, I can offer an exception.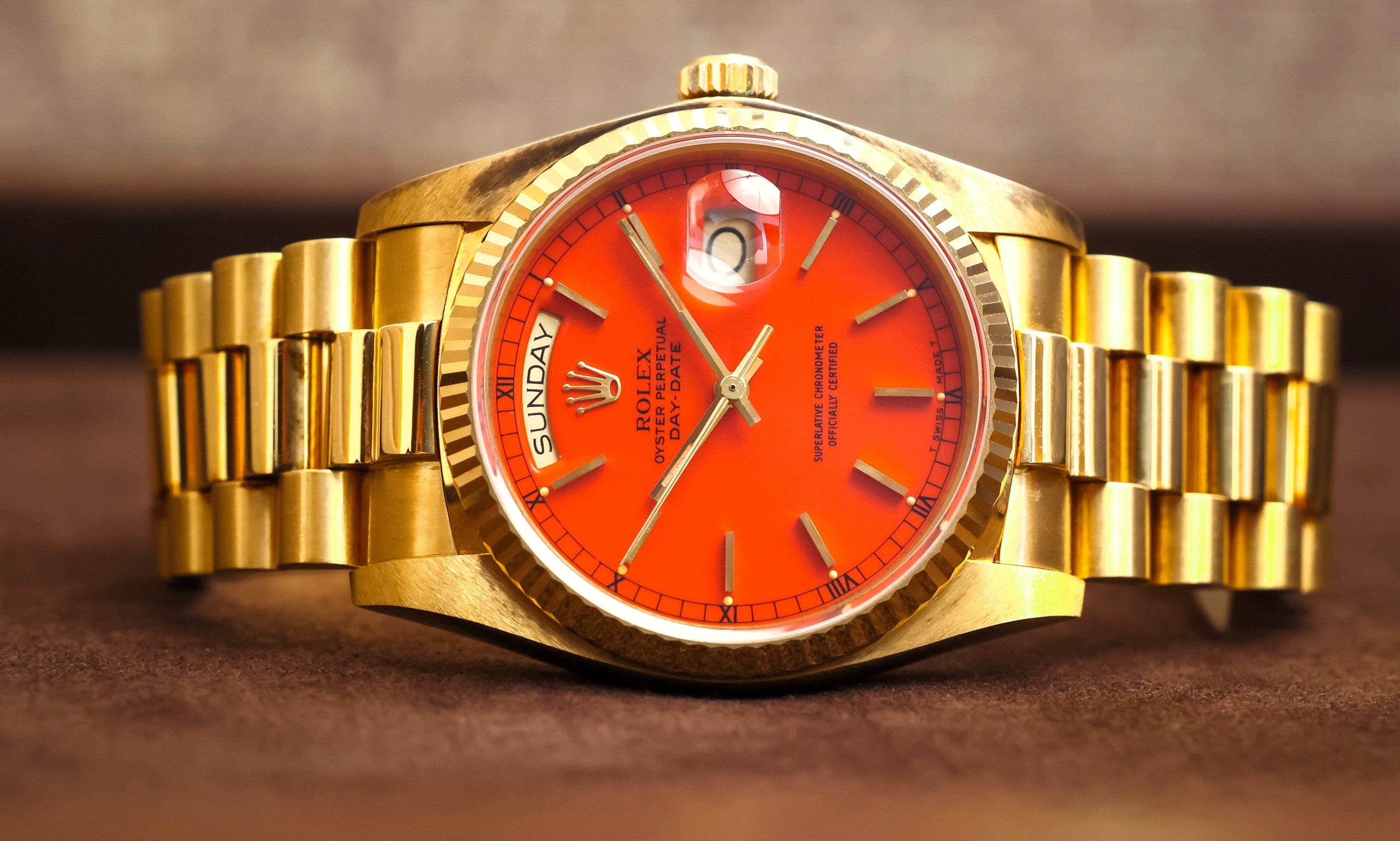 In the late 1970s and into the 80s, Rolex introduced a series of enamel dials in riotous tones. The dials were listed in catalogue as 'Lacquered Stella'. Stella was a company based in Châtelaine and Geneva who supplied the a special brightly-pigmented lacquer to Rolex. Each dial was finished by hand through multiple lacquered layers, mixed and dried individually to the eye of their creator. These layers would then dry to create this tone and get a varnish, polished by hand. Stella Presidents were available in a range of metals and stone configurations, but only a few explosive dial hues.
The dials were believed to have been produced originally for the Middle East and Asia but over time began to be retailed through other markets. The watch sold slowly in period, leading Rolex to allegedly destroy multiple remaining batches in the late 80s. The slow sales (read: low production, rare) and intense laborious process have spelled insane levels of collectibility all these decades later. This coral orange/red variety is among the rarest hues to be produced.
Mint is an odd adjective to attribute to a yellow gold and coral red/orange watch. Yet, this example deserves it. The case is sharp, particularly for an 18K yellow gold from the 1980s. Its all-important dial shows no spidering or problems. The tritium luminous indices and handset are lightly yellowed and matched. I would not be surprised if this watch was delivered to the Middle East/Asia and never worn until it was brought to retail here. Whatever the case, if you're after a vintage Rolex that would look equally at home deplaning from Air Force One or by the pool in Saint-Tropez, this one will look after you.
Find this Stella Dial 18083 here from Herschmann Ascona for 75600 USD.