Concorde 1675 Rolex GMT-Master
There may be no better pairing in advertising historically than Concorde and the GMT-Master. Generally speaking, technology improves over time. The world marches on, iPhones get thinner, energy gets cleaner and more efficient, and AI will write your children's homework and text your wife for you better than you can. But there are exceptions. Commercial supersonic travel was possible starting 1976. Then, in 2003, all of a sudden it wasn't. I believe we should all be excited about the future and work to bring about the exciting future we imagine. I lamented the loss of Concorde so acutely as a child (thanks to Airfix) that, in a previous life, I interviewed and very seriously considered a role for a company called Boom Supersonic, a startup working to bring supersonic travel back to the world. Watches proved my calling, but today I get to enjoy both.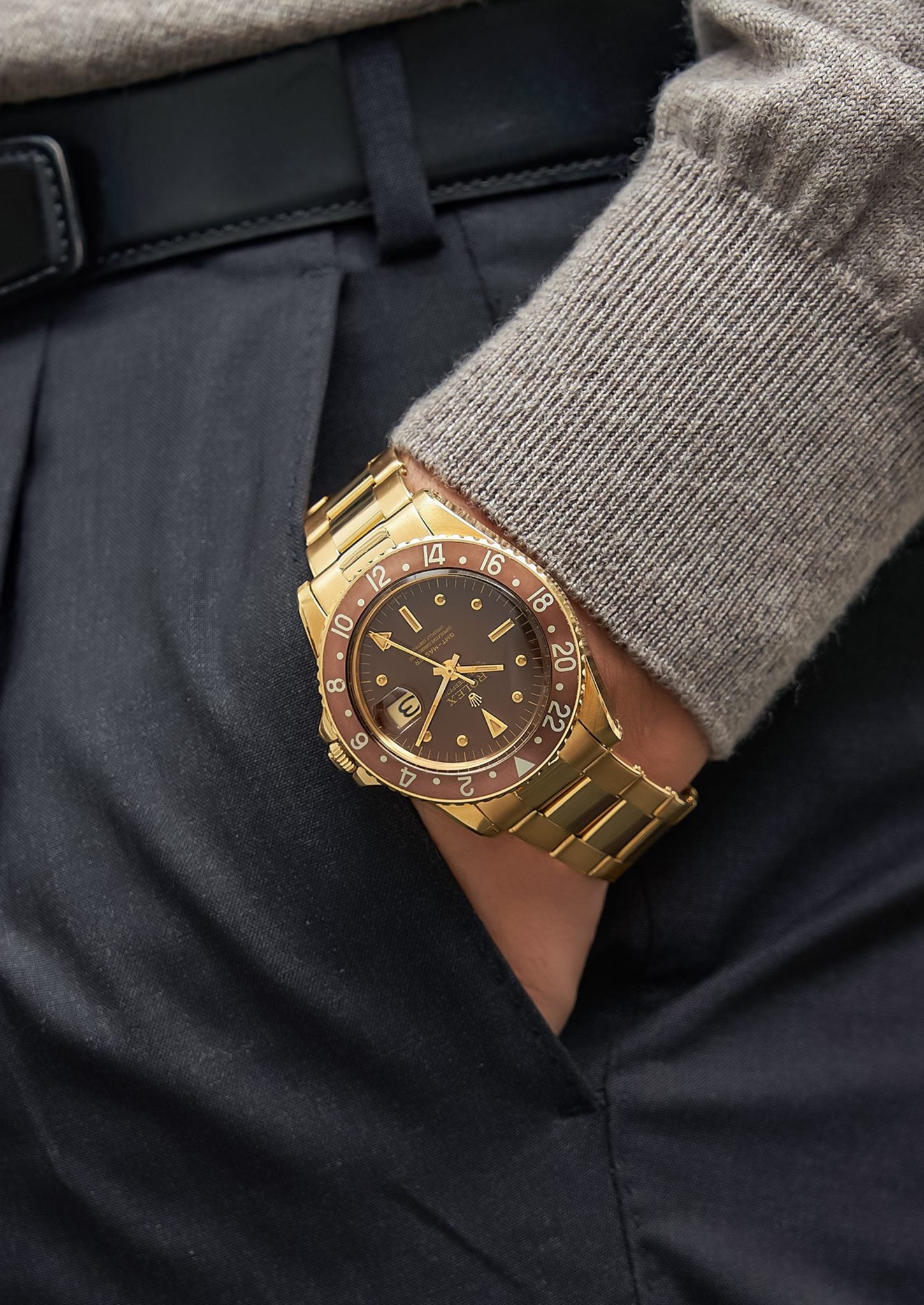 Here's where the ultra-detailed fun begins. In one of Rolex's many iconic vintage ads which read, 'If you were X . . .you'd wear Y', a brand-new supersonic Concorde was contrasted with a 1675 on a pilot's wrist. But not any 1675. The watch in question was 18k yellow gold and sported a straight handset, like what you'd see on a period Daytona, batons. That handset became known as the Concorde and was only available on /8 yellow gold GMTs. This early combination is surprisingly rare and highly collected. They're known as Concorde GMTs, purely for the ad and association. They're about as nuanced and intricate as Rolex collecting comes, an aviator's watch which tips the cap to one of aviation's greatest achievements.
Interestingly, values for Concorde GMTs have remained relatively stable whilst the rest of the sport Rolex market has fluctuated massively, consistently hitting 65-80K at auction in the past 3-4 years and very slowly trending upward whilst the rest of Rolex has been mostly flat or down. In fact, this exact example traded hands at Phillips in their 2020 Racing Pulse Auction and is now being offered again through their retail presence in London for a premium. Then, it hammered at 73K. Today, it's offered around 87. This leads the market but is not without precedent and as examples go, it's wonderful. Most you'll find are on Jubilee but the sporting edge a rivet Oyster bracelet lends I actually find more attractive, though I wouldn't expect the bracelet to be original. Neither Concorde nor the GMT are really in their era anymore. One is a poignant warning for aviation's future, the other something of a collector's darling. They both remind me of childlike optimism, belief that world can be a better place, and remind me that we have work for that to be the case. They say watches are vessels for memory, it does appear to be the case.
This example is beautiful on almost every level. The case is extremely defined, with great sharp edges and a light even patina all over, almost the bare minimum to let you know it hasn't been refinished. Looks mega. The dial shows none of the 'flames' you often observe on these, it's an entirely even deep burgundy, matching its lightly faded bezel. All tritium matches perfectly which does likely indicate that these Concorde hands are original to this dial. It comes on an Oyster, not claimed to be original, which does look fantastic. It comes from Phillips London based retail offering, Perpetual.