Civilian Zenith A. Cairelli CP-2
The Zenith A. Cairelli AMI CP-2 represents a high-water mark of effortless Italian style, full stop. And that's saying a lot: Turin gave us the Type 33 Stradale, Piedmont gave us Nutella (okay, maybe Nutella isn't stylish but I love it), Florence gave us the Vespa, and Zenith gave Italy's Air Force, and the world, the CP-2. It says a lot that Zenith's backseat, contract-military offering is actually more attractive than many brand's foremost efforts from the period. I give you the purposeful, practical, aviation-borne CP-2.
There's a lot to be said for getting the proportions just right in any watch. 43mm is aggressive, no doubt. But it works here. And the oversized subs are just outright sexy. Then there's the vaguely-utilitarian yet artfully shaped shovel of lume at the top of the seconds hand. The undersized sans serif font. Watchmaking is about details, but even 'simple' watches are made or broken in the execution of their details. This one is the former.
Though the CP-2 was created for the Italian Air Force (AMI), civilian versions were also retailed. This is one lovely example of just that. Zenith's similar issued CP-2 went to AMI pilots.Interestingly, Leonidas CP-2s would have been issued to a helicopter pilots in period. Why? No idea. This civilian variant is, in essence, just the Zenith CP-2 with a bit less engraving on the back. Zenith had held back about 500 watches of the overall 2500 example production as reserves, which were later sold through retailers when the contract ceased.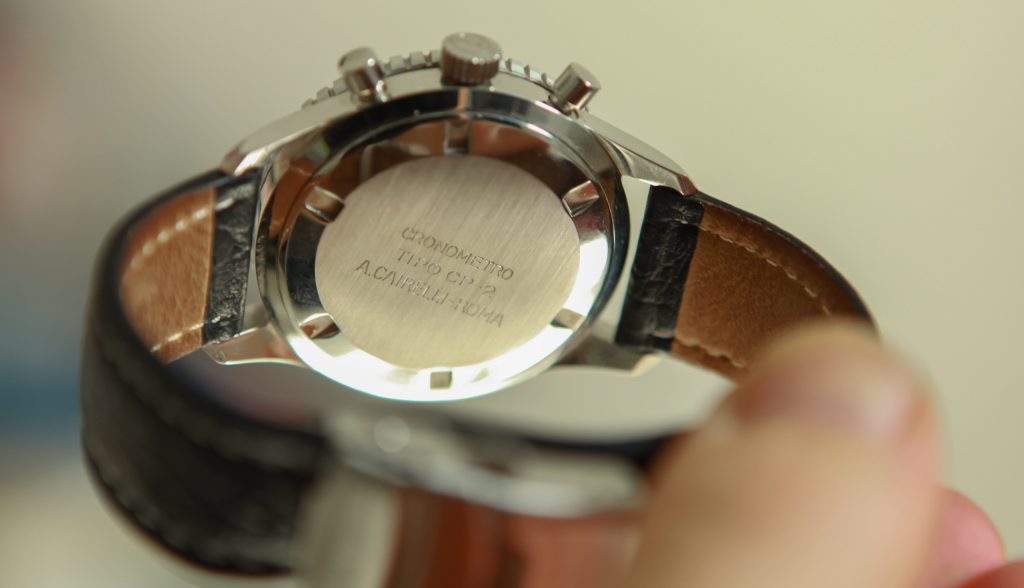 One last detail I always enjoy is the manual Martel-based 146 DP movement. It's surprisingly aesthetic for the utilitarian tool. Zenith and Martel went way back in a love triangle that involved Universal Genève, but the result is an unfussy and robust column wheel chronograph with a Breguet hairspring, shock protection, anti-magnetic iron cap, and rhodium plating. Function, when taken to an extreme, is often beautiful.
This example is sharp. Properly sharp. Its case has razor edges, its caseback hard shows signs of wear. The dial is undamaged and extremely well-preserved. No signs of moisture as is common on these. Tritium applications all an even cream. This watch was purchased and barely worn. Perhaps most impressively, it comes with a full set. It is offered from a private collector in Germany.
Find this CP-2 here on Chrono24 for 12500 EUR.