Today, the King of England wears Parmigiani Fleurier. Kwan Ann Tan has written an exceptional guide to Parmigiani's earliest years and watches like the early Torics, heavily inspired by classic Roman architecture, are seeing scholarship translate to market value. In the coming years, the Tonda PF will bring the name to a new audience. But, and I may ruffle a few feathers here, some of Michel Parmigiani's best ever work was not under his own name, in the earliest stages of his career. It was under Chopard, who effectively said to a young Mr. Parmigiani, 'Take this blank check and as much time as you need. Come back when you have most perfect time-only movement you can make from scratch'. What resulted is probably the only watch from a larger manufacture (excluding Journe) of the same era which can legitimately be compared in aesthetic, quality, and ethos to Dufour's Simplicity. They even share the same dial maker: Metalem. Only these weren't made by just one man at great effort. They're from Chopard, 25 years ago, and somehow still not totally outrageous money.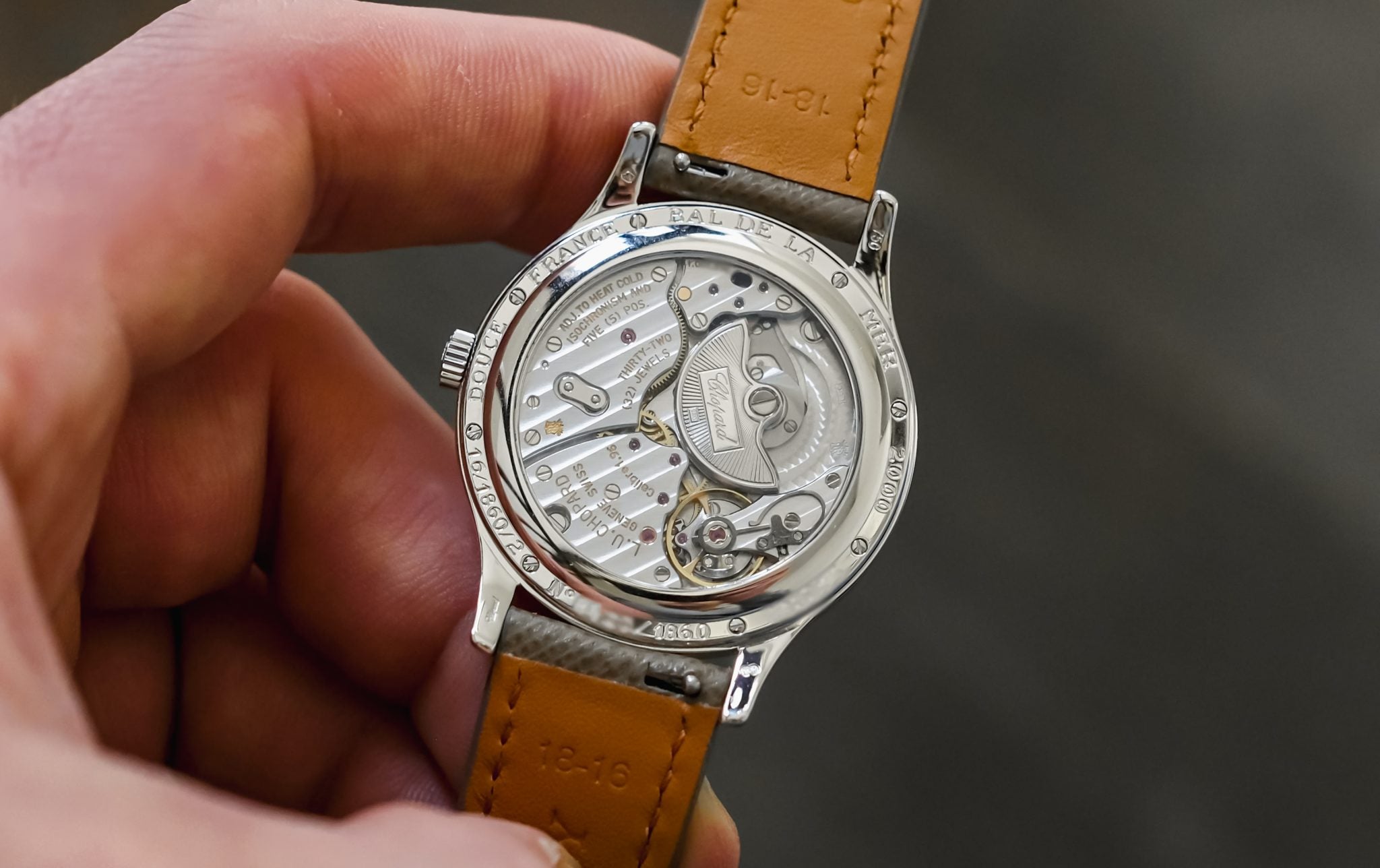 There is a magic in the blind ambition of youth. The story of this 16/1860 is actually not unlike the McLaren F1. A racing team with a large check needed their first road car. They hired the best, a young F1 designer named Gordon Murray, and told him to take as long as needed to do things differently than the rest. We know where that story went, Le Mans domination and a new credible Ferrari rival. Chopard's 'blank check baby' hasn't seen the same widespread fame, but is absolutely of the same magical formula and with this pedigree, really, should be.
LUC's calibre 1.96—LUC so named for the initials of founder Louis-Ulysse Chopard—was an attempt to bring the manufacture, who had strayed a bit, back into the good graces of those who take watchmaking very seriously. The brand hired in Mr. Parmigiani and gave him years and near-infinite means to develop a high-end movement signature to their house. Four years and twenty prototypes later, result was one of the purest and finest automatic movement designs of the decade: the cal 1.96 micro rotor with a 70-hour reserve from two mainspring barrels. I'd expect no less from the man at this point. Finishing levels were something to behold, not to mention COSC certification and the Geneva Seal as redundant accolades. The dial was by Metalem, solid gold with central guilloché and finely polished dagger indices. Cased in various precious metal at 36.5mm, Patek's Calatrava of today could stand to learn a thing or two from this high-water mark.
This first series of calibre 1.96 was produced from 1997 until 2002, with this 16/1860/2 (/2 for sapphire back) officially produced in 1860 examples of yellow gold, pink gold, white gold, and platinum respectively. However, sales for Chopard were slow. Many speculate, with good intelligence, that far fewer were actually produced, possibly fewer than a thousand in total and something like 300 of each metal if not less. This is a developing modern classic for those paying attention.
This example is in excellent condition, basically very light hairlines on the white gold and that's it. Interestingly, the case back is signed with 'Douce France – Bal de la Mer 2000', in homage to an evening organised by the Yacht Club of Monaco. Fittingly history for such a luxurious watch. It comes with an extract, original strap/buckle, and even recent service papers from a well-regarded Belgian retailer.