Cartier CPCP Tank Louis in Platinum
It's quite a luxury Cartier enjoy to both be viewed as a design-first watchmaker and simultaneously preside over a handful of the most timeless cases ever penned. Rolex's Sub, Patek Philippe's Perpetual Calendar, and indeed Cartier's Tank all take a different approach to marketing, one best explained by looking at its antithesis. Trilobe are bringing out dials that take PhD to read for wow factor. Swatch are too busy kidnapping Daniel Craig's children for leverage to notice that their pushers fall off. And the Day-Date no longer has a Day or Date (🤦‍♂️) whilst seeming to support autism but, actually, is too far up its own apertures to even attempt to do some good. No, Cartier have largely chosen painfully slow evolution over the revolution for attention model, particularly with their greats. This is why the Tank will always be desirable. This could been made yesterday, or it could've been made in 1972. But no, this one was made in '99. Yes, 1 of the fewer than 150 CPCP Tank Louis in platinum.
CPCP is as hot as Margo Robbie right now. In the space of one short decade, values have roughly tripled to quadrupled across the collection, though this classic Tank even more. Cartier was perfectly positioned around the time watch media and watch Instagram came into their own, particularly CPCP. It had the watchmaking prowess, the big names attached, history still to be uncovered, and clear subtle differences like the rosette guilloché dial on this Tank that make nerds like me write about them. Cartier's attempt with the Paris Collection Privee to bring the brand back into the graces of hardcore enthusiasts through serious watchmaking worked, just a decade later than they'd intended.
Crucially, Cartier stuck to the historic proportions of the Tank Louis, 33.5×25.5mm. You wouldn't re-draw the Mona Lisa a little bigger. In case you don't know, the original 1917 Tank was inspired by Renault FT-17 Tanks Louis Cartier saw on the Western Front in the first World War. Its design has lasted very successfully for over a century, and enduring appeal matched by almost no other watch. General John J. Pershing, Gary Cooper, Jackie Kennedy, Andy Warhol, Steve McQueen, Muhammad Ali, Kanye, Rami Malek, Michelle Obama (I could go on) and countless others since have since been known to enjoy a Tank, cementing its reputation as a discreet piece of art with exceptional style and history.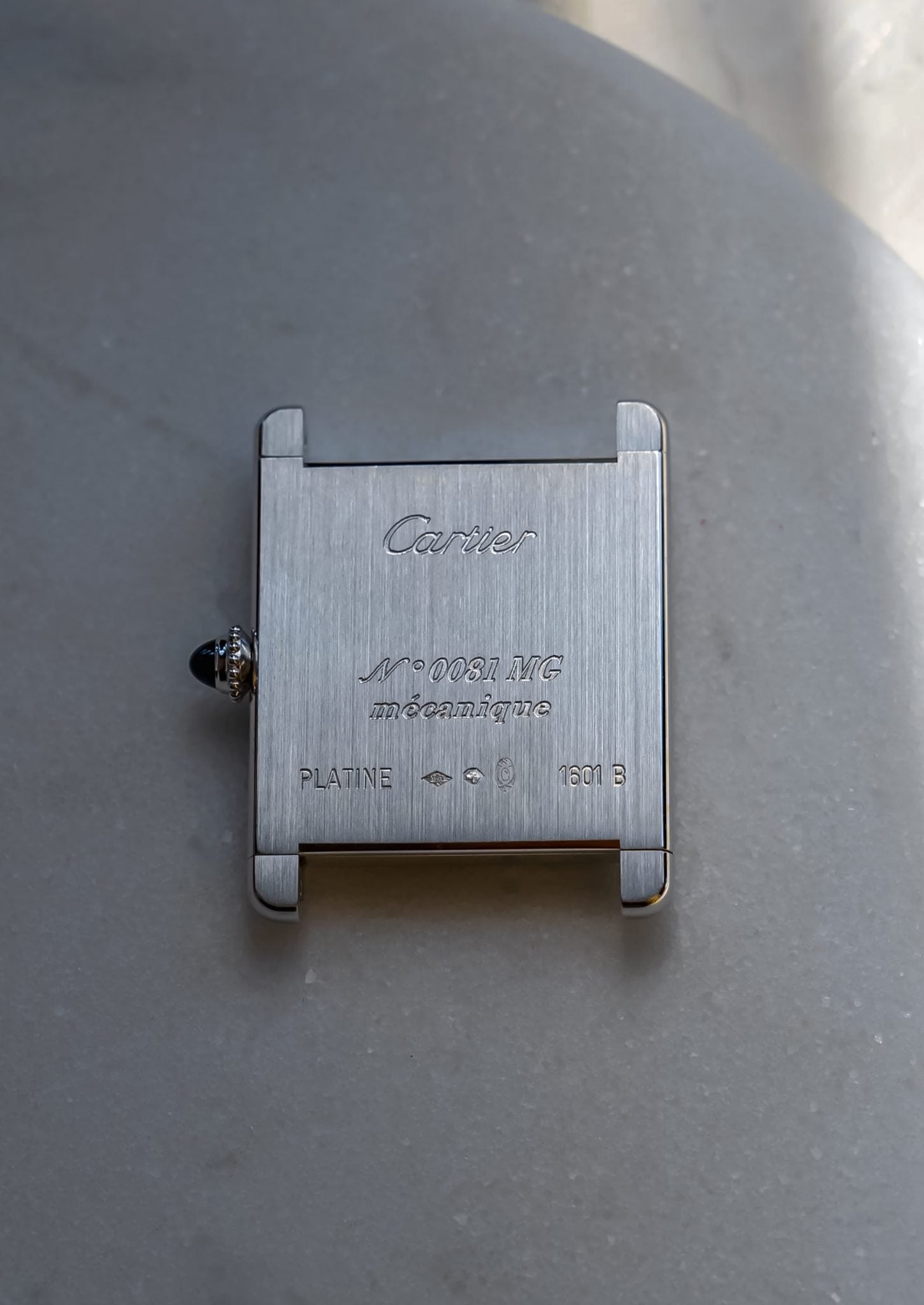 CPCP ran approximately a decade, over which time it is thought that fewer than 150 examples of this platinum Tank Louis were created, all numbered on back. No one seems to talk about this but that guilloché dial is solid gold as well. The movement goes by Cartier calibre 021 and is an ultra-thin Frédéric Piguet ébauche finished by hand but not revealed, a solid platinum back. When you have something to say, you don't need to shout. The CPCP TLC in '99 was Cartier whispering to their best clients, 'we're back'. Very shortly, I suspect, these will be off and on to being the stuff of dreams at auction.
This example is in excellent overall shape. The case is worn, but lightly, and not polished up, the best way to tell on Tank 'brancards' is closely examining reflections for deviations. When you polish out scratches here you're taking away from a totally linear surface, and so reflections start to get wobbly. There's none of that here. Just light surface wear. The dial and hands show no damage. It comes with its original clasp, box, and some papers. The real deal, this one's from a well-regarded retailer based in Japan.