Bundeswehr-Issued IWC Porsche Design Ocean 2000
When I say integrated sports watch, you almost certainly imagine a RO, Nautilus, or Overseas. You almost certainly do not imagine a Laureato, Octo Finissimo (despite it holding all the records today), or this: an imaginative 1980s diver with a full integrated titanium bracelet issued to Bundeswehr combat dive units known as Kampfschwimmers. This is an under-hyped, comparatively economic (I suppose anything is when contrasted against a milsub), materially innovative, 1980s diver with tritium and Porsche on the dial. It should be no surprise that this German's practical charm won it two military contracts. If that package doesn't turn you on at least a little bit, you're probably reading the wrong site.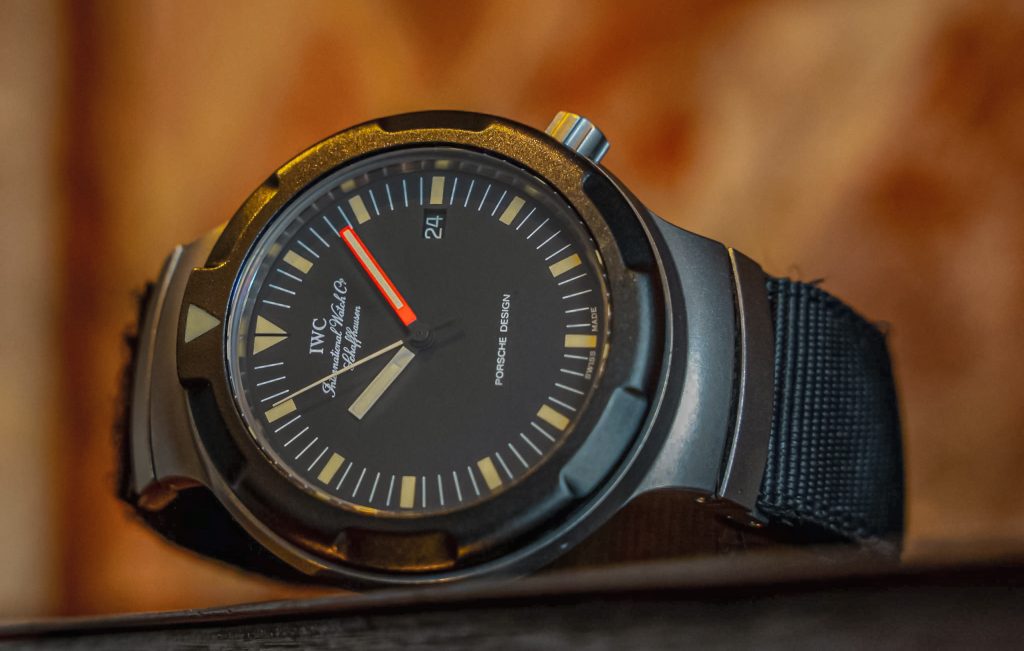 This Ocean 2000 was genuinely penned by Ferdinand Alexander Porsche, the same who designed the original 911. That's a bit special as pedigree goes. The wafer-like case is a bit of a UFO, with a highly scalloped bezel that meets no ISO 6425 standards. That said, it was good enough for combat diver contracts so can we really be that picky? Its 42mm case effectively extends into a bracelet link, giving a totally coherent design right up there with the best integrated takes. The entire package is realized in titanium for a feather wrist weight. The water resistance was engineered to a deeply impressive 2000 meters. It is powered by a quite well-modified ETA 2892, which IWC called the 3752-1. The dial was signed by IWC and Porsche.
Bund Ocean 2000s come in many variants: ref. 3314 & 3319 which are quartz calibres with a 3H signed dial. Then there are the 3529 & this 3509 which have no 3H signature but the above-described automatic calibre. Finally there was the rarest 50-example 3519 which had an a-magnetic movement for their minesweeper divers. All watches bear their NATO stock number on the caseback. The levels of history here are off the charts. So is the 80s charm. Though the Octo Finissimo may be the most modern sports offering today, this was the 1980's best technical effort. And it's just damn cool.
This example is in strong condition. Titanium scratches very easily and these were tools used for purpose. Yet, the textured surface here has very little wear. Its tritium applications are lovely in an even cream tone. It comes with a full set, including the not pictured here bracelet, from a well-regarded UK retailer.
Find this Bund Ocean 2000 here from Maunder Watches for 23500 GBP.