Breitling 765 'Raquel Welch' Co-Pilot
If you happen upon any chronograph with a fifteen minute subdial, chances are it was made for aviation. The quarter-hour interval is a frequently used period for both pre-flight checks and warm-up procedures. What I'm saying is fifteen minute subdial equals aviation tool watch. Here it's so prominent Breitling even lumed it with five-spoked tritium application. However, not all aviator's accomplices are as attractive as the 765: a chronograph so bewitching that even Breitling decided they'd just make it again rather than attempt to do better. Granted, that is a hard ask.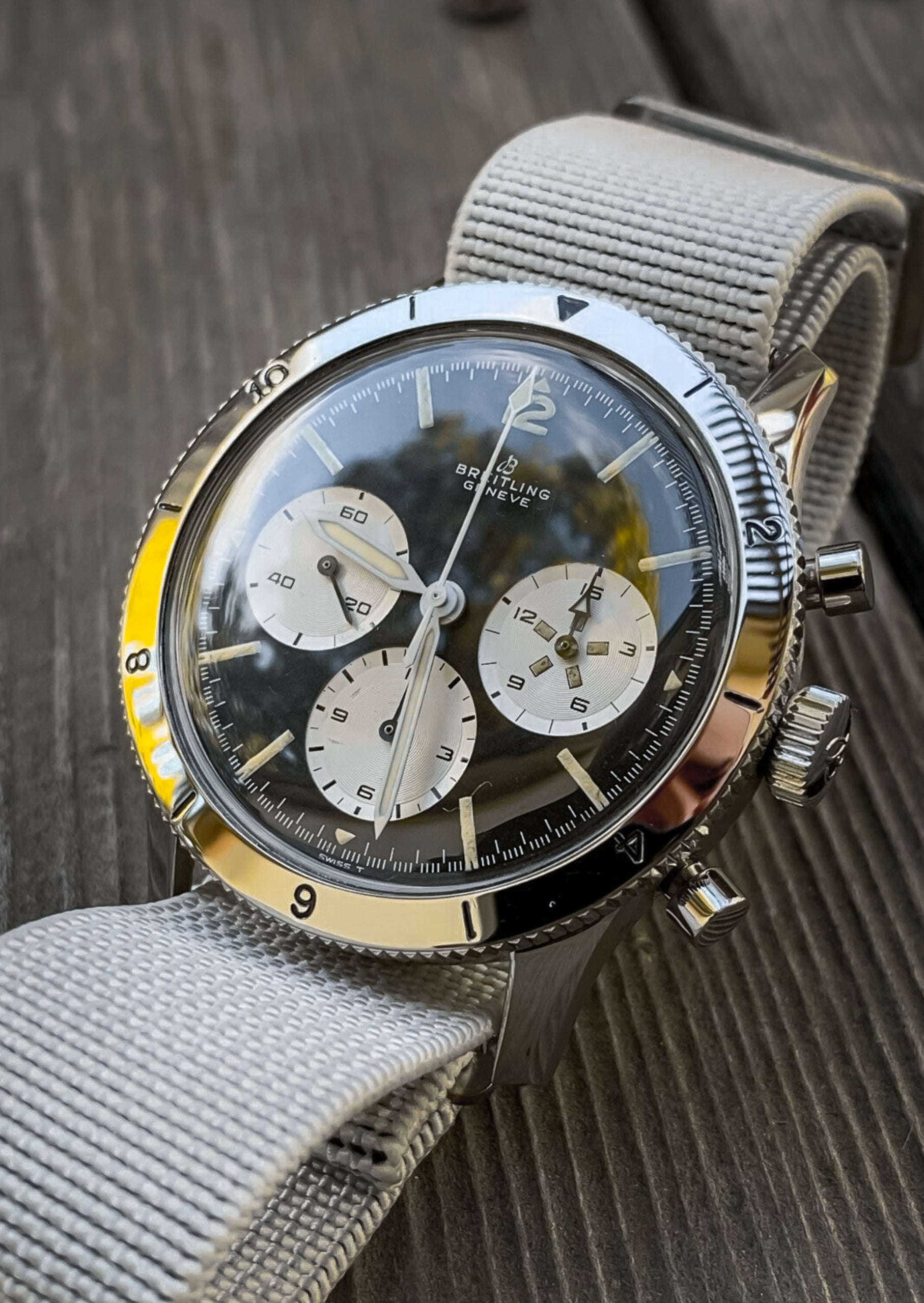 The 765 was an evolution of the French military's Type XX. It grew to 41mm, the dial was lumed in tritium, and the subdials were inverted. The chronograph was intended to secure a French army contract, but the French wanted a flyback complication. So this reference was sold to through retailers instead. It is a purposeful design that never really had the chance to prove itself in conflict. France's loss was our gain. A 765 sitting in a shop caught the eye of one Raquel Welch, whose name has been inseparable with the reference ever since. It's just all kinds of 60s cool. The movement is a modified Venus 178: a 18,000 vph hand-wound chronograph with a 45 hour power reserve.
The example shown today is quite strong. The seller has cared for this. The case is strong, possibly unpolished given the chamfer visibility. Its dial shows no spots of cancerous corrosive rust. The lume is a bit green, I can't tell if that's the lighting or a reapplication. This may merit further inspection of what blends of tritium where appliced in period on these. The watch has had a recent service from Breitling and is working well. It comes from a private collector.
Find this 765 AVI here on eBay for 19000 USD or offer.