Who knew a love letter to pocket watch architecture could still stir up so many emotions? Breguet introduced the 7027 in 2005 to little fanfare. Over a decade later, this reference is still a niche enthusiast's choice. Breguet designed an open dial aesthetic that was defiantly avant-garde. Yet, when specified in this rose gold coin case, the entire construction feels classical. Is the 7027 an anachronism, Swatch's attempt to go indie, or a celebration of the escapement?
The hand-guilloché dial is made of solid gold and is of an absurdly small proportion; that is to say the 7027's mechanical components comprise the majority of dial real estate. Its manually wound 507DR with 50 hours of power reserve (its mainspring barrel takes center stage) is displayed in a manner that emphasizes the Breguet overcoil. Individual half bridges and wheel treatments are artfully arranged to evoke the pattern of Abraham-Louis Breguet and son's pocket watch work. Each (admittedly antiquated) bridge design is treated with a hand anglage. The take on a modern dress watch is equal parts industrial, classic (particularly in this 37mm, rose gold, coin-edged case), and avant-garde.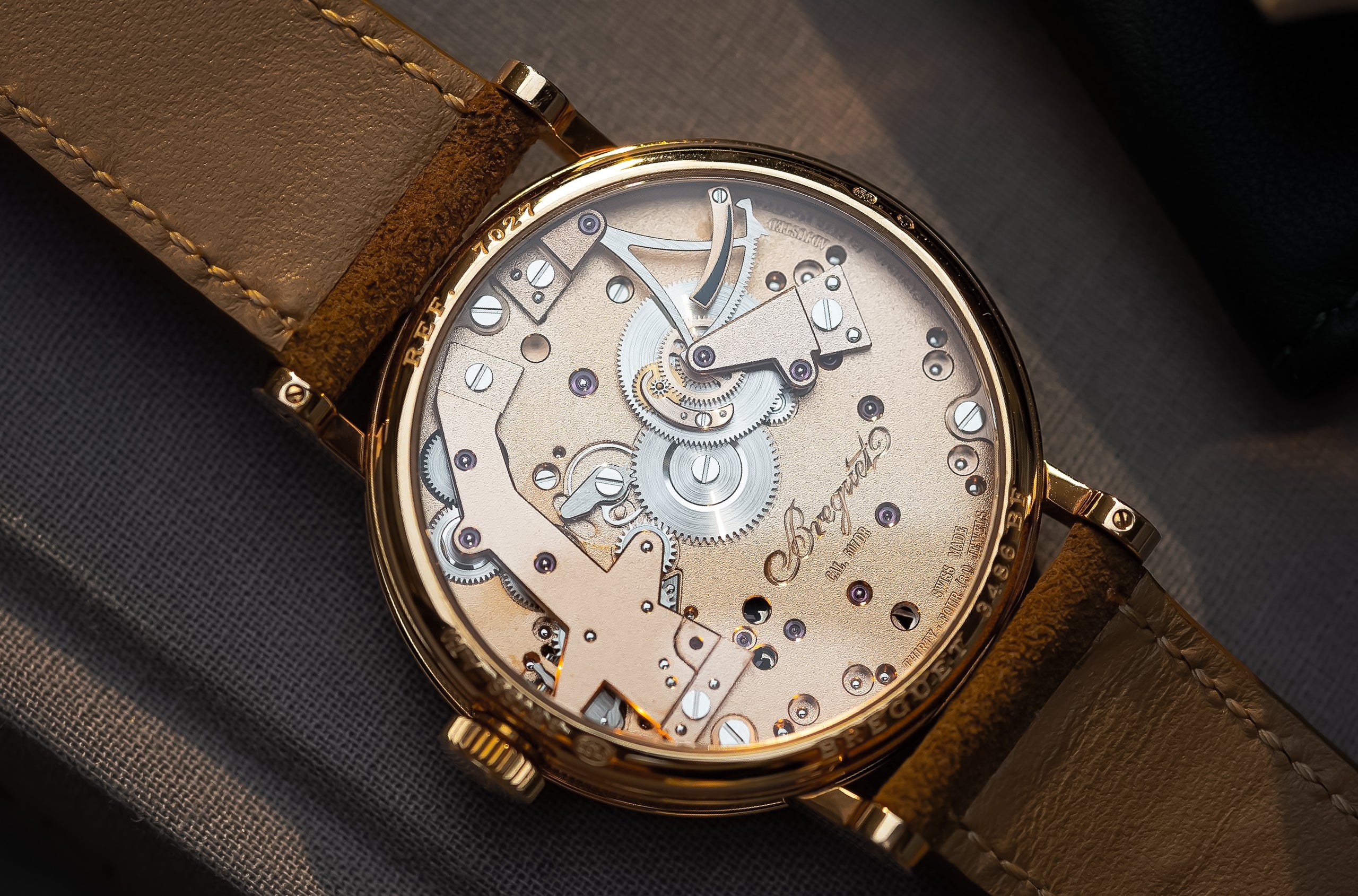 And yet, despite being able to articulate the appropriate adjectives, I have no idea how to feel about this Breguet. I find confusion frequently resolves in adoration for me, where Breguet is concerned. I've resolved to let this one grow over the next decade. The market seems to have made similar considerations. Values have held constant, with slight upticks in the last few years. I'll reiterate my initial query: anachronism, or best of modern mainstream watchmaking? That one is up to you.
This example is lightly worn. I see surface wear on a few of the flanks and lug edges, nothing more. I should also point out that these lug junctions are welded and then treated by hand to remove excess material, leaving this perfect intersection between textured case and polished lug . . .impressive. Its dial is unaltered, as one would hope from a 2018 production. It comes from a reputable retailer with a full set. One of the great benefits of Swatch group is that this Breguet weighs in at an ask considerably less dear than its architecture might suggest.
Find this 7027 here from Dunaliga for 16800 USD.