An Exceptional Omega Chrono-quartz 'Montreal'
This is the opposite of a Fashion watch. The Omega Chrono-quartz, occasionally referred to as the Montreal or Albatros colloquially, was a truly innovative piece. Omega was contracted as the Official Timekeeper for the 1976 Montreal Olympics. Ahead of that duty, they created the first ever ani-digi (analog or mechanical and digital hybrid) watch. This is genesis for the Speedmaster X-33, Spacemaster Z-33, and all other ani-digi outside of Omega. Although many will argue this is a species that should have never bred, I feel otherwise. There's no stronger middle finger to fashion that this piece of pure function. For that alone, it deserves commendation.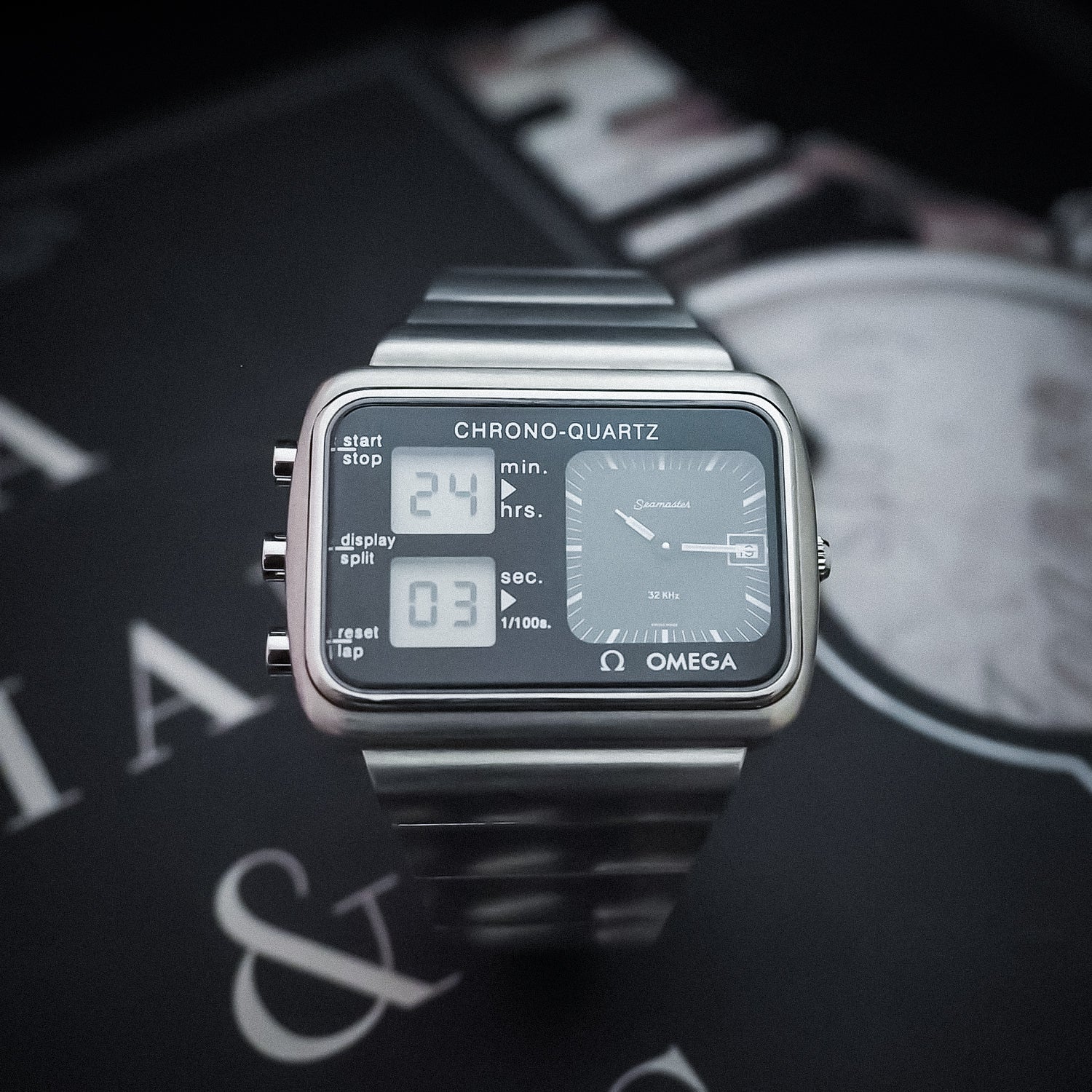 The mid-70s were the height of the Quartz Crisis for the Swiss. Omega, when faced with such monumental responsibility, decided to combine the precision of quartz with traditional mechanical watchmaking. The unique cal 1611 uses a quartz circuit to effectively regulate a mechanical movement (a modified Omega cal 1320) placed above it. The whole contraption was placed in a massive case with an integrated bracelet. The back was branded Seamaster, though I personally tend to think a Speedmaster branding may have been more appropriate for this Chronograph. I wouldn't swim with it. Nonetheless, the piece was used throughout the games. It gained notoriety during the Olympics and then was almost immediately forgotten. The cal 1611, case, and bracelet designs were never used again. It is a highly unique piece, arguably for good reason. The production run is estimated around 15000. Today, the Chrono-quartz is sought after by only a particular sort of collector. One has to appreciate engineering and be willing to sacrifice a 'normal' aesthetic to sport one. But does any reference more strongly capture the bizarre emotion of the mid-70s Quartz Crisis? I think not.
The Montreal was also designed to fail. In short, Omega knew the electrics could not last nearly the length of the mechanical movement. The circuit was constructed in a modular fashion to allow constant updates of failing components. Remember, this is very early in quartz construction. As a result, many examples today (I'd estimate around half) are sold as spares. The LCD time display panels tend to go first. What is presented today is quite a rare bird. The watch is functioning perfectly with almost no wear. It is as close to a new example as I've ever come across. The case and bracelet are both unpolished and hardly marked at all. I bet this Montreal has seen less than a month of wrist time. It's a rare chance to enjoy the watch without having to worry about repair—at least for a little while. I'm begging you, please buy it before I succumb to the temptation.
Find this Omega Montreal here from Watch Out Italy for 2600 EUR.