An Exceptional Bakelite 1953 Blancpain Fifty Fathoms
I've been waiting patiently on the touchline for the right Fifty Fathoms to surface in the market. This is a site built to feature the most interesting pieces for sale at any given time. Not covering a single Fifty Fathoms since inception seems a terrible transgression. This is, with possible 5514/7 exception, my grail vintage diver of choice. I regretted, recently, being too slow to cover the Davidoff brothers' recent Milspec. When Bulang & Sons recently listed this Fifty I knew that, despite having featured them recently, I would not repeat my error. What's more, I even prefer the bakelite & clean dial presented here.
This is the first 'modern' dive watch. By modern, I mean a uni-directional rotating bezel with substantial water resistance. This honour is often mistakenly attributed to the Submariner. This exact model is from the first year that the Fifty Fathoms was available to the public, 1953. Only prototypes and military pieces existed previous to that. Captain Robert Maloubier and Lieutenant Claude Riffaud of the French Combat Diving School required a watch for their most elite divers to measure elapsed time at depth. The market didn't seem very wide to most of the Swiss watchmaking houses. Only Jean-Jacques Fiechter of Blancpain, a diver himself, saw the practical commercial appeal of a water-resistant watch. Fiechter managed to design a dive watch with Fifty Fathoms, or ~90m, of depth rating. As you may be aware, the formula caught on.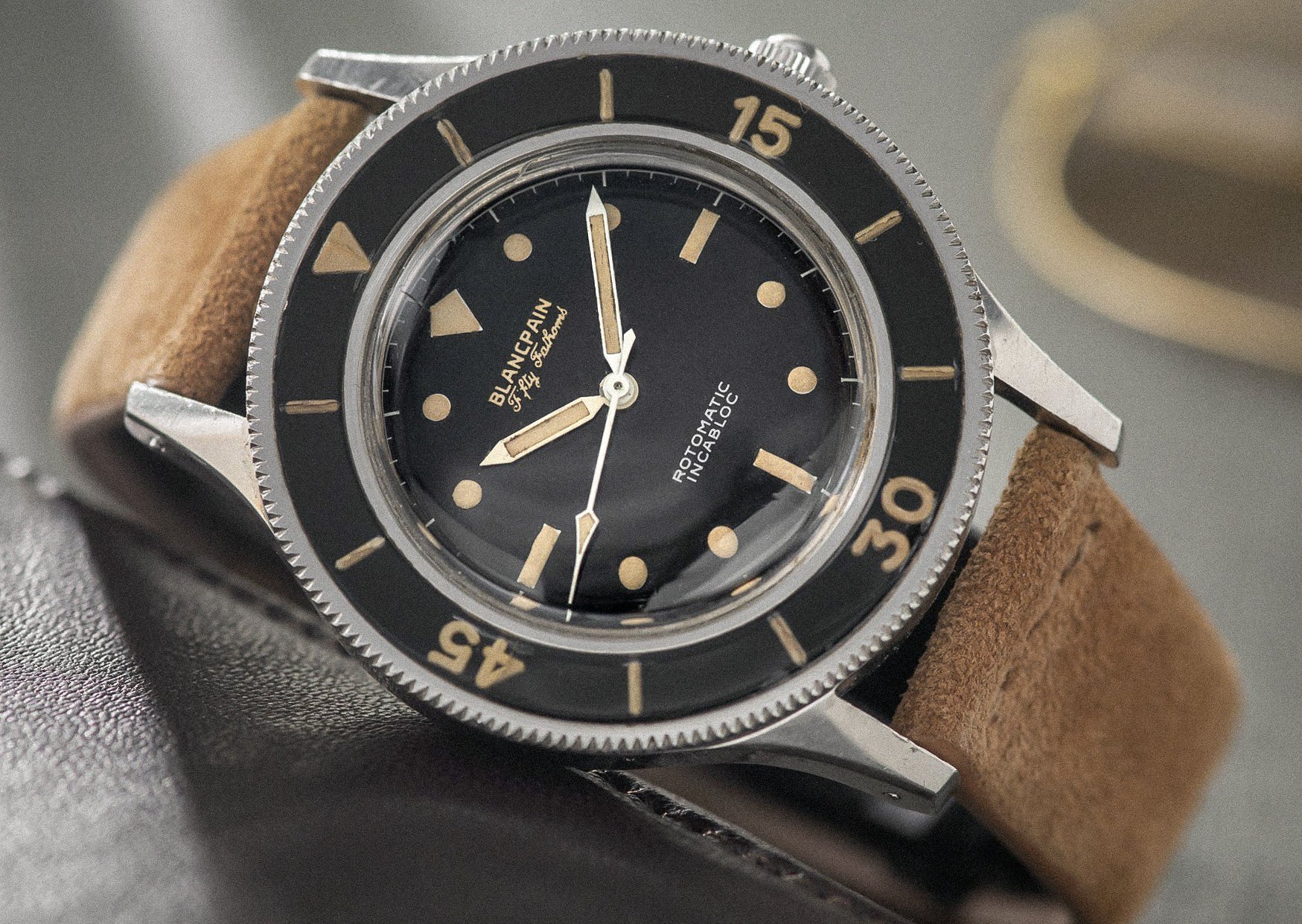 The watch they created together was a massive 41mm to accommodate is rotating bezel, a first. The luminuous dial had to be visible with an easily-distinguished 12 marker. Water resistance was accomplished through a screw down case back and reliability of timing was ensured through an automatic caliber. The crown would not have to be adjusted or wound to keep time. This was crucial, because Blancpain could not include a screw-down crown. The technology existed, but Rolex held its patent. The result was a free crown with gaskets, not to be adjusted whilst diving. The model proved wildly popular, particularly after Jacques Cousteau wore his in 'Silent World'. The watch shown today is the first commercially-available dive watch. That's something in itself. Yet, moreover, it is the first year of production of the first dive watch. These are near-impossible to find in half-decent condition. Let alone this.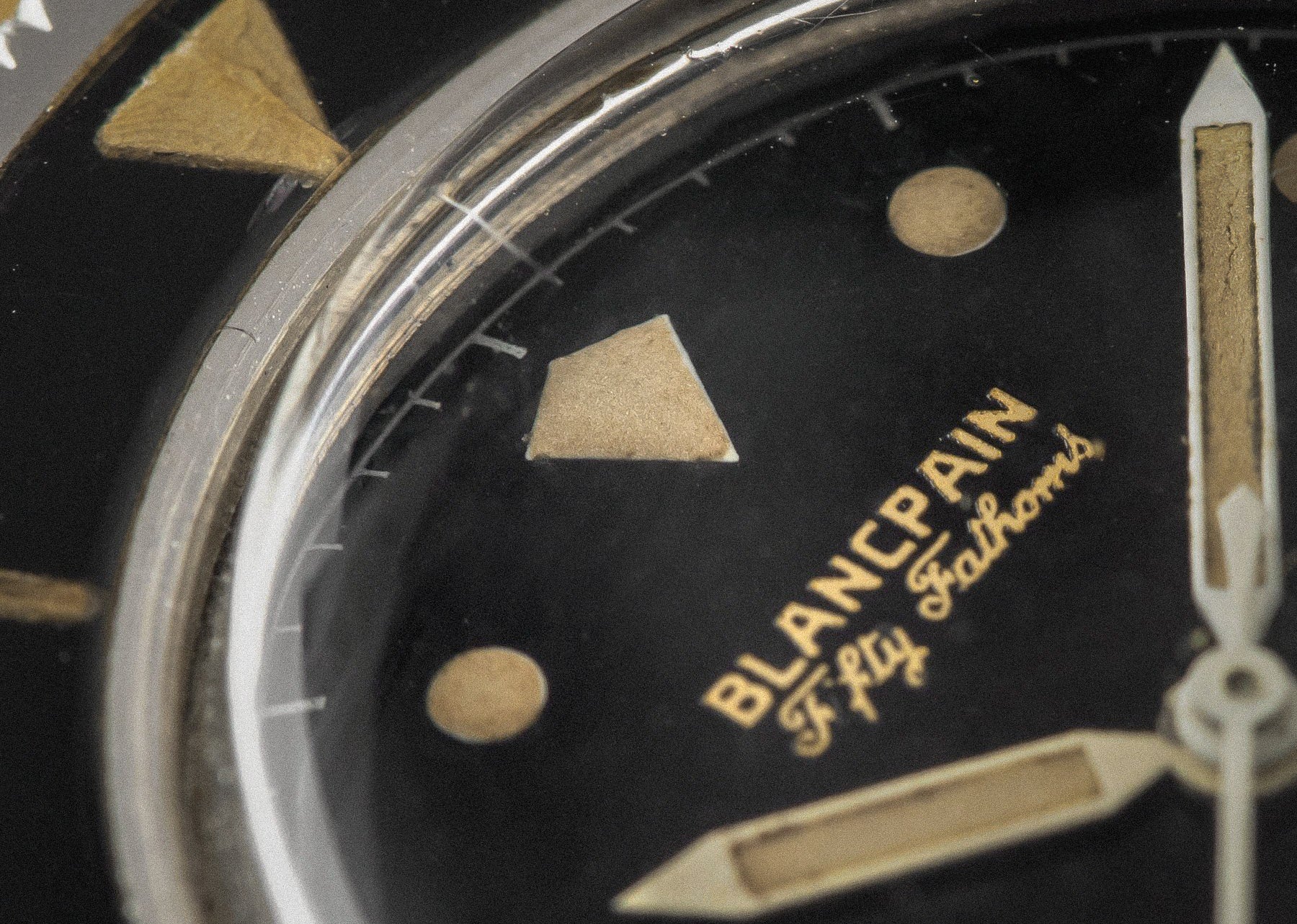 The example presented here is rarity, let's be clear. Most wear service dials or have huge discolouration. Lume application of this period is not what it is today. It almost always disintegrates in small chunks. More often than not, Blancpain's signature is only barely visible. I was blown away upon first sight of this watch. I don't mean to be hyperbolic, or even exaggerative. This is just, simply, one of the best preserved Fifty Fathoms I've set eyes upon. Sharp steel lugs, glassy unbroken bakelite bezel, complete & faded radium, everything correct . . .This is a bewitching diver. It is difficult to assess the true value of this watch in a market with so few data points. Take a glance at recent big 3 auction results to get a feel. I wouldn't expect this rare beauty to come without a premium.
Find this Fifty Fathoms here from Bulang & Sons for an undisclosed sum.