A Singer Reimagined Track1 Hong Kong
I for one loathe all automaker to watchmaker analogies. As a keen enthusiast of each sphere, they are never right. Rolex is not like Porsche. Patek is not like Buggati and certainly not Rolls-Royce. Everything is too loosely connected to be useful, it's always a vast over simplification. That said, I don't think Singer Reimagined is to watches what Singer themselves are to car culture (forgive me for doing the unthinkable here, but that's probably something more akin to a Artisans de Genève). However, it is still an incredibly interesting watch that deserves to be examined closely.
It would have been very easy for Singer to contact a Heuer or Omega and do a limited run chronograph with a few bright colored bits. I have to applaud them for going about this the hard way. Reimagined is a collaboration between Singer Vehicles lead Rob Dickinson (former frontman of Catherine Wheel), designer Marco Borraccino, and watchmaker Jean-Marc Wiederrecht. Mr Wiederrecht was formerly of Harry Winston, Van Cleef & Arpels, and Hermès. To translate, high street-cred. Their birth child is actually quite appealing to me, if generally polarizing. It's everything that Autodromo wishes they could be.
The fundamental design is Heuer rally timer with a tachymeter subdivision applicable to Porsche speeds. The actual hour and minutes are display on its outer track, with an orange indicator at 12. The power reserve of 60 hours is plenty for an automatic. This center-chronograph only shares its movement with one other piece, the Fabergé Visionnaire (of GPHG-lore). It was a complicated and incredibly laborious movement to assemble and engineer, make no mistake. It's a totally redesigned approach to the chronograph. Under my technical definition, this is a tool watch. That's why I'm not even commenting on the finishing, though it is reasonably strong. What's more, it suits its application perfectly. What does a Singer represent if not the joy of speed?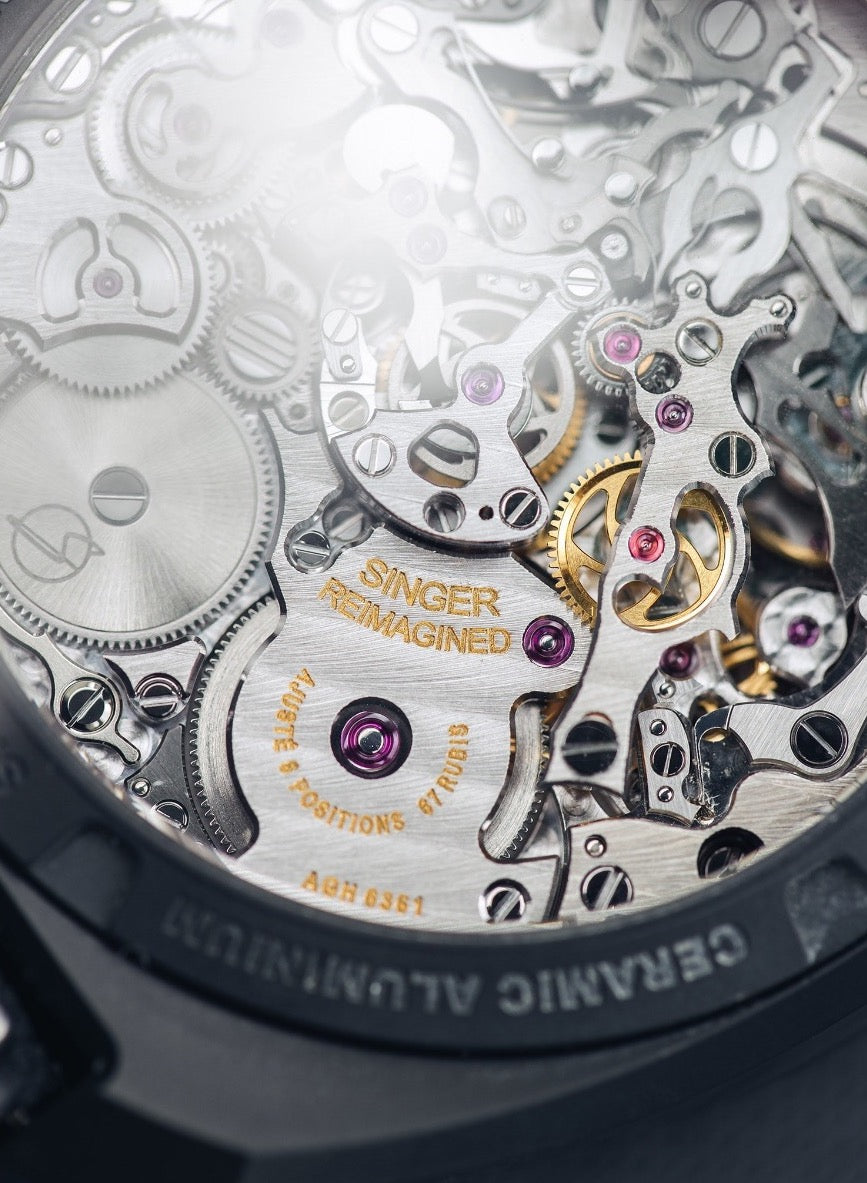 Above all, I think they really nailed the vintage design and modern mechanics that the Singer Vehicles side masterfully balances. This 50-piece Hong Kong limited edition comes in a ceramic aluminum. This is number 03 and is retailed from the Phillips Perpetual London Inventory. Most Track1s went to actual Singer owners, so there aren't many to choose from. It is not going to be on the wrist of any world leaders, but I'd happily sport it with jeans and tee. Just don't ever call it the Singer of watches. Call it lord of the Autodromos.
Find this Track1 Hong Kong here from Phillips London for 48500 GBP.