881101/02 'Evil Clapton' Universal Genève Tri-Compax
It is simply not possible for any mere mortal to out-cool Eric Clapton; eternally influential guitar genius, CBE, friend of all the rock greats, and, perhaps most relevant to today, a dedicated watch enthusiast. Clapton has not just been a watch collector since fame and fortune, no. Clapton has been a disciple of horology since the early days. In 1966 Hendrix and Clapton met for the first time. At that fortuitous London pub where the two were introduced, paparazzi followed. A handful of casual snaps emerged from that night, with one quite clearly showing the proud Tri-Compax on Clapton's wrist. In following months he was seen wearing it so frequently that the reference became eponymous.
Although in period the watch was something of an obscure choice, it is today generally regarded as well ahead of its time. Clapton had been attracted by the same symmetric design and mechanic complication that has seen the Tri-Compax elevated to something of a collector's icon. The charm here really lies in that unique understated 36mm look—the Evil Clapton Tri-Compax is piece any watch snob can spot from a mile away. The four symmetric reverse-panda subdials, unguarded crown flanked by round pushers, and bright red chronograph hand lend an aesthetic like nothing else before or since.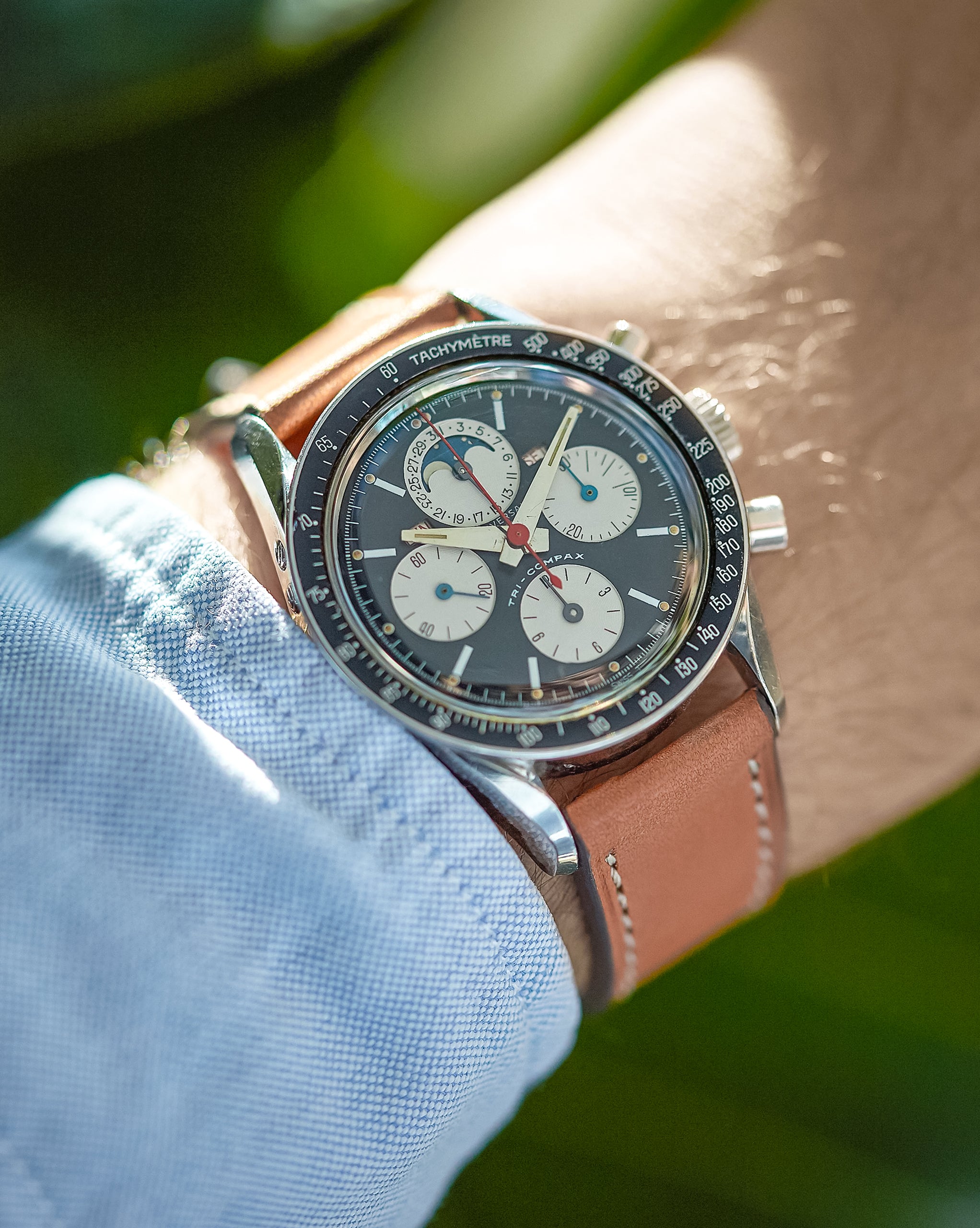 While the watch worn to meet Hendrix was unequivocally a 881101/01, this is not that. This /02 the same, just in reverse panda: hence the moniker 'Evil Clapton' (side note how sick is that name?!). Rarer /03 and /04 exotic dials were also produced. It was powered by a (Martel ébauche) Universal calibre 281, also used by Zenith to lesser fame. It featured a full calendar, moonphase, and column-wheel chronograph (the Triple complication referenced by Tri-Compax). Clapton's tastes in guitars, vehicles, and watches have always spoken to a craving for unique design and technical merit over outright opulence or luxury. It should be no surprise that, even nearly-sixty years ago when not a wealthy man, Clapton chose the best of Universal Genève.
This example is in a spectacular condition. The case is sharp, said to be unpolished with engravings on the back clear. Its plexi has a floating U. Moreover, this exact watch was photographed for Pietro Sala's 'Universal Watch Genève' reference work. The dial shows original lume application aged to gold. The same can be said of its handset, however there is a pinhole fracture in the hour hand. It comes from the Chrono24 outlet of ACM, not through their main site. They have sold a few pieces recently under the radar on Chrono24, which, I'm guessing, weren't quite right for their current image in the independent limelight. They're beautiful and not super advertised, but still come from one of the best names around. So browse their C24 listings as well.
Find this 881101/02 Evil Clapton here on Chrono24 for 23850 USD.