For reasons I don't fully understand, the Big Block hasn't hit big time. The values of vintage Tudor relative to vintage Rolex are a particularly interesting microcosm to study here. If you want a 7928 Tudor Sub, today they're about as much as Rolex's 5513. Original Rangers too, are often trading hands for as much or more than many 1016 Explorers. Even in the crazy collectible Rolexes, a big crown 6538 is only around 2-3x a 7924 (Tudor's equivalent). So why, then, is a 79180 1/3rd the price of it's peer Zenith Daytona or 1/7th an earlier 6265? Obviously, markets don't really work this way. And the Daytona name carries weight. But it is interesting food for thought.
Depending on your perspective, the 79180 was helped or hindered by mass production. Compared to the relatively scarce 9400 first series—which was also the first automatic chronograph of any Rolex brand, well ahead of the Daytona—this 79100 series was where scale began. But there is as much variation as you'd expect of Daytonas. We're talking exotic dials, three bezel variants, and even an elusive porcelain dial with the same type of layered lacquer construction as the 'floating' Cosmograph 16520. That last one's getting properly nerdy, it's a specific white with silver subs. But as far as maximal value is concerned, this humble panda is as much Rolex chronograph per unit spent as you're going to get anywhere. As long as by Rolex you mean Valjoux.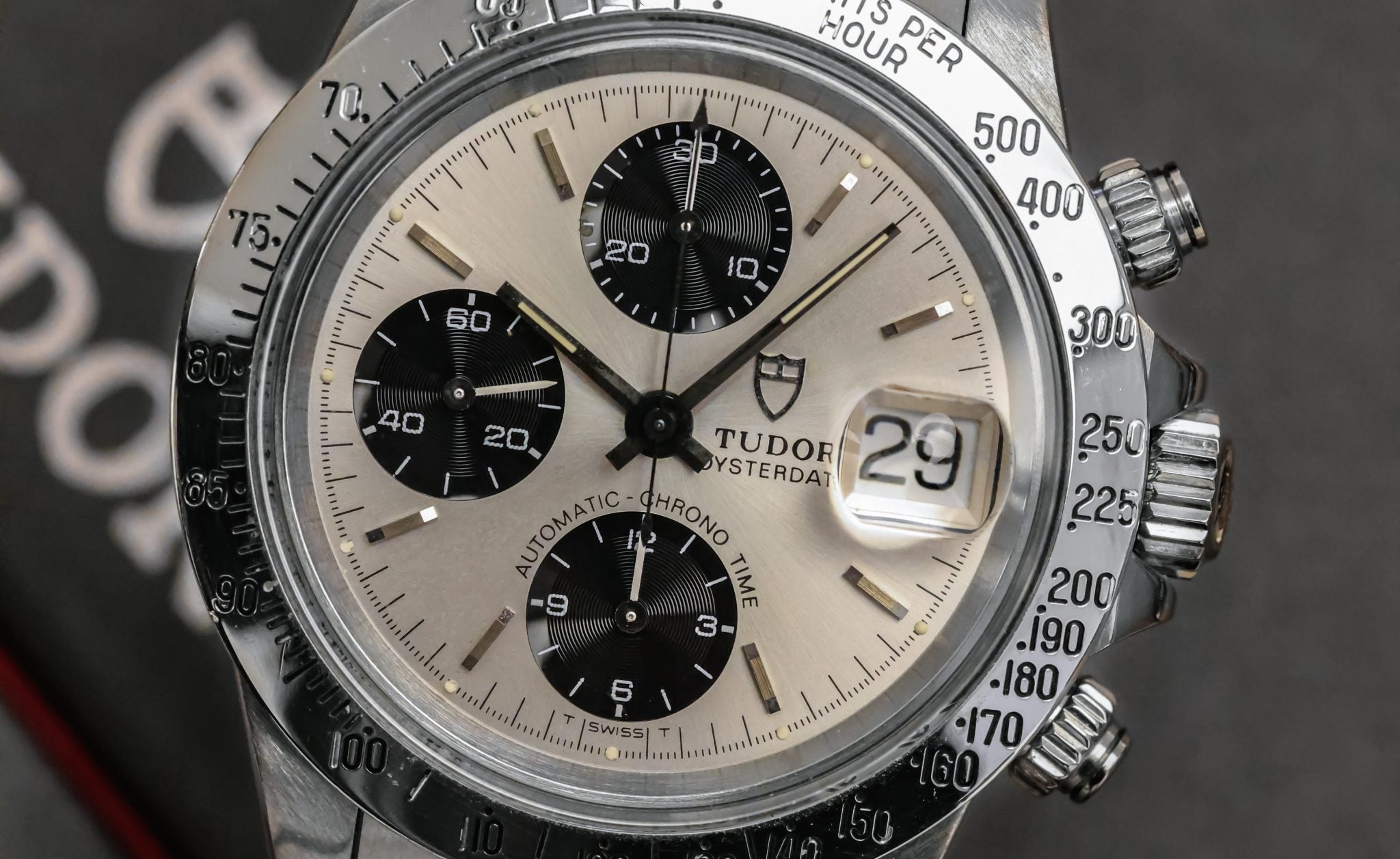 A note about that 7750: don't be so hasty. In modern collecting, there's a tendency to conflate scarcity or uniqueness with quality. Rarity has a value in itself, but it's not indicative of quality. This also applies to movements, where I've heard many times that 'just' a 7750 or V72 is disappointing. Sure, neither are the last word in finishing. But, for a tool watch, I believe the more widely a movement was utilized the more likely it is to be dependable. Every watchmaker who chose the 7750 was another vote of confidence that they couldn't do better. It's loud and has the technical sophistication of a brick, but it is robust. Like the ETA subs with Rolex Oyster cases, it's now an era long gone. But an era with buckets of charm. I don't know if big time is coming soon, but I hope not. Because I'm running out of watches I'd recommend to people who are serious enthusiasts in the early years of getting into watches. This is one.
This example is in strong overall condition. The case is full with a definite bevel, but I can't actually tell a ton from the provided pictures. Its dial is great, clean of damage except the tiniest spot to the left of the 20 in the 12 subdial. Very impressively, this one comes with its full set, from a well-regarded Swiss retailer.