722.050 A. Lange & Söhne Lange 1 Tourbillon
The Lange 1 is a perfect design, cemented by three decades as a modern classic. Surely, any attempt to alter its harmony is about as wise as drawing a mustache on the Mona Lisa. Duchamp did this sincerely, but he also signed a urinal. So here's the question: is the Lange Tourbillon Duchamp's Fountain? Or is that the World Time? Whether the Lange 1 can be altered to anything approaching success is still an open question. However, the strongest case for success so far is my least favorite complication. Meet the incredibly beautiful, quite polarizing 722.050 Lange 1 Tourbillon in honey gold.
Look, the tourbillon is very fascinating if you have the mental capacity of my niece, who is 5. She said, 'wow it spin' the first time I showed her a tourbillon, a Moser, and she is entirely correct. But it's not exactly the Destriero Scafusia (by the way Corrado Mattarelli are selling one right now). And then Kevin Hart said 'turb' on Talking Watches and I was certain I could never love one again. But the Lange 1 was ready to make me fall in love twice.
The 722.050 was released in 2010 in 150 examples to commemorate founder Ferdinand Adolf Lange (who I should note was named well before that middle name, uh, fell out of favor) in honey gold. Honey gold is a unique gold alloy reserved for special occasions or limited series at Lange. It's harder than usual 18k, in fact harder than platinum, and paler in tone. Its composition is a closely guarded secret. 
Somehow, the architecture of this tourbillon requires 51 jewels, not far off the count of many grand comps. And 2 of those are diamonds, holding the tourbillon cage. This largely because it's not just a tourbillon, but incorporates a stop seconds mechanism, very rare on a tourbillon. Perhaps Rexhep had a little inspiration here? You also have to appreciate that the discs for the date are here made in sapphire so that the portion which overlaps the tourbillon does not obscure its view, unlike the more recent Handwerkskunst iteration (its irregular aperture is its greatest eyesore in my estimation).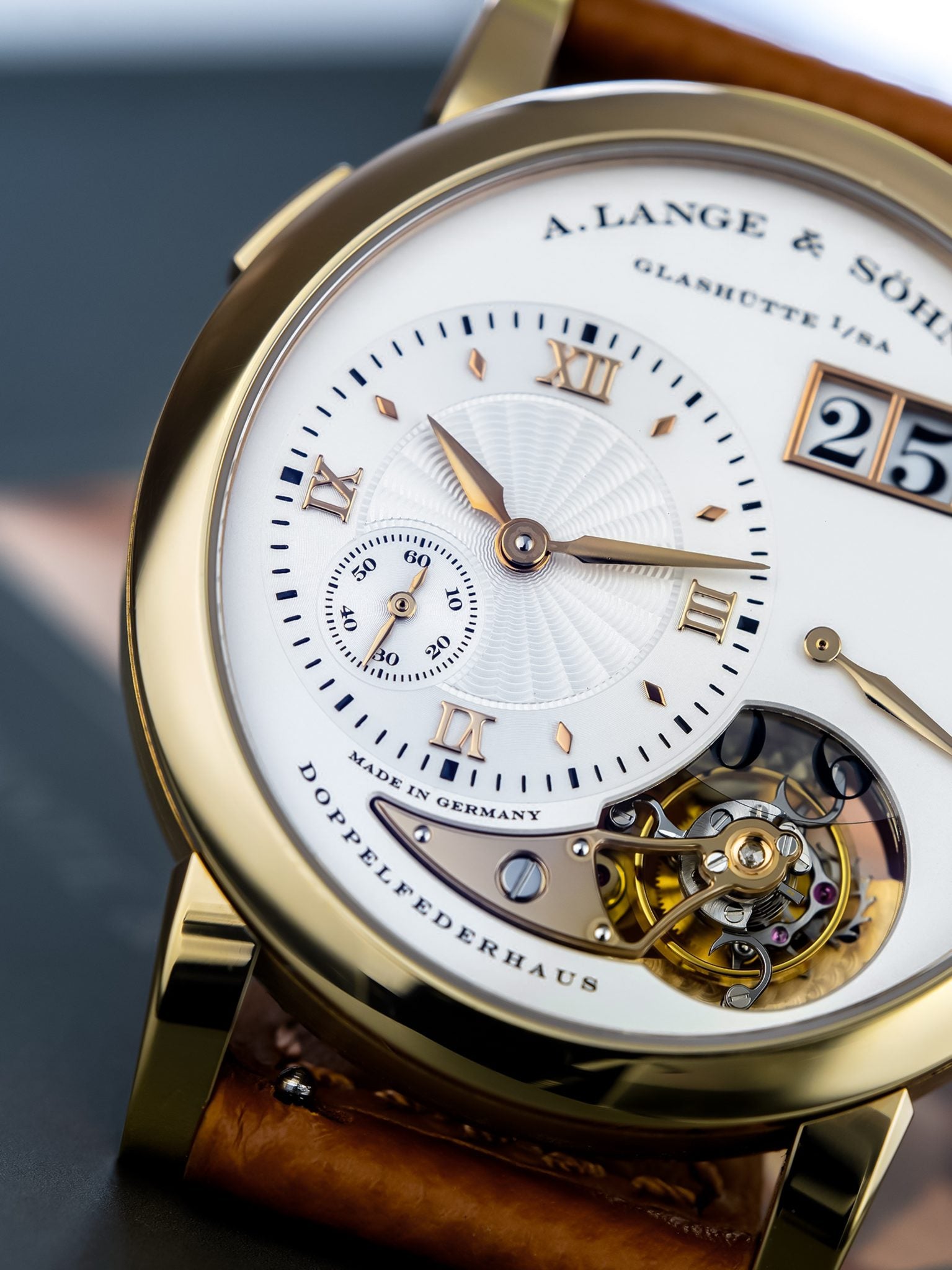 There have been a handful of auction results to go from, interestingly all around the '19-21 highs. Christie's hammered at 86K USD in 2019. Antiquorum reached 175K two years later. Then later in '21 Phillips sold one at 138K. The low number of data points doesn't help, but the 722.050 appears to be riding the waves like a modern indie. Does the 722.050 improve on the Lange 1? Not really. To keep it German, you can't improve on the Carrera S either. But I'm still very glad the GT3 exists. At the very least, it's warmed my heart after Hart annoyed and mostly bored it.
This example has minimal surface and comes with its full set. It's priced around end of '21 results, which given the fact that its hung around the shop for a second is probably why. But it's the only chance you have today to pick one up and might be for awhile, so one can't be too critical there. It comes with its full set from Perpetual in London.